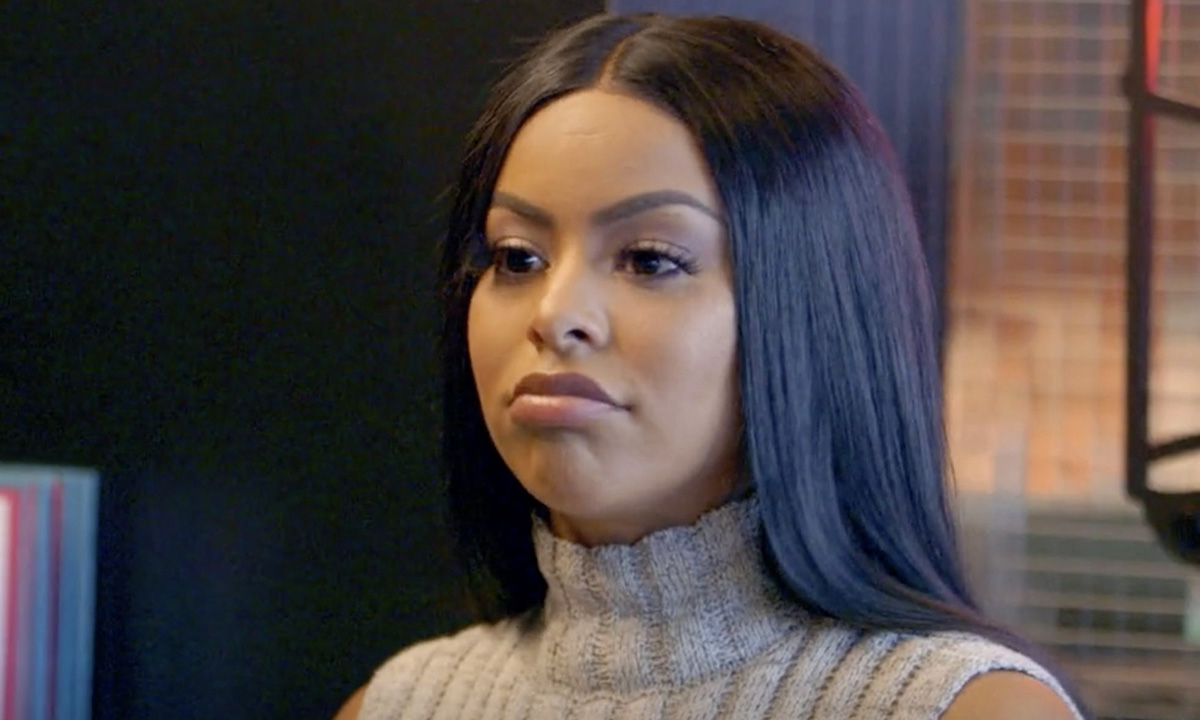 If no one else will say it, we will. This cucumber shit has gone way too far!
Alexis Skyy became the talk of Twitter early this morning after a video widely shared on social media showed the Love & Hip Hop star "using" a cucumber to perform a sex act on another woman at what looked like the most ratchet party on earth.
Alexis Skyy, who shares a daughter with rapper Fetty Wap, is now dating Atlanta rapper Trouble, who hosted a big pool party Sunday (Aug 4). alongside Skyy and fellow ATL rapper YFN Lucci called the "Winner's Only Pool Party."
The party apparently had a cucumber theme in honor of the so-called #CucumberChallenge (click that link at your own risk, preferably not on your employer's WiFi) that was reportedly started by Trouble.
As day turned into night, the freaks started to come out, and that's when Alexis thought it would be OK to insert a whole entire cucumber into another woman's nether regions and put it into said woman's mouth … multiple times.
Boosie Badazz was also in attendance at the ratchet event and was especially excited about what he witnessed, because he posted not just one, but two videos on his IG.
Reginae Carter, Lil Wayne and Toya's daughter, was there too, despite her posting a video last month denouncing the Cucumber Challenge, calling it "degrading" and "dirty" and "not cute" after her boyfriend YFN Lucci was seen on video cheering on a woman sucking on a cucumber.
An IG live video filmed by Trouble showed the disturbing moment Alexis did unspeakable things with a cucumber apparently in a desperate effort to win some sort of competition.
Skyy and the woman both appear to both be willing participants in the Cucumber Challenge as the crowd cheers them on. And just in case you were wondering, yes, they won.
We won't be re-sharing the extremely graphic footage here (because we are classy, thankyouverymuch) but it's really not that hard to find on social media.
Meanwhile, Twitter is shocked and appalled that not only did something like this happen in public, but video footage of it was shared all over the internet. Take a look at the reactions below:
Mood: After seeing that Alexis Sky video ???#AlexisSkyy pic.twitter.com/A5w1NQcnib

— vito2x? (@vito2x) August 5, 2019
Looking at the reason #AlexisSkyy is trending… pic.twitter.com/9KuMyRQyXy

— Judes A Mood (@Inthemood2BJude) August 5, 2019
why do we stray further from god everyday … #AlexisSkyy pic.twitter.com/IFffnNzAYg

— aimee? (@raeclip_) August 5, 2019
Me when I see how #AlexisSkyy is trending lmao pic.twitter.com/a296WniYni

— alton (@alton20304866) August 5, 2019
Everybody talking bout how #AlexisSkyy is the nasty one but the home girl didn't seem to bothered to have that vegetable shoved up her box. pic.twitter.com/0INlZeAFnJ

— Bb (@Bbxo__) August 5, 2019
I had no business checking to see why #AlexisSkyy is trending…& now feel obligated to call the Police ? pic.twitter.com/gqry1hcnMb

— Bonnie Parker (@MsBonnieParker_) August 5, 2019
Found out why Alexis Sky is trending, and… pic.twitter.com/5IMbs76JUl

— RedRaider806 (@RedRaiderLex) August 5, 2019
#AlexisSkyy Now if it came out as a pickle I'd be impressed!! pic.twitter.com/Z0kQ5fCmsC

— Fire Lake DJ (@FireLakeDJ) August 5, 2019
Me at this Alexis Skyy video pic.twitter.com/ib1l1zYmC6

— Qyilie ? (@QyilieNotKylie) August 5, 2019
Nobody:
The cucumber #AlexisSkyy was holding : pic.twitter.com/MLjFVVILzA

— Ig: @nefefidelis (@lxsxivious) August 5, 2019
No one : #AlexisSkyy : pic.twitter.com/1erMZGXSix

— Rihanna is really that bitch (@la_alchemist) August 5, 2019
officially sending in my retirement papers for hot girl summer 2019. y'all have brought SHAME upon megan and her kneecaps. slurping and inserting cucumbers was not apart of the pamphlet. I look forward to fall hibernating girls 2019. thank you! #AlexisSkyy pic.twitter.com/oAUSxx6K3E

— k money hunny $?$ (@k_warr4) August 5, 2019
We done talked about mass shootings, diddy fucking Lori, and now it's Reginae, Alexis Sky and Boosie at a cucumber party. AUGUST HAS JUST FUCKING STARTED pic.twitter.com/E3Le24HUyK

— July 19 (@212Lexus) August 5, 2019
alexis sky…. cucumber pool party…. lori harvey…. diddy…. mass shootings…. city boys this…. hot girls that ….summer cancelled…. pic.twitter.com/PwMqb2d537

— xymone? (@plvyboixymmie) August 5, 2019