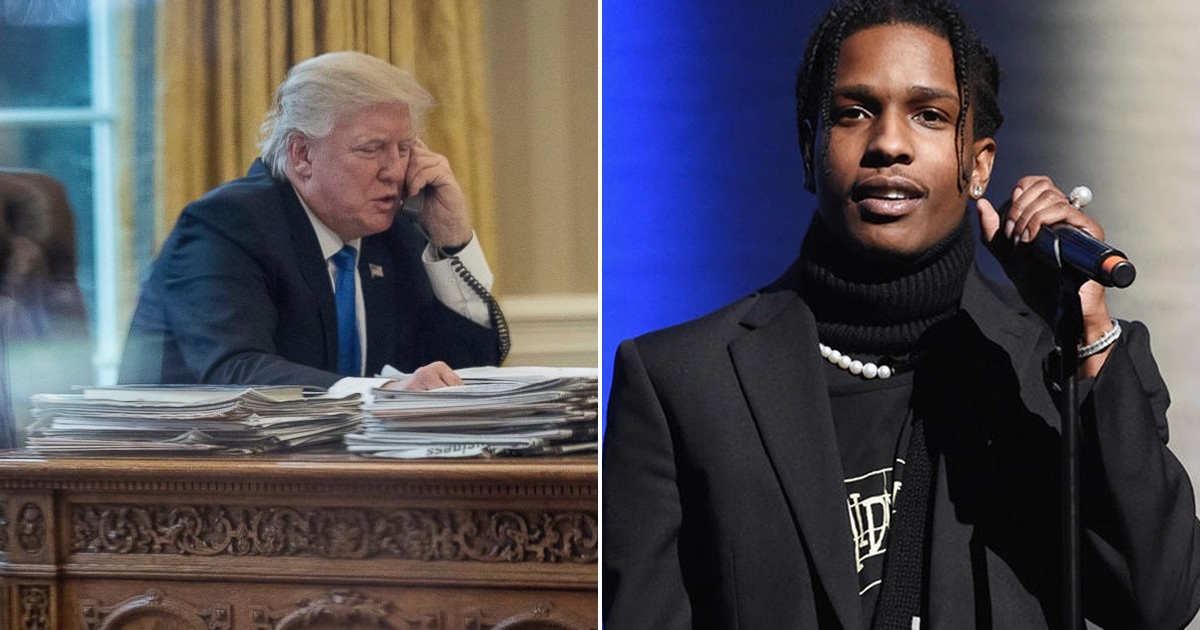 As A$AP Rocky continues to be detained in a Swedish jail, Donald Trump has personally spoken with Sweden's prime minister to advocate for his release.
The president is confident the two heads of state can come to a resolution, but it may not be as simple as his tweets make it seem.
On Saturday (Jul. 20), Trump wrote on Twitter that he had spoken to Prime Minister Stefan Lofven to "personally vouch" for Rocky's bail and assured him that the rapper would not be a flight risk.
The president also claimed that Lofven said that Rocky would be treated fairly. It has been alleged that Rocky is being held in "inhumane conditions," including 24-hour solitary confinement and sleeping on a mat on the floor.
Just had a very good call with @SwedishPM Stefan Löfven who assured me that American citizen A$AP Rocky will be treated fairly. Likewise, I assured him that A$AP was not a flight risk and offered to personally vouch for his bail, or an alternative….

— Donald J. Trump (@realDonaldTrump) July 20, 2019
Trump's pleas and promises, however, may fall on deaf ears.
Following the Saturday phone call, Lofven spokesman Toni Eriksson essentially said in a statement that the prime minister's hands are tied and A$AP won't receive any special treatment.
"The Prime Minister made sure to point out that the Swedish judicial system, prosecutors and courts are completely independent. He also pointed out that everyone is equal before the law and that the government neither can nor will try to influence the judicial process."
Eriksson even denied Trump's claim that the two governments will discuss the matter further within the next 48 hours.
"It is possible that there will be follow-up calls, but right now there is not one planned," Eriksson said.
A judge ruled on Friday that A$AP Rocky is a flight risk and must remain detained for another week while prosecutors continue to investigate the case.
The rapper has been held—without charge—for over two weeks following a physical altercation with two fans in Stockholm. Though it seems he did not initiate the fight, prosecutors have been slow to decide whether or not to charge him with assault.
TMZ reports that Swedish prosecutors revealed their plan to indict Rocky in a press release. When TMZ contacted them for a statement, prosecutors told the site "they mistakenly put that info in the press release and then removed it."
A representative from the U.S. State Department arrived in Sweden earlier this week to advocate on Rocky's behalf.
Trump personally got involved in the matter after Kim Kardashian and Kanye West contacted the White House and lobbied for Rocky's release. Other celebs have urged the White House to help as well.
Just spoke to @KanyeWest about his friend A$AP Rocky's incarceration. I will be calling the very talented Prime Minister of Sweden to see what we can do about helping A$AP Rocky. So many people would like to see this quickly resolved!

— Donald J. Trump (@realDonaldTrump) July 19, 2019
"Many, many members of the African American community have called me, friends of mine, and said, 'Can you help?'" Trump said from the Oval Office on Friday.
He continued, stating that Rocky has America's support.
"I personally don't know A$AP Rocky, but I can tell you that he has tremendous support from the African American community in this country … and when I say African-American I think I can really say from everybody in the country because we're all one."
Now, whether Trump said this out of sincere concern for an American citizen or because he's angling for a perceived "win" after telling four U.S. congresswomen of color to "go back" to where they came from and inciting a "send her back" chant at one of his rallies remains to be seen.
Rocky could face up to six years in prison if charged and convicted of assault.
Be the first to receive breaking news alerts and more stories like this by subscribing to our mailing list.