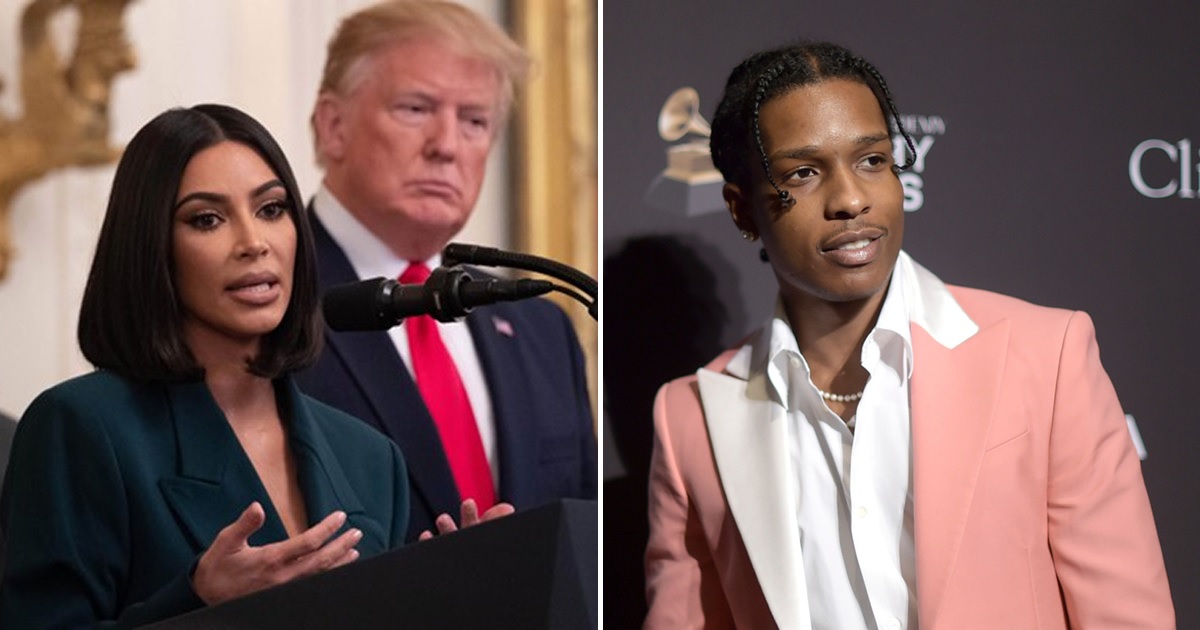 Kim Kardashian and Kanye West have been fighting for A$AP Rocky's release from a Swedish prison for several weeks. In fact, Kim personally contacted the White House for their assistance, which worked.
Kim took to Twitter on Thursday (Jul. 18) to thank President Donald Trump and Secretary of State Mike Pompeo for getting involved in A$AP's case.
"Your commitment to justice reform is so appreciated," she wrote in part.
Thank you @realDonaldTrump , @SecPompeo, Jared Kushner & everyone involved with the efforts to Free ASAP Rocky & his two friends. Your commitment to justice reform is so appreciated ???? https://t.co/Ym1Rzo5Z6c

— Kim Kardashian West (@KimKardashian) July 18, 2019
It was reported on Thursday that Kim and Kanye became "very concerned" upon learning A$AP was being held in a Swedish prison with "inhumane conditions." A$AP was detained July 2nd following an altercation with fans.
Kim—who has worked closely with Trump and the White House on prison reform over the past year—contacted Jared Kushner and informed him about the situation. Kushner relayed the information to Trump who reportedly agreed A$AP was "being held unfairly."
Sources say that West urged Kardashian, who met with the president about prison reform earlier this year, to contact Trump's son-in-law and senior advisor Jared Kushner.

He took the matter to the president, who encouraged him to get involved, as did Secretary of State Mike Pompeo.

TMZ Reports that a State Department member was expected to arrive in Sweden today (Jul. 18), and that the department has become involved in working for Rocky's release.
Earlier this week, a spokesperson for the State Department expressed concerns over how A$AP was being treated while detained in Sweden.
"There are certainly some facts about the arrest and detention that raise concerns. We expect all governments, including Sweden, to treat American citizens fairly and with respect. We hope to see A$AP Rocky and his colleagues back on tour and reunited with friends and family soon."
A$AP Rocky has been held in the Kronoberg Detention Center in Sweden since July 2nd after an altercation with fans who had been harassing him and members of his entourage.
Though not officially charged, the rapper is being held while prosecutors decide whether to charge him with assault or let him go. They have until Friday (Jul. 19) to make that decision.
However, it is being alleged A$AP is being held in "inhumane conditions," including solitary confinement, inedible food, and forced to sleep on a mat.
A$AP's manager John Ehmann was the first to make the claims. The Swedish Prosecutor's Office denied the inhumane treatment allegations.
Last week, Snoop Dogg made a public plea encouraging Kim and Kanye to help free A$AP.
"You've been gettin' all kinda n***as out of jail this year. Go get Rocky outta jail," he said in an Instagram video. "Look out for us."
https://www.instagram.com/p/BztqADDHF7J/?utm_source=ig_embed
Two of A$AP's friends are also detained, as well as their alleged attackers, who have been charged with molestation and assault.
Be the first to receive breaking news alerts and more stories like this by subscribing to our mailing list.