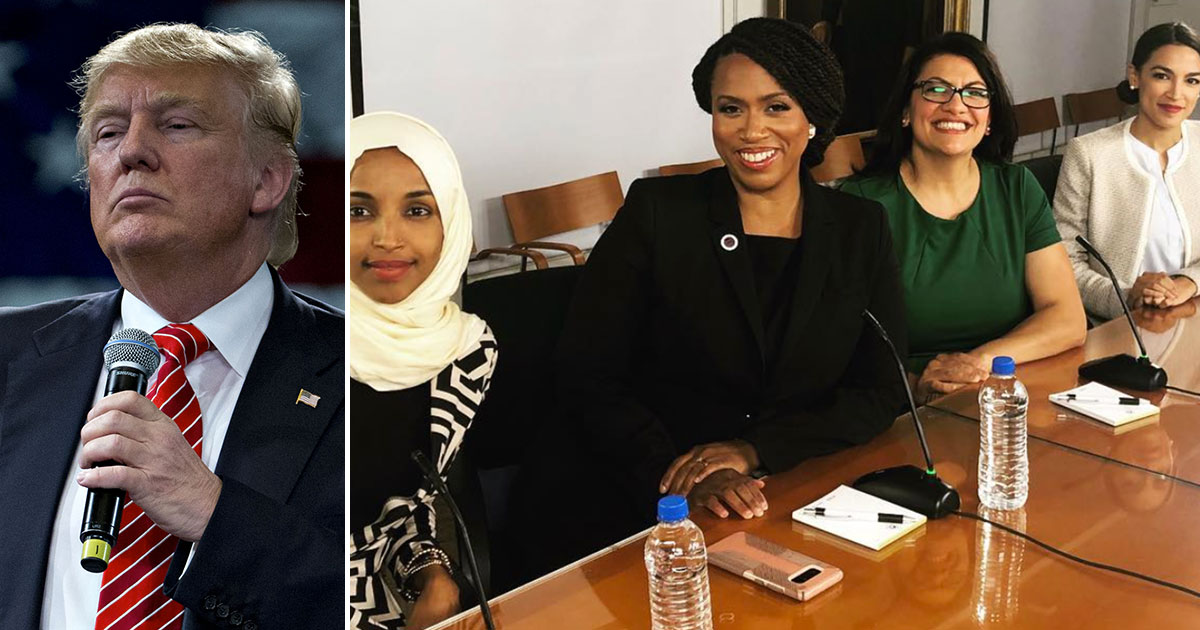 As if we needed any more proof that Donald Trump is an ignorant, racist, xenophobic, misogynistic piece of trash.
The President we don't claim fired off a string of tweets Sunday morning criticizing a group of progressive Democratic congresswomen and urging them to "go back" to where they came from, despite the fact that all of the women are American citizens.
"So interesting to see 'Progressive' Democrat Congresswomen, who originally came from countries whose governments are a complete and total catastrophe, the worst, most corrupt and inept anywhere in the world (if they even have a functioning government at all), now loudly and viciously telling the people of the United States, the greatest and most powerful Nation on earth, how our government is to be run.

"Why don't they go back and help fix the totally broken and crime infested places from which they came. Then come back and show us how it is done. I'm sure that Nancy Pelosi would be very happy to quickly work out free travel arrangements!"
While Trump didn't explicitly mention any of the congresswomen by name, everyone knew exactly who he was referring to.
As CNN noted, a group of women of color in the Democratic party—specifically New York Rep. Alexandria Ocasio-Cortez, Rashida Tlaib of Michigan, Minnesota's Ilhan Omar and Ayanna Pressley from Massachusetts—all spoke out against Trump regarding the terrible conditions of border detention facilities.
The thing is … all four of the women are American citizens!
Ocasio-Cortez was born and raised in New York City, just like Trump, while Tlaib was born in Detroit and Pressley is from Cincinnati.
Omar, meanwhile, was born in Somalia, but her family fled the country when she was a child, and she became a U.S. citizen in 2000.
House Speaker Nancy Pelosi, who has had her own issues with the aforementioned congresswomen recently, didn't appreciate being brought into Trump's mess, and defended her comrades calling Trump's tweets "xenophobic comments meant to divide our nation."
"When [Donald Trump] tells four American Congresswomen to go back to their countries, he reaffirms his plan to 'Make America Great Again' has always been about making America white again," she wrote. "Our diversity is our strength and our unity is our power."
I reject @realDonaldTrump's xenophobic comments meant to divide our nation. Rather than attack Members of Congress, he should work with us for humane immigration policy that reflects American values. Stop the raids – #FamiliesBelongTogether!

— Nancy Pelosi (@SpeakerPelosi) July 14, 2019
New York Mayor and presidential hopeful Bill de Blasio also chimed in, saying on CNN that "unfortunately, there's an American tradition of telling people to go back to where they came from" and Trump was just trying to "gin up his base" as part of his goal to "make America hate again."
The women targeted in Trump's tweets also responded to the overly tanned wannabe tyrant's racist rant:
You are angry because you don't believe in an America where I represent New York 14, where the good people of Minnesota elected @IlhanMN, where @RashidaTlaib fights for Michigan families, where @AyannaPressley champions little girls in Boston.

/2

— Alexandria Ocasio-Cortez (@AOC) July 14, 2019
But you know what's the rub of it all, Mr. President?

On top of not accepting an America that elected us, you cannot accept that we don't fear you,either.

You can't accept that we will call your bluff & offer a positive vision for this country. And that's what makes you seethe.

— Alexandria Ocasio-Cortez (@AOC) July 14, 2019
You are stoking white nationalism bc you are angry that people like us are serving in Congress and fighting against your hate-filled agenda.

"America's answer to the intolerant man is diversity, the very diversity which our heritage of religious freedom has inspired." -RFK

— Ilhan Omar (@IlhanMN) July 14, 2019
Yo @realDonaldTrump, I am fighting corruption in OUR country. I do it every day when I hold your admin accountable as a U.S. Congresswoman. Detroit taught me how to fight for the communities you continue to degrade & attack. Keep talking, you'll be out of the WH soon. #TickTock

— Rashida Tlaib (@RashidaTlaib) July 14, 2019
THIS is what racism looks like. WE are what democracy looks like. And we're not going anywhere. Except back to DC to fight for the families you marginalize and vilify everyday. pic.twitter.com/vYzoxCgN0X

— Ayanna Pressley (@AyannaPressley) July 14, 2019
And from there, the #RacistInChief hashtag was born, with Twitter collectively calling out Trump for his divisive antics:
Trump: "Those squad women need to go back to the countries in which they were born!"

Yeah, for three of those four, those "countries" are Ohio, New York, and Michigan, respectively.#TrumpIsARacist #RacistInChief

— Craig Rozniecki (@CraigRozniecki) July 15, 2019
Immigrants should "go back"!
-Donald Trump #RacistInChief pic.twitter.com/mQSbkw2foV

— Diane N. Sevenay (@Diane_7A) July 14, 2019
What do you call someone who tells non-white U.S. citizens to "go back to where they came from"…?

A racist.

Donald J. Trump, #RacistInChief

— Translate Trump (@TranslateRealDT) July 15, 2019
You literally began your campaign to be #RacistInChief with relentless criticism of President Obama, saying he wasn't American.

You've bad-mouthed every single American institution, undermined our Intel agencies, siding w/Putin.

You are a DISGRACE, and a TRAITOR. Resign.

— BrooklynDad_Defiant! (@mmpadellan) July 15, 2019
Our #RacistInChief just told four American Congresswomen "go back to their countries…" Immigrants & their children are the heart of our country. I am proud to be #MadeByImmigrants @realDonaldTrump racist rhetoric only makes me fight harder for all. #FirstGenerationAmerican pic.twitter.com/Oh4lEDUf65

— Karamo Brown (@Karamo) July 14, 2019
Finally, #RacistInChief is trending because why: #TrumpIsARacist that's why.

— Cherry Wanders ? (@CherryWanders) July 14, 2019
Trump is a rapist.
Trump is a racist.
Trump is a rapist.
Trump is a racist.
Trump is a rapist.
Trump is a racist.
Trump is a rapist.
Trump is a racist.
Trump is a rapist.
Trump is a racist. #RacistInChief#RapistInChief

— Bishop Talbert Swan (@TalbertSwan) July 15, 2019
Guess C is today's letter.@realDonaldTrump is A …#RacistInChief #TrumpIsARacist pic.twitter.com/HxMbSgL2gp

— Blue Lantern (@BlueLanternUSA) July 14, 2019
We will keep this bad ass squad and gladly deport this sorry ass #RacistInChief to Russia. They are more American than Trump will ever be. pic.twitter.com/vtu4LUzqaO

— California Strong (@TheTruthCali) July 14, 2019
Hey @realDonaldTrump I immigrated from Pakistan at the age of 6. I TOO have a lot to say when it comes to our democracy. And oh yeah, I also served this Nation with my life as a US Marine. So please don't ever tell me, I should go back to the country I came from! #RacistInChief pic.twitter.com/r07Rt9tvEO

— MuslimMarine (@mansoortshams) July 14, 2019
An illustration of those who support the #RacistInChief
?
?
? pic.twitter.com/6FR8Vmx9N7

— hellrazor_scrypt (@Virtus_Pathogen) July 14, 2019
Honestly, at this point, anyone who agrees with, supports or defends Donald Trump is clearly a racist.
Be the first to receive breaking news alerts and more stories like this by subscribing to our mailing list.