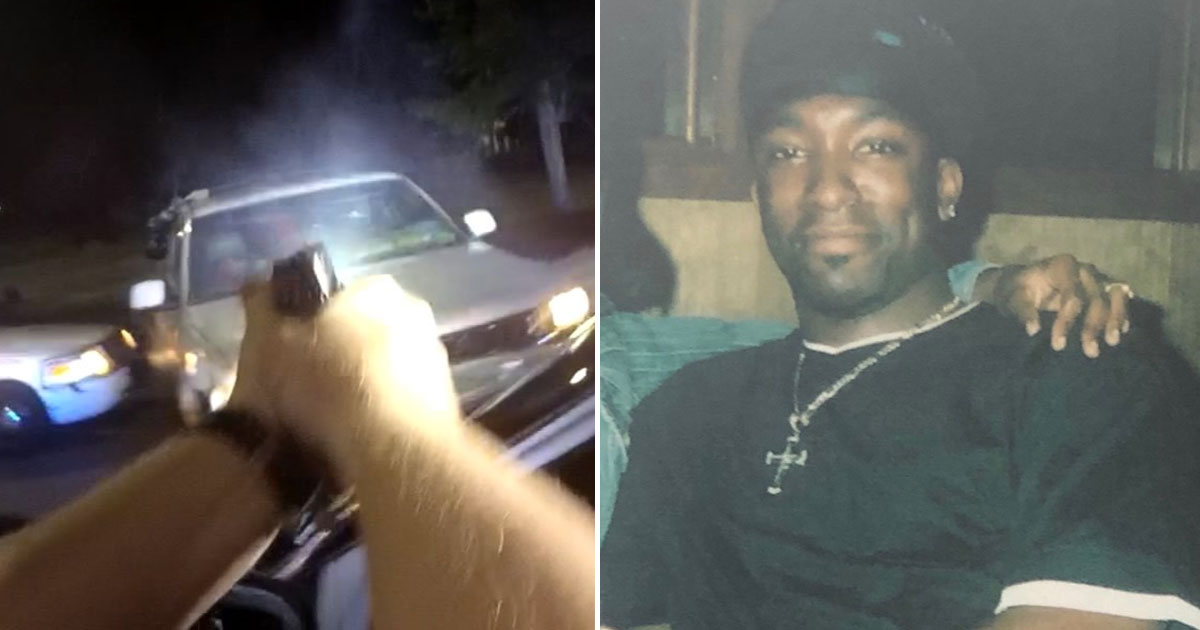 A homeless Georgia man is fighting for his life after being shot by a police officer and his family is demanding justice be served.
34-year-old Nicholas Bolton was shot in the head after leading police on a car chase in Coweta County.
In the body camera footage obtained by the Atlanta Journal-Constitution, an officer patrolling Newnan Crossing Shopping Center finds Bolton asleep in his car at the shopping center around 2:30 a.m. early Sunday morning (Jul. 7).
"Do you have a reason to be here?" the officer asks Bolton.
Bolton's response to the officer can't be heard in the footage, but it's assumed that he said no because the officer responded back to him saying "Then, you're loitering."
Moments later, officers ask Bolton to show ID and step out of his vehicle.
"You going to get out, or you going to go to jail?" an officer can be heard saying.
Bolton is then commanded by officers to turn his car off, but instead, he can be seen in the footage driving away, leading police on a car chase.
The footage shows the car chase last for less than a full minute and authorities can be seen using a pit maneuver to trap Bolton's car.
As officers are getting Bolton to a stop, one deputy can be seen firing a shot into the windshield of Bolton's car striking him in the head.
The officer who fired the shot has been identified as John Collins. Bolton was taken to Atlanta Medical Center and is said to be clinging to his life.
The Coweta County Sheriff's Office released in a statement that Collins' actions were "necessary and justified."
According to authorities, Bolton's car was still in drive and his tires were spinning when Collins shot him in the head. They said Collins feared his colleague was going to be run over by Bolton.
However Bolton's lawyer Tanya Miller is calling for justice in his name and says that Bolton never caused harm to officers during the encounter.
"You saw that the officers had guns drawn from all angles and clearly Nicholas was boxed in with no place to go," Miller told the AJC.
"Rather than take him into custody, shooting to kill was apparently easier, with the limp excuse that he was trying to hurt them."
Miller also said that it is a miracle that Bolton made it out alive.
"He jumped out of his car in two seconds and fired a kill-shot into that windshield, striking him in his head," Miller said. "It's a miracle that he is alive."
Bolton's father, Irwin Bolton Sr., and his brother, Irwin Bolton Jr., have also spoken out on the incident and are asking for prayers for Bolton to have a speedy recovery.
"I feel like it wasn't called for. I'm shocked that this happened to my son, because I looked at the justice system differently," Bolton's father told 11 Alive News.
Bolton Sr. also said the footage shows that his son was in fear of his life when officers confronted him.
"It shows that he was in fear for his life," he said. "You could see it in his face. He wasn't aware of what was going on he was just coming out of his sleep."
Bolton's brother told news that he recently hit hard times and it eventually led to the tragic event.
"He's always been a loyal hardworking person. He had just hit hard times, and that's where we got to this point."
Since the shooting, officer Collins has been placed on leave. The incident is under investigation.
Be the first to receive breaking news alerts and more stories like this by subscribing to our mailing list.