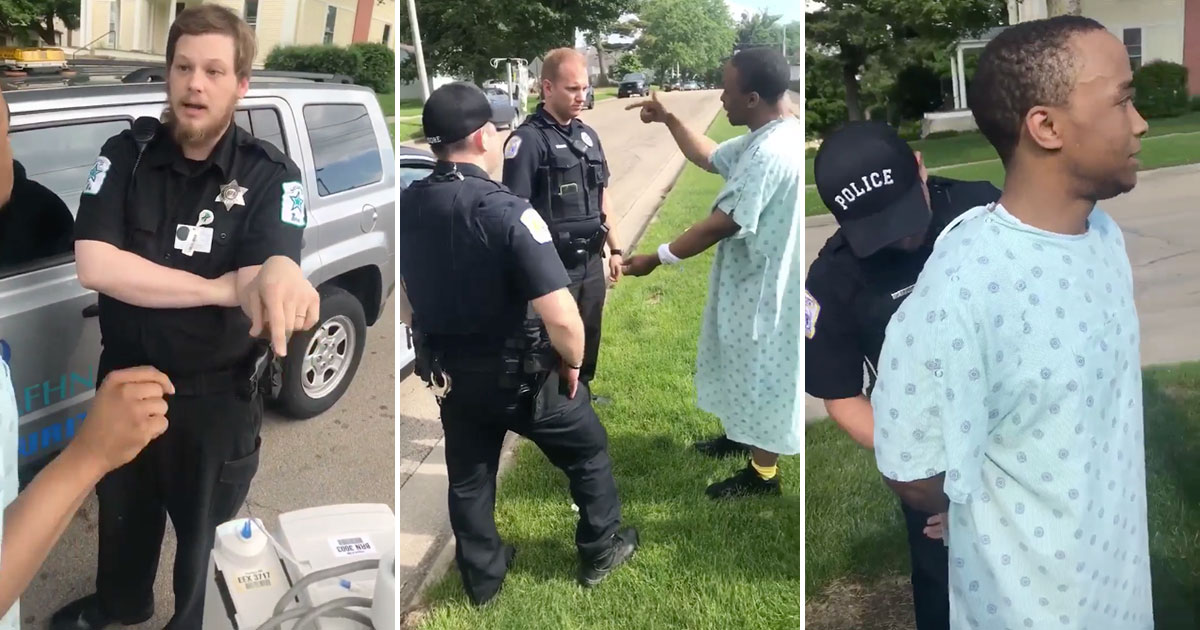 Footage of a black patient being racially profiled at a North Illinois hospital has gone viral on social media.
In the video, 24-year-old Shaquille Dukes is seen walking outside of FHN Memorial Hospital wearing a hospital gown and attached to an IV when a security guard approaches him.
Even though Dukes is clearly minding his business and doing absolutely nothing wrong, top flight security demanded Dukes and two other people to walk to his car that was parked off hospital property.
According to Dukes, the security guard then accused him of trying to steal the IV he was attached to from the hospital and "sell it on eBay."
In actuality, Dukes had been given permission from his doctor to walk around the hospital with his brother and another person after being hospitalized with pneumonia for two days.
"He had gotten out of his vehicle and said, 'What are you going to do, steal that and sell it on eBay?'" Dukes told The Journal-Standard. "I told him, 'This machine is pumping fluid into my veins as we speak.'"
Freeport cops were called to the scene by Mr. Top Flight Security of the Whole World, and in another video, they can be seen arresting Dukes and his brother. Another man who was with them was also arrested later.
Shaquille Dukes was admitted into the hospital for double pneumonia. He received doctors orders to walk around the hospital.

He was stopped by a racist security guard, who called racist cops. He was arrested and accused of trying to steal the IV machine. pic.twitter.com/LmKxlJvgiA

— Big Boss (@escapedmatrix) June 29, 2019
Dukes revealed to The Journal-Standard that cops told him he was being arrested for attempted theft since he walked off hospital property with medical equipment, despite being commanded to by the security guard.
Dukes said he tried to get the officers to call his doctors who could verify that he was given clearance to walk the premises with the IV attached to him, but they refused to do so.
"I said, 'I explained to you that Dr. Murphy and Jennifer were aware that I came outside—if you would call and verify with them,'" Dukes told ABC News.
He said officers responded: "Well I don't care what they told you. As far as I'm concerned, this is hospital equipment and you're attempting to steal it."
Freeport police, however, are saying that Dukes and the people with him weren't arrested for trying to steal the IV, but instead for not complying with the security guard and officers. He was charged with disorderly conduct.
"Our investigation revealed that at no time did any doctor or nurse give that patient or any patient permission to leave the hospital while still hooked to an IV machine," Freeport Police Chief Todd Barkalow told ABC News.
"It was determined that he was likely not trying to steal any of the property. The charges were supported for disorderly conduct with their actions toward the security guard, I think that our officers handled it the best way they could and given the situation that they had in front of them."
While being arrested, officers removed Duke's IV from his arm and his rescue inhaler was seized, causing him to pass out.
"Eventually while I was being transported, I passed out and had a seizure," Dukes said. "When I woke up in the back of the car, I had an asthma attack. I didn't get my inhaler until probably four minutes later."
Since the incident, which occurred almost a month ago on June 4th, Dukes has filed a formal complaint with the city.
"I'm not just going to sit here and be complacent about what I know is an illegality," Dukes said.
He is set to appear in court on July 11th.
FHN Memorial Hospital said in a statement about the incident: "We are looking into this but as of now, it is a police matter."
Be the first to receive breaking news alerts and more stories like this by subscribing to our mailing list.