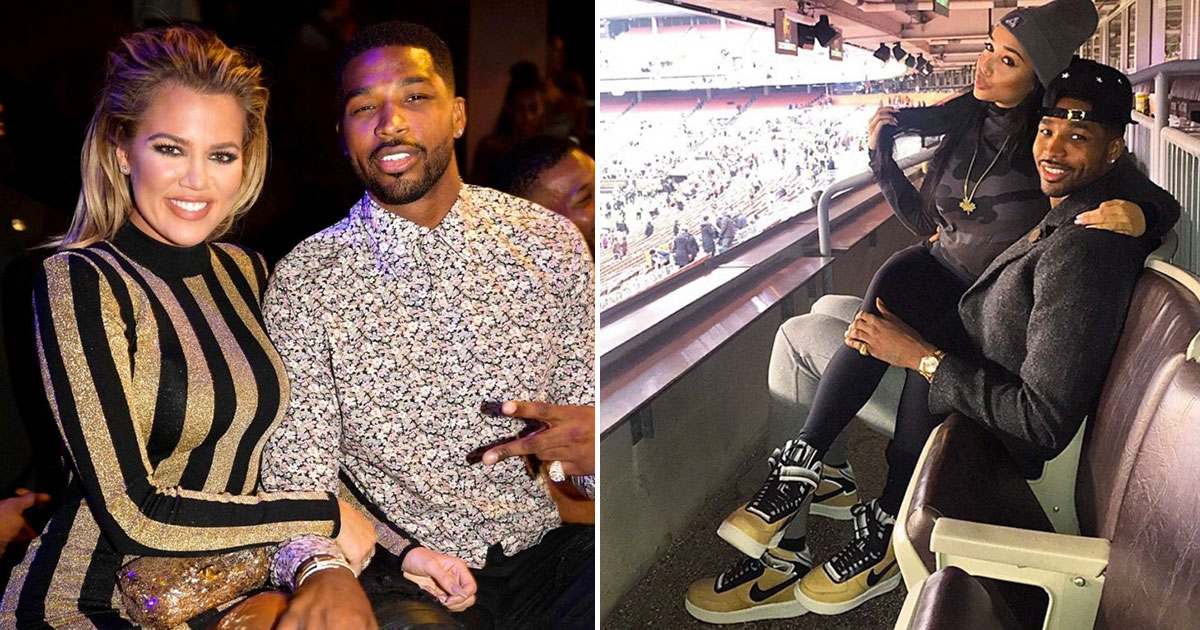 In an attempt to sanitize her image and unsaddle her conscience, Khloe Kardashian took to her Instagram account recently to indirectly apologize to Tristan Thompson's ex and baby mama, Jordan Craig.
In her Instagram press release, Khloe claimed she had no idea Tristan was still dating his then-pregnant baby mama.
Had she known, she claimed, she never would've dated him. But his friends and family all lied for him and told her that the baby mama was an ex and not a current fling, despite the fact she was still ACTIVELY pregnant.
However, Radar Online is calling BS on Khloe's assertion. The smoking gun is actually a wedding.
Kevin Hart and Eniko Parrish invited Khloe, who was dating Trey Songz at the time, and Tristan and his then-girlfriend, Jordan Craig, who was five months pregnant (and likely showing) were also in attendance.
Now, who knows how much conversation and interaction the two might have had at the wedding. But we do know they were at the same place, at the same time.
And if Tristan was with his then-pregnant girlfriend at the party, then it's incredibly hard to believe that Khloe was completely unaware and didn't have the resources to confirm what his freaking friends and family were saying about his relationship.
Radar reports:
Thompson, 28, and Kardashian, 34, were spotted together for the first time on Aug. 28, 2016 at an L.A. club.

But Radar can reveal that the E! reality star attended the same wedding as Thompson and a pregnant Craig just two weeks prior, on Aug. 13, 2016!

According to a shocking video viewed by Radar, Thompson and Craig, 27, are spotted sitting directly next to each other at Kevin Hart's wedding to Eniko Parrish.

Craig was about five months pregnant with Thompson's child at the time. (She welcomed son Prince as a single mom in December 2016, as Thompson had been dating Kardashian for months at that point.)

Meanwhile, an eyewitness confirmed to Radar that Kardashian was very much in attendance of the Harts' wedding alongside Thompson and Craig.
So far, Khloe has, of course, remained tight-lipped, but this timeline is incredibly damning.
Few people believed Khloe's story anyway, but to have it upended with actual facts that prove Khloe to be a liar is quite the shocker.
It almost makes her attempt at transparency even odder. If you knew you weren't going to be fully honest about what you did or didn't know, then shut up and ignore that line of questioning.
By claiming to be ignorant or oblivious to the fact that you were with Tristan and his ex at a famous person's wedding, Khloe eviscerated the low amounts of empathy people had toward her.
The truth, Khloe, shall set you free. Just admit it: You knew Tristan was taken but you didn't care because it mattered more to you that you got whatever (or whoever) you wanted.
Mission accomplished, I suppose. But Khloe's going to found out the hard way that lying is worse than not saying anything at all.
Be the first to receive breaking news alerts and more stories like this by subscribing to our mailing list.