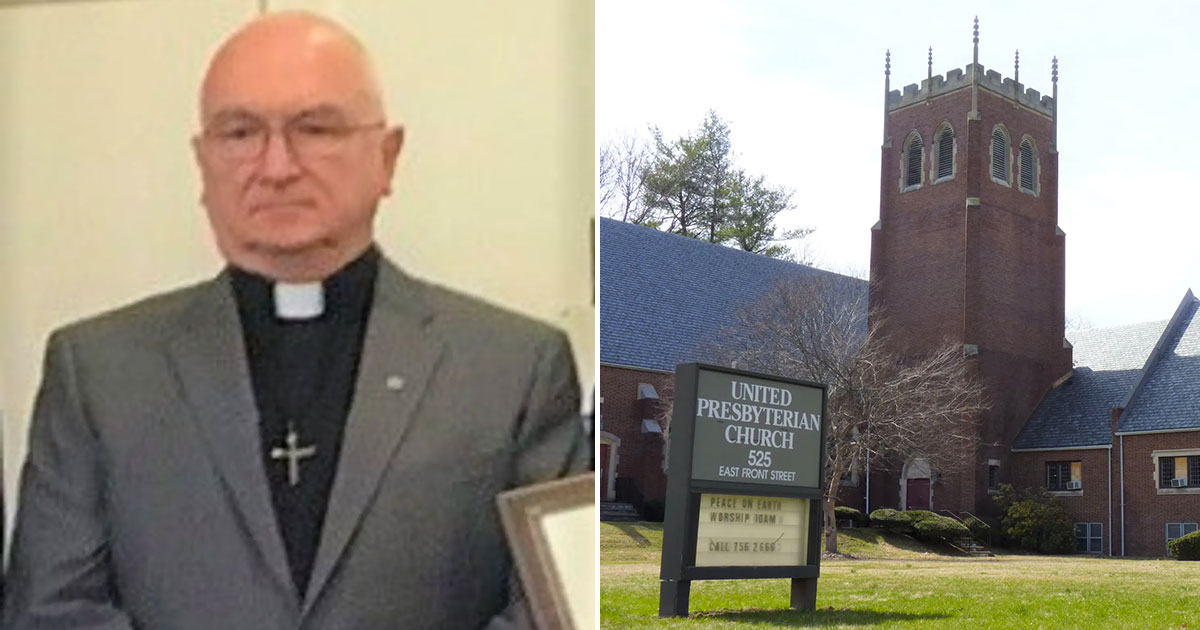 A 69-year-old Presbyterian minister in New Jersey is accused of performing oral sex on men in a bizarre exorcism ritual in which he claimed to suck "evil spirits" out of them through their penises.
According to My Central Jersey, Rev. Dr. William Weaver of Linden Presbyterian Church, was charged with "multiple acts of idolatry and sexual misconduct" after three men came forward with the disturbing sexual abuse allegations.
Dr. Weaver claimed he was following the Bible when he used Native American exorcism rituals, gemstones, and even oral sex in order to extract "evil spirits" from the troubled men who came to him seeking counsel for personal issues.
All three adult men said Weaver told them that the only way he would be able to fully expunge the demons and evil spirits lurking in their bodies would be through their semen.
They said Weaver would have them undress, lie flat on their backs naked and balance stones and coins on their bodies without moving while he performed oral sex on them.
The men said Weaver told them not to tell anyone about what they'd done because "nobody would understand."
37-year-old A.J. Meeker said he was 20 years old when he started seeing Weaver for counseling in 2000.
Meeker had just flunked out of college and recently moved out of his family's house, and he said his relationship with his father was strained and his stepmother wouldn't speak to him. As for his biological mother, he said he hadn't spoken to her since he was 15 years old.
"I have dealt with the abandonment issues, depression and anxiety that this caused. I was dating my soon-to-be ex-wife and became a member of the Linden Presbyterian Church," Meeker wrote in an impact statement to the Presbytery. "While going there, I found Rev. Bill Weaver to be a kind and compassionate person who was very easy to talk to."
During their counseling sessions, Meeker said Weaver would tell him that there are "individuals based around the Watchung Reservation" engaging in spiritual warfare to attack people with evil spirits. The minister also recited the Full Armor of God verses from Ephesians 6:10-18, Meeker said.
The passage states:
"Put on the full armor of God, so that you can take your stand against the devil's schemes. For our struggle is not against flesh and blood, but against the rulers, against the authorities, against the powers of this dark world and against the spiritual forces of evil in the heavenly realms. Therefore put on the full armor of God, so that when the day of evil comes, you may be able to stand your ground, and after you have done everything, to stand."
Meeker said his counseling sessions with Weaver would be held in the bedroom of the manse, a house owned by the Presbyterian church for its ministers.
At the beginning of the sessions, Meeker said Weaver would open a square suitcase that he kept in his office that contained feathers, assorted stones, buckeyes, a magnetic strip, an angel coin, and ziplock bags, which was corroborated by the other accusers as well.
Meeker said every meeting with Weaver would begin the same exact way, with the minister telling him to get completely naked and lie on the bed.
Weaver would then place an angel coin (a coin with an angel or saint printed on it used for praying) on Meeker's forehead and wrap a magnetic strip around his head to keep it in place. Weaver then would place a series of stones on Meeker's feet, his hands, and on each side of his chest.
"I was told that for him to get everything out me, I needed to lay completely still to not move the stones on my feet," Meeker said. "He would then take out the feather and scan my body from my neck to my stomach."
Next, Weaver would open Meeker's mouth, placing his own mouth on top of Meeker's mouth (think: mouth-to-mouth resuscitation), and move his tongue around "to see if I had anything in my mouth or throat," Meeker wrote in his impact statement.
Meeker said Weaver would then perform oral sex on him and swallow his semen. "He would then ingest my ejaculate and then would spit up multiple pieces of plastic or metal into a ziplock bag," Meeker said.
When Meeker began to inquire about the necessity of the disturbing "ritual" and asked the minister if he was doing the same thing to women, Weaver said, according to Meek's statement: "everything would come out of a woman's navel and every 30 days their cycle would clear them out."
Meeker said Weaver expressed to him the importance of the rituals, saying that the evil energy inside him manifested into what he called "hits" and if the "hits" were left inside of him, they would eventually cause infertility and erectile dysfunction.
After every session, Meeker said Weaver "would then hold me and say he loved me and he would protect me, and he would never let anything bad happen to me."
Meeker described Weaver as a very affectionate person and a "shepherd of the flock."
"He was very touchy-feely, like everyone got a hug or a kiss on the cheek, or stuff like that," Meeker told My Central Jersey. "He was just very hands-on — never inappropriate publicly — it was just like he was very loving and very caring."
Weaver's second accuser, William Weist, 52, said he was in his thirties when he started going to the minister for counseling after seeing his soon-to-be wife's 26-year-old son Rusty floating lifeless in the Delaware River after drowning in a boating accident in 1999.
He said he was the one who called the police and was there when Rusty's body was pulled out of the water. "As clear as day, I can still see Rusty there," Weist said through tears. "I can see that image."
Weist said the trauma tormented him so much that when a friend recommended that he meet with Weaver, he agreed.
"I was at an extremely low point," he said, adding that their sessions would grow increasingly sexual every time until Weaver finally convinced him that there was an evil spirit living in his body.
"I felt uneasy, but I took his word that this was necessary," Weist wrote in his impact statement. "It wasn't long after that where I now had to have my shoes off with gemstones placed on my ankles, and my shirt off as well."
Over the next few visits, Weist said Weaver told him that he suffered "hits" from the spirit world and they needed to be brought out through his semen via oral sex.
Weaver allegedly told Weist he had to lay still, with the stones placed on and around him, and allow the reverend to "get it out."
"Feeling mortified was an understatement, but I didn't want to say he was wrong, after he helped me to this point," Weist said in his statement. "I was so confused and upset I remember praying to God please let me get this over with!"
Weist said Weaver told him that the "hit" had finally passed as he repeated the Full Armor of God verse.
When Weist returned the following week, he hoped the worst was over, but Weaver told him that he had suffered another hit that had to be extracted this time with his mouth.
"This time was different as the only way to get it fully out was for him to draw it out with his mouth," Weist wrote in his statement. "I was so afraid and scared. When it was over, he showed me what looked to be a tiny metal ball and said that was what he got out of me."
Weist said the only reason why Weaver was so easily able to take advantage of him was because he was at an extremely low point in his life at the time.
"I was so scared with everything that I was dealing with," Weist said. "I just felt scared, it was very raw." He said he trusted Weaver and saw him as a "man of God."
Weist said when Weaver told him he had evil spirits inside him, he believed him and became even more afraid. He said he remembers thinking: "I'm scared to death now there's something else wrong with me. There's something wrong with me that I can't help. This is Biblical."
But after a few more sessions, Weist said he stopped meeting with Weaver. "I felt so small and worthless, like a piece of trash in the street," he said. "I just couldn't face what had happened to me."
36-year-old Jared Staunton said he was first targeted by Weaver in 2014. Due to his work schedule, he could only meet at night, during the week, in his home.
On one particular night, he said he started having a mental breakdown in front of the minister and was told to take off his clothes.
"Mentally I was gone," Staunton wrote in his statement. "I left my boxers on. He forcefully said, 'All of them.' I took off my boxers."
Staunton said Weaver examined his torso and back before instructing him to lay down naked on the bed. The minister then put a magnetic strip around Staunton's head with a saint coin and then placed crystals on his shoulders, chest, hips and feet.
"I felt like I couldn't move even if I wanted to," Staunton wrote. "I was laying on my bed, in my dark room, lit only by candles and I was powerless."
He said Weaver then sexually assaulted him, just like the others.
"It was like time disappeared and I disappeared along with it," he said, adding that afterward, Weaver "lifted my head up and looked into my eyes, and said, 'You don't have to be afraid anymore, I'm your protector now.'"
Staunton said Weaver then kissed him on the lips. "From then everything is hazy and I don't even remember walking him out," he said.
All three men eventually told the church about what happened and reported the incidents to the police. The church also reportedly found that Weaver had downloaded gay porn to a church-owned computer in his office.
An investigation was launched in 2018 and Weaver—who is married—was supposed to face his accusers during an internal church trial in January 2019, but left the church, after 39 years, the day before the trial was set to begin.
In addition to the three men accusing Weaver of victimizing them, the church said two other people Weaver counseled between 2001 and 2007 said he removed the "hits" through their navels using his mouth.
No public charges have been filed against the minister, and the charges with the church have no bearing on secular government's civil and criminal courts.
By renouncing his title and avoiding a religious trial, however, Weaver gave up his ordination along with his membership in the Presbyterian Church and can no longer work in any religious capacity.
When contacted by My New Jersey, Weaver said: "I'm not able to respond. Thank you."
Be the first to receive breaking news alerts and more stories like this by subscribing to our mailing list.