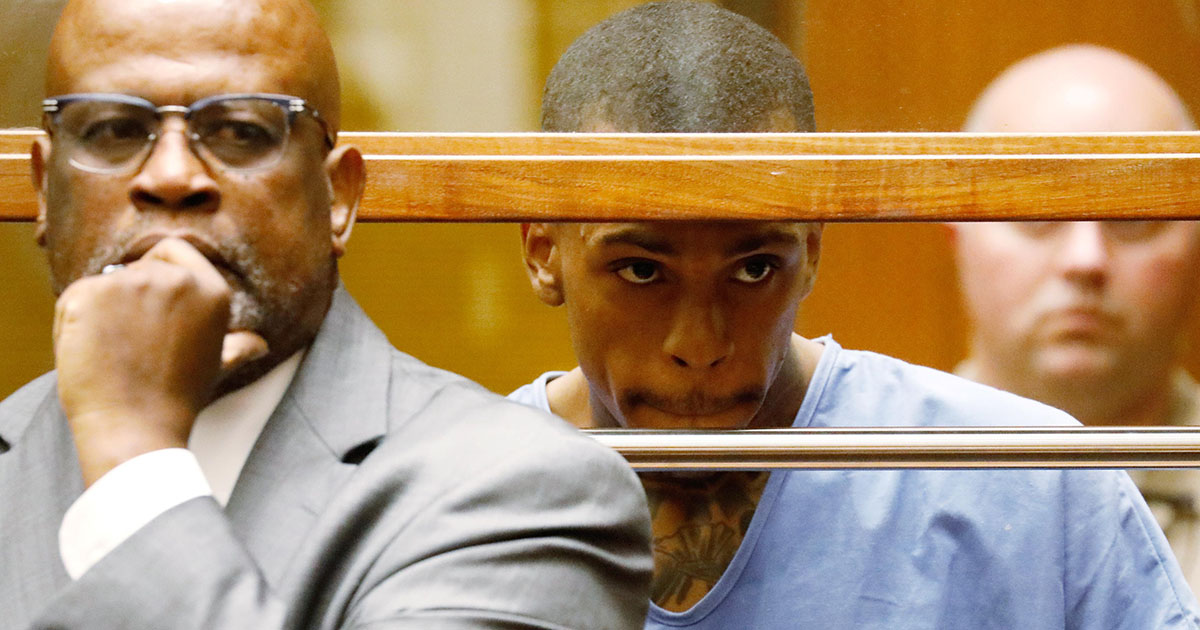 High-profile attorney Chris Darden is representing Nipsey Hussle's alleged killer, Eric Holder.
If that name sounds familiar to you, it should, because Darden is best known as one of the prosecutors who unsuccessfully tried the O.J. Simpson murder case in the 1990s.
29-year-old Eric Ronald Holder appeared in court Thursday (Apr. 4) for the first time since his arrest Tuesday and he was formally charged with one count of murder, two counts of attempted murder and one count of possession of a firearm by a felon.
Holder's attorney, Chris Darden, entered a not guilty plea on his behalf for all the charges. According to the Los Angeles Times, the courtroom was heavily guarded in response to Holder receiving numerous threats on social media.
Holder, clad in a light blue jail shirt and pants and shackled at the wrists, stood in a glassed enclosure and was flanked by several deputies.

He leaned back slightly with his chin up, exposing an array of neck tattoos, and frequently glanced at onlookers.

Holder has received numerous social media threats, and deputies noticeably scrutinized the courtroom.
Darden, who has been privately retained by Holder, asked L.A. Superior Court Judge Teresa Sullivan to ban cameras from the courtroom, which she denied.
Holder was initially held on $7 million bail, but that was reduced to $5 million after Thursday's hearing. Holder is due back in court on May 10th.
Nipsey Hussle (born: Ermias Asghedom) was shot multiple times on March 31st outside his The Marathon clothing store in south Los Angeles in Crenshaw. Two other men who were near Hussle at the time of the shooting were also wounded by gunfire, but they survived.
Holder was taken into custody on Tuesday (Apr. 2) after someone reported seeing the man police named as a suspect in Hussle's shooting death. He was arrested outside a mental health facility in the Bellflower L.A. suburb where he was reportedly attempting to seek treatment.
Investigators have said the slaying was the result of a personal dispute between the two men, and not gang-related, despite both men having ties to the Rollin 60's Neighborhood Crips.
A woman who drove Holder away from the murder scene hasn't been arrested or charged in the case, though she did turn herself in and said that she didn't know Holder had shot someone when he jumped in her car.
Holder faces life in prison without the possibility of parole if convicted at trial.
Be the first to receive breaking news alerts and more stories like this by subscribing to our mailing list.