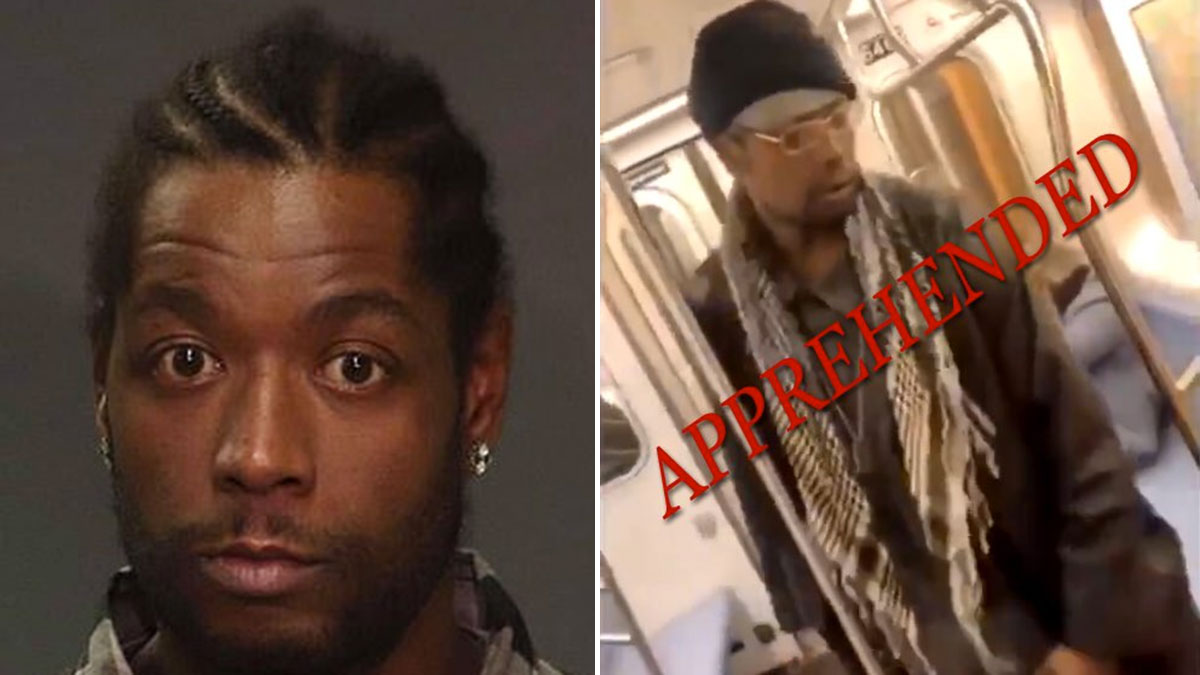 The man who was seen in a viral video repeatedly punching and kicking an elderly woman on a subway train in the Bronx borough of New York City has been arrested.
The horrific incident reportedly took place two weeks ago, on Sunday, March 10th around 3:10 a.m. at the Nereid Ave. Station in the Bronx on a northbound 2 train, and it was all caught on video that surfaced on social media, where it quickly went viral.
Witnesses stood by without intervening, and instead pulled out their smartphones to record as the helpless 78-year-old victim was brutally attacked by the man, later identified as 36-year-old Marc Gomez.
Gomez has since been arrested and charged with multiple counts of assault.
You can watch the video here, but be warned, it's VERY disturbing. Viewer discretion is most certainly advised:
WARNING: DISTURBING VIDEO: 78-year-old woman brutally kicked in the face on 3/10 at 3:10 am inside the 238th St/Nereid Ave subway station in the Bronx. If you have any info, call @NYPDTips at 800-577-TIPS

PLEASE SHARE!

— NYC Scanner (@NYScanner) March 22, 2019
NYPD Chief Dermot F. Shea shared a photo of the assailant on Twitter, announcing that the suspect had been apprehended and was in police custody. He added that the victim was treated in a hospital for her injuries and has since been released and is "getting the care, advocacy and support needed."
"Thank you to the worldwide community for the tremendous assistance," Chief Shea said.
The subject wanted for the brutal subway attack of an elderly woman IS IN CUSTODY. The victim was treated & released from the hospital & is getting the care, advocacy & support needed. Thank you to the worldwide community for the tremendous assistance. Add'l details to follow. pic.twitter.com/W4rFRDeuq2

— Chief Dermot F. Shea (@NYPDDetectives) March 23, 2019
Gomez's arrest comes just one day after NYPD posted a short clip of the incident showing the man's face asking for the public to help identify him.
The shocking video, which had already gone viral on social media and was seen by millions, shows Gomez hitting the woman multiple times as she tries to protect her face. Gomez can be heard saying "Who the f**k was you talking to?" as he finishes his brutal assault.
A female passenger is heard saying "excuse me" to Gomez, but he ignores her and exits the train.
Police said he got off at the 238th St./Nereid Ave. stop and fled on foot, while the woman he assaulted was left in her seat on the train holding her head in her hands.
Before Gomez left the train though, he let everyone know he was fully aware that he was being recorded by saying "Worldstar that my ni**a," referring to the popular website WorldStarHipHop.com, which is known for its shock content and fight videos.
Police said they weren't notified about the incident until a bystander reported it when the train arrived at the next and final stop, at the Wakefield-241st Street station.
Officials said the 78-year-old woman rode the train to one more northbound stop and was met with first responders as soon as she stepped off the train. She was taken to the hospital and treated for her injuries. She reportedly suffered bleeding and swelling with cuts to the face.
Gomez was arrested Saturday morning (Mar. 23) after a tipster who'd seen the viral footage online recognized him and gave police the info. they needed to nab him.
He was charged with felony second-degree assault, misdemeanor third-degree assault, and harassment assault. After prosecutors discovered Gomez had a misdemeanor conviction and open gun possession charge in the Bronx on his criminal record, a judge set his bail at $30,000.
Law enforcement sources told the New York Post that last November, Gomez was caught in possession of a 12-gauge shotgun and ammo after he was stopped by police on the Cross Bronx Expressway. He'd been free without bail in that case.
Police also said Gomez's criminal record has old, sealed arrests for assault, gun possession and marijuana possession.
Gomez's court-appointed lawyer spoke on his behalf at his hearing Saturday, saying that Gomez didn't kick the woman and accusing her of threatening him with a knife.
"She was homeless and lying across the seat and wanted all other passengers to move," said attorney Steven Mechanic. "She said, at that point, 'I have a knife and I'm going to stab you,'" and flashed "a sharp instrument," Mechanic added.
The victim's former neighbors in the Bronx told the Post that she is a childless, retired kindergarten teacher who moved out three or four years ago.
Neighbors also told the Post that the elderly woman suffered from a mental illness and had threatened residents with a knife in the past.
Be the first to receive breaking news alerts and more stories like this by subscribing to our mailing list.