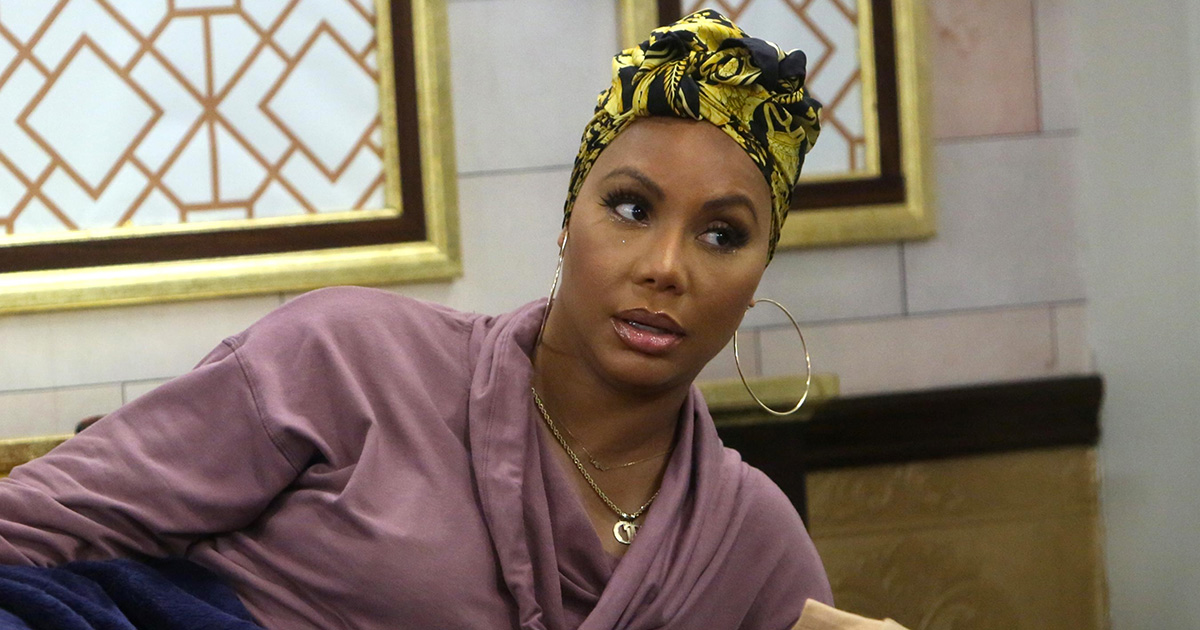 Tamar Braxton made it known early on that she wanted to win Celebrity Big Brother, and she did just that.
After a dozen contestants battled it out for weeks on live TV, Tamar Braxton came out victorious as the winner of Season 2's Celebrity Big Brother.
Wednesday night (Feb. 13), it came down to former NFL superstar Ricky Williams and R&B singer/reality TV veteran Tamar Braxton, but ultimately Tamar secured enough votes from her former houseguests to take the victory. In fact, she secured ALL of the votes, making her win unanimous.
Not only did Tamar walk away with $250,000, but her win was also historic, as she is the first African American EVER to win Big Brother here in the U.S. and she's also only the second person ever to win a U.S. Big Brother season unanimously.
Tamar spoke to Entertainment Weekly about her big win and what she plans on doing with her prize money: she's buying a new house for her and her son to live in.
"Well, right now, I'm in an apartment. I just … I don't even know if I'm divorced. [Calls out to the room] Does anybody know?"

PERSON WITH TAMAR ANSWERS: "No, you're not."

"[Laughs] Okay, when everything went down with [being let go from] The Real, a lot of things changed. And, unfortunately not really in my favor.

"But, I'm grateful for the person that I've become from all the hardships that I've been through. And the growth that I have received from all the changes that has been made.

"And so my son and I are going to be moving to a house. And every day he asks me to go back to his old house and that's just not available to him anymore.

"And I promised him a month and a half ago before I moved into the house that mom will be working hard to not replace it, but build towards our future and getting us a new house.

"Because we do live in an apartment and that's nothing that I'm ashamed of. Sometimes you've just got to start over to start right."
Naturally, Black Twitter was elated that one of us finally won Big Brother, with some pointing out that it happened during Black History Month.
Tamar Braxton won big brother! A black queen, during black history month! #CBBUS2 pic.twitter.com/ek8EhBpYLN

— Javier (@Doodlebob95) February 14, 2019
Congratulations to the first black winner of Big Brother Tamar Braxton?????????????????? Happy Black History Month ???????????? #CBBUS2 pic.twitter.com/2TzAe0AC5X

— James ? (@jamesss_101) February 14, 2019
Black people, who don't watch Big Brother, when they found out Tamar Braxton won. Including myself. #CBBUS2 pic.twitter.com/KSKVRKDFBt

— Desmond (@DesmondlWash) February 14, 2019
TAMAR BRAXTON NOT ONLY BECAME THE FIRST BLACK WINNER OF BIG BROTHER BUT SHE MADE THIS SEASON ENTERTAINING, BROUGHT THE DRAMA, WON ALL TWISTS, WON COMPS, PLAYED AN AMAZING GAME AND BROKE THE FIRST PERSON IN CURSE. GOD IS GOOD pic.twitter.com/Pocnp1VMww

— yas (@Adoomies1) February 14, 2019
@TamarBraxtonHer FIRST BLACK WINNER OF BBUS ON BLACK HISTORY MONTH! ?????WHAT A CELEBRATION #CBBUS2 pic.twitter.com/djXGmq6cGG

— ??? ??? (@AmaalNuux) February 14, 2019
A black female.
Just beat a historical record.
She didn't win 7-0… oh no, baby she won 9-0. Three competition wins and a secret power she didn't need to use. Tamar Braxton will go down in history as one of the best Big Brother winners ever. Period. #CBBUS2

— andrew ? (@evasreckoning) February 14, 2019
OMG, Tamar Braxton is the first black winner in the history of Big Brother US! #BBCELEB #CBBUS2 pic.twitter.com/pvrWTaEghS

— I Luh God ? (@aVeryRichBish) February 14, 2019
I'm so happy #TamarBraxton won. I think it gives alot of people hope after a dismal start to #BlackHistoryMonth Congratulations!!!!!!!

— ReneeSasha (@reneesasha) February 14, 2019
Tamar Braxton is the first African American to win @CBSBigBrother. ? #BBCeleb pic.twitter.com/VPk6rRrSRm

— Tamar & Vince (@tamarvinceshow) February 14, 2019
– FIRST BLACK WINNER
– WON UNANIMOUSLY
– BROKE THE FIRST TO ENTER CURSE
– WON COMPS
TAMAR BRAXTON IS A Q U E E N !!! pic.twitter.com/tQRfXMtDKb

— Chandler ? (@gabbystorch) February 14, 2019
Tamar Braxton the FIRST African American to win Big Brother in their 20 year HISTORY.

First person ever to break the "walk-in first" so called "curse".

First person ever to curse EVERYONE out, and not get evicted ?

I STAN ????????
HAPPY BLACK HISTORY MONTH ??#cbbus2

— Keda (@ItsKedaLove) February 14, 2019
Congrats to Tamar Braxton on her historic win!
Be the first to receive breaking news alerts and more stories like this by subscribing to our mailing list.