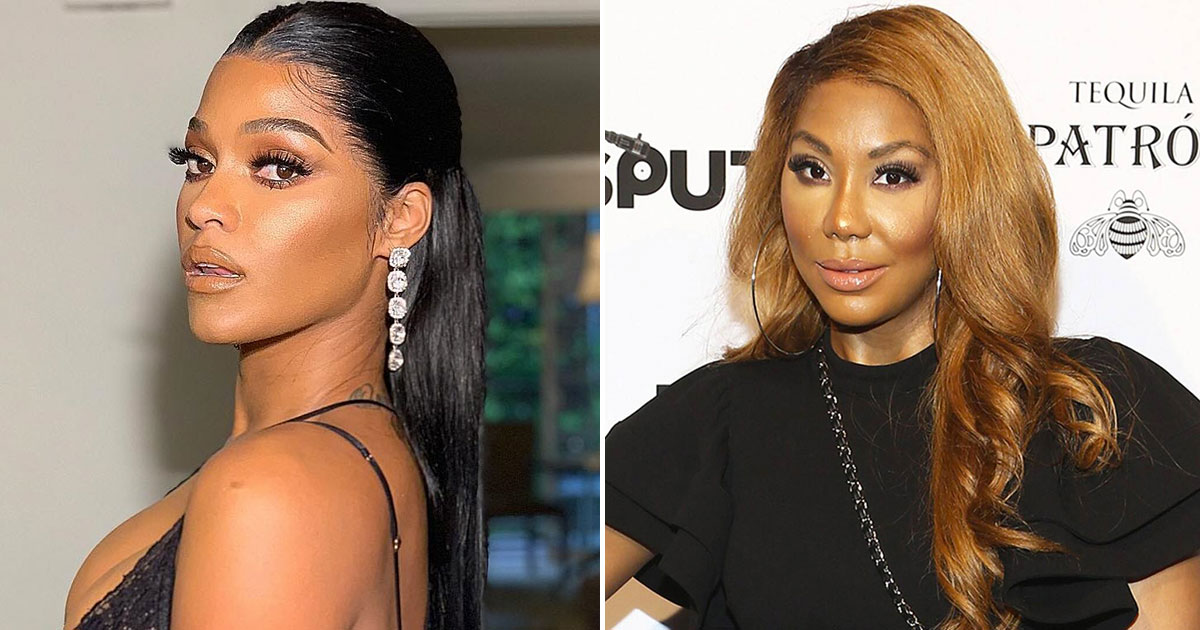 Amid Tamar Braxton's beef with her family, Joseline Hernandez recently took to social media to wish death on the former The Real host.
Tamar recently slammed her family members and WeTV after watching the latest trailer for Braxton Family Values Season 7, which addressed her suicide attempt over the summer.
In the trailer, Tamar's mother, Evelyn Braxton, said to the cameras: "Toni called, she told me that Tamar was rushed to the hospital because she tried to commit suicide."
The trailer also shows Toni abruptly leaving a studio session upon hearing the news. "I gotta go right now," she said.
Tamar was found unresponsive by her then-boyfriend David Adefeso on July 16th at the Ritz-Carlton Residences in downtown Los Angeles where they'd been staying.
Later that month, WeTV—who worked with the reality star on Braxton Family Values and Tamar's solo show Get Ya Life!—said they would be ending their working relationship with Braxton, honoring "her request to end all future work for the network."
But apparently, that didn't include the upcoming season of BFV, and Tamar was absolutely LIVID that the network decided to include her personal trauma in the show's storyline for ratings.
"After waking up to that disgusting trailer…F**K @wetv and whomever else participating for using my pain for their pleasure and ratings!!" she wrote in a post promoting her upcoming interview with Tamron Hall.
"Don't miss my exclusive TELL ALL on my girl @tamronhallshow next week ..at some point this abuse HAS to STOP!! and P.s. I'M NOT FILMING FOR THIS SEASON! THEY ARE DOING THIS WHILE I'M NOT ON THE SHOW!!!! #SCUMBAGSH**."
After seeing her sisters and mother talking to WeTV producers in the BFV trailer, Tamar hit the unfollow button on ERRBODY, including Mama Ev.
In the comments section of a post on The Neighborhood Talk, Joseline offered her opinion on the situation, saying that she believes Tay-Tay and her family are a bunch of attention-seeking "fake hoes."
Joseline also said that didn't feel bad after hearing about Tamar's suicide attempt, and she believes Tamar deserves to die for talking junk about people over the years.
"A bunch of fake hoes. Starting by the one tried killing her self," the Puerto Rican princess wrote.
"Tamar talked [too] much over the years on people. That hoe KARMA is here to [get] her and [I'm] saying DIE bitch. Watch people's play book. And you will see their future. Sad but True. I [don't] feel bad. She did it to herself. Next story."
YIKES.
For those who are unaware … Joseline and Tamar's beef dates all the way back to 2012 when Tamar made a joke about Joseline being a man.
"First of all Tamar, they been saying you look like a dude four years ago," Joseline responded at the time. "Bitch you the one that look like a man, don't get it twisted. Dont go there. For real, you like 50 years old. Im a young broad, I dont know you, why you f**king with me. I dont know who you are, I know your sister."
Joseline went on to call Tamar a crusty Beyoncé wannabe, and said that it's about time she got a hit (with her new single at the time "Love and War") since she'd been trying to make it in the industry for years.
Tamar responded to Joseline on Twitter, writing: "I guess if I wasn't bullied name calling wouldn't [affect] me. I always thought I wouldn't go through it as an adult. I guess I was wrong. smh."
Tamar eventually apologized to Joseline on Twitter, saying: "I should say sorry 2 @joseline cause I was only joking during a year in review show. It was all 'in fun' but I didn't want 2 hurt any feelings."
Be the first to receive breaking news alerts and more stories like this by subscribing to our mailing list.