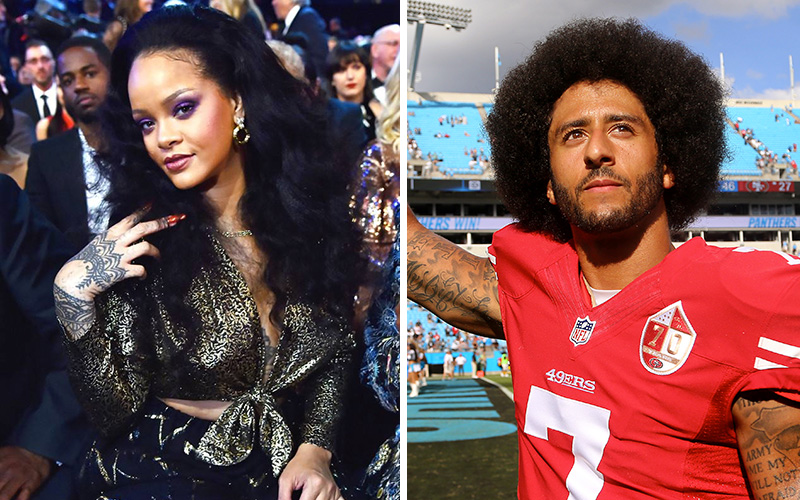 Performing during the Super Bowl Halftime Show is a huge milestone that not many artists have been able to achieve, and it's rare that an artist would turn down the offer.
Last year, JAY-Z declined (and confirmed it in his hit single with his wife Beyoncé "Apesh*t"), and this year, reports are suggesting that his Roc Nation artist Rihanna has followed in his footsteps.
Citing an unnamed source, Us Weekly reported that the NFL and CBS "really wanted Rihanna to be next year's performer" for the big game in Atlanta.
However, she declined in support of Colin Kaepernick, who was basically blacklisted from the NFL for kneeling during the national anthem played at games in protest over racial inequality and police brutality against black people and other minorities in the United States.
"They offered it to her, but she said no because of the kneeling controversy," the source said. "She doesn't agree with the NFL's stance."
Reps for the NFL and Rihanna haven't responded to requests for comment, however, an anonymous source told Entertainment Tonight that Rihanna and Pink were both approached by the NFL in its halftime show discussions, but both women decided to move on when negotiations took too long. That source said Kaepernick's name didn't come up in those early conversations.
After Rihanna turned them the down, the NFL reportedly extended their offer to Maroon 5, though nothing has been officially announced yet.
According to Us Weekly, Cardi B could join the band as a special guest, which wouldn't be too surprising considering they have a chart-topping song together.
"She is definitely being considered, but it's obviously way too early to say for sure," one insider revealed. Another source said, "Pepsi, the NFL and Cardi are all interested in her performing more than just her 'Girls Like You' verse."
Colin Kaepernick's decision to begin kneeling during the anthem in 2016 sparked a heated national debate, with critics, including President Donald Trump, calling players who kneel unpatriotic. Giving in to pressure from Trump and other conservatives, the NFL ordered players not to kneel on the field during the anthem and threatened to fine those who do.
After the protests, Kaepernick—who once admitted to having a crush on Rihanna—could not find a job for the 2017 season and sued the NFL, accusing owners of colluding to blackball him. He's still without a team, but Nike recently revealed that they have been quietly paying him and he is currently the face of their "Just Do It" campaign.
Be the first to receive breaking news alerts and more stories like this by subscribing to our mailing list.