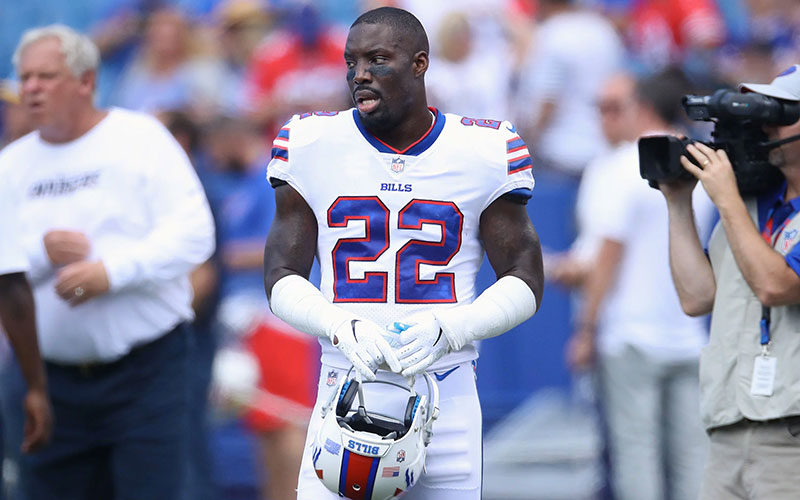 Buffalo Bills Cornerback Vontae Davis raised a lot of eyebrows with his bizarre halftime during Sunday's (Sep. 16) game against the Los Angeles Chargers, which ended in a 31-20 loss.
30-year-old Davis, who signed with the Bills this offseason and was inactive for Week 1, reportedly "put on his street clothes" during halftime, "said he was quitting and left the stadium," ESPN reporter Chris Mortensen wrote on Twitter, responding to this tweet from Buffalo Bills beat reporter Mike Rodak: "[Bills Linebacker] Lorenzo Alexander says he was told at start of second half that Vontae Davis quit and retired."
Word is Vontae Davis put on his street clothes at half, said he was quitting and left the stadium, per another source https://t.co/spdxMWrNSd

— Chris Mortensen (@mortreport) September 16, 2018
In a post-game interview with SportsCenter, Lorenzo Alexander said Davis' quitting in the middle of the game (which they ended up losing) was "completely disrespectful to all of his teammates." Alexander added, "[Davis] didn't say nothing to nobody. You know as much as I know. I know I found out going into the second half of the game. He said he was not coming out, he retired."
Buffalo CB Vontae Davis apparently retired at halftime during the Chargers-Bills game Sunday.

"He said he's not coming out. He retired…"
—Bills LB Lorenzo Alexander pic.twitter.com/ab7wJoyc7f

— SportsCenter (@SportsCenter) September 16, 2018
Hours after his abrupt exit, Davis released a statement via the NFL's official Twitter account.
"This isn't how I pictured retiring from the NFL," he wrote. "But today on the field, reality hit me and hard. I shouldn't be out there anymore."
Davis said he didn't mean to disrespect his teammates and coaches—some of whom took it as disrespect.
"I hold myself to a standard. Mentally, I always expect myself to play at a high level," he wrote. "But physically, I know today that isn't possible and I had an honest moment with myself. While I was on the field, I just didn't feel right, and I told the coaches, 'I'm not feeling like myself.'"
Bils coach Sean McDermott was just as confused as everyone else. "[He] pulled himself out of the game. He communicated to us that he was done," McDermott told reporters.
Bills Defensive Tackle Kyle Williams said he's never experienced something like this before. "I think the only thing to say is he's where he needs to be right now," Williams said. Asked where that was, he responded: "That's not here, point blank and simple."
Read Vontae Davis' full statement on his retirement below:
Official statement from CB @vontaedavis. pic.twitter.com/8WXszhnrUo

— NFL (@NFL) September 16, 2018
Be the first to receive breaking news alerts and more stories like this by subscribing to our mailing list.