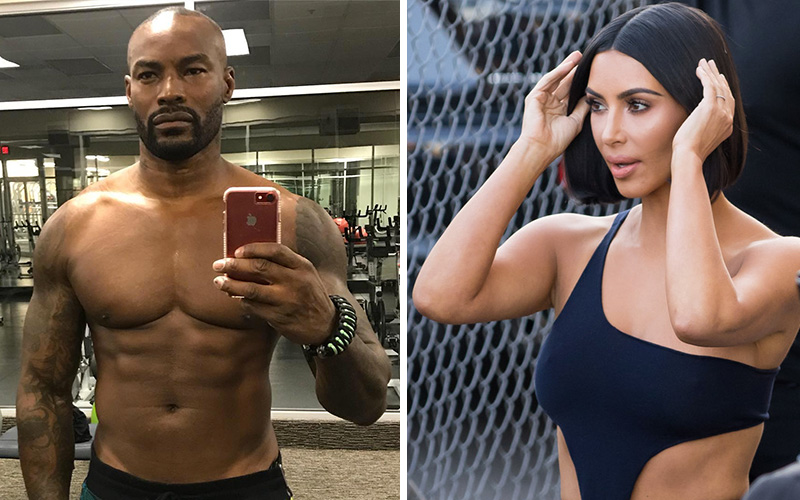 Kim Kardashian sparked a debate on social media after she accused male supermodel Tyson Beckford of being a closeted homosexual man.
It all started when Beckford, 47, commented on an Instagram photo of her that was later screen-shotted by The Shade Room. "Sorry I don't care for it personally," he wrote of the photo highlighting her body shape and alleged "botched" cosmetic surgery. "She is not real, doctor f***ed up on her right hip."
37-year-old Kardashian, who has previously said that she's never gone under the knife, replied, "Sis we all know why you don't care for it," basically insinuating that Beckford, a proud father of one, is gay and isn't attracted to women.
Social media reactions were all over the place, with folks going in on Kim for calling Tyson "sis" and others going in on Tyson for body shaming Kim.
kim kardashian really dragged tyson beckford out of the closet that kendall is hiding in.

— ?? (@breepeng) July 31, 2018
You guys think @KimKardashian implying that Tyson Beckford is gay and shading him for it was funny? Meanwhile she bitched and moaned when ppl made fun of her schizophrenic, pill popping husband? Y'all better stop encouraging that bad body white woman in her disrespect of our men!

— The Opinion (@SheraeSpeaks_) July 31, 2018
https://twitter.com/RoseIsotope/status/1024399641067114496
I hope y'all get kim kardashian together for that homophobic response to Tyson Beckford.

— Kaldur (@KidTiger__) July 31, 2018
Kim Kardashian, you're questioning Tyson Beckford's sexuality, like being "gay" is something evil. How about you worry about your husband mental health because you should be more concerned about his well being than if someone is gay. The nerve of this woman. Not today Kimberly.

— Mr. Weeks ?? (@MrDane1982) July 31, 2018
https://twitter.com/MattyBrand/status/1024647908682072064
Tyson Beckford's comments on Kim K's body (however true or whatever) reeked of male privilege and body shaming.

Kim Kardashian's response was rooted in slick homophobia. Women love using "gay" to emasculate men but all they really do is out themselves as fake-ass 'allies'.

— Chad Radwell. (@_NeMmY_) August 1, 2018
Ok here's a question. IF Tyson Beckford IS gay… is Kim Kardashian's "sis" comment homophobic or just disrespectful. You don't gotta comment, you don't gotta retweet. Just think about it. ???

— QARTIER (@_ThatsQuise) August 1, 2018
https://twitter.com/DTP1908/status/1024432069085196289
Tyson body shames Kim & y'all still find a way to bash her for calling him sis? The Kardashians are culture vultures, this ain't nothing new, but that's still no excuse to ignore him doing something y'all wouldn't accept another man doing to any other woman. Kardashian or not.

— ??SIR. ????? (@Stwill_) July 31, 2018
She didn't ONLY call him sis. There was a whole sentence after that. Plus, Kim Kardashian is not a Gay person. https://t.co/govYavSVYR

— Yvangelista (@AdamantxYves) July 31, 2018
Wait Kim Kardashian called Tyson Beckford sis? BITCH AGSJAFAJAV IM SCREAMING IN MY JOBS RESTROOM ?? pic.twitter.com/AbF6hMBdkl

— johnal ??? (@johnalstiger1) July 31, 2018
https://twitter.com/MercedezUAZ/status/1024377008757727232
This new shit where straight folk use "sis" to call each other gay in a roundabout way… I hate it. pic.twitter.com/iEAEeUUNbd

— Craig Bro Dude (@CraigSJ) July 31, 2018
Tyson later responded with a series of Instagram stories, doubling down on his initial response to the picture, saying that his comments weren't specifically targeted at Kim.
"Despite what @TheShadeRoom might be tryna say, my opinion on women who do plastic surgery stays the same, not for me! I personally don't care for it! End of story," he wrote. "Always gonna pick a Beyoncé over anyone else."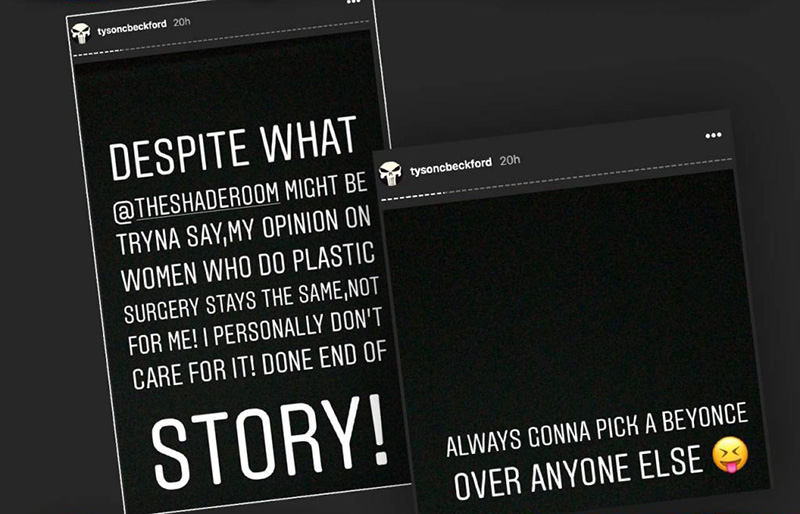 So far, Kim has yet to respond, and Tyson clearly refuses to let the whole thing go:
Be the first to receive breaking news alerts and more stories like this by subscribing to our mailing list.