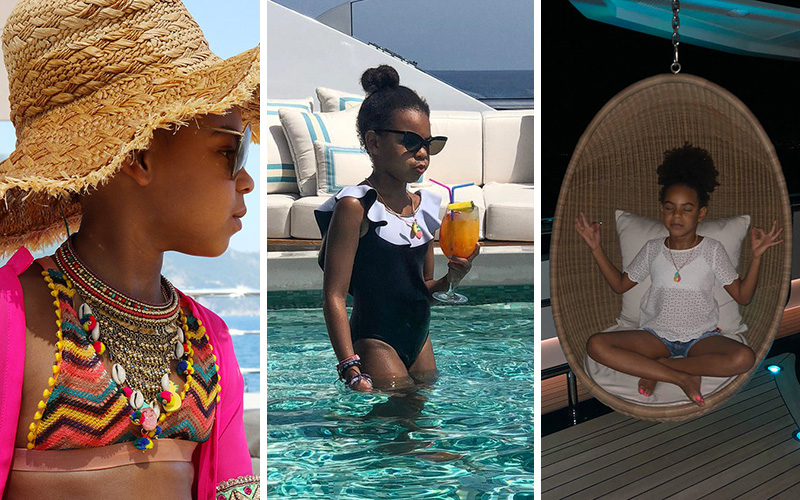 Beyoncé and JAY-Z are pretty guarded when it comes to showing off their kids, so whenever they do, it's kinda like a big deal.
Earlier this week, Beyoncé uploaded a slew of photos showing the Carters living their best lives on a luxury yacht they chartered for a vacation in Europe following the conclusion of the European leg of her "On The Run II Tour" with husband JAY-Z.
Most of the photos were of Bey and Jay, but we were also treated to rare photos of the couple's year-old twins Sir and Rumi Carter, as well as new pics of 6-year-old Blue Ivy Carter, who was pretty much #VacationGoals throughout the whole trip.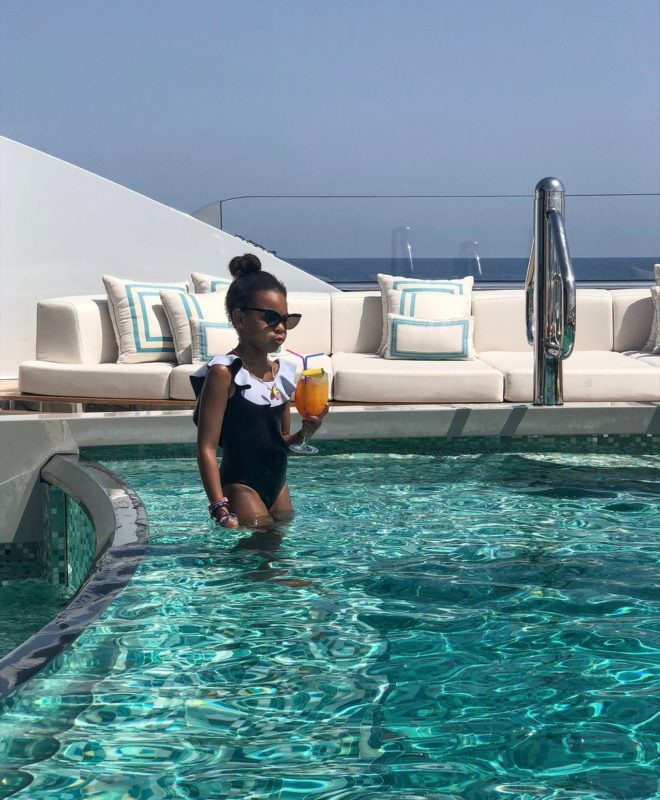 One photo shows her standing in a mini-pool and looking completely unbothered while wearing a black and white ruffled swimsuit (which probably costs more than your rent) and a pair of chic sunglasses with a refreshing orange-colored beverage in her hand, looking like a mini-Yoncé.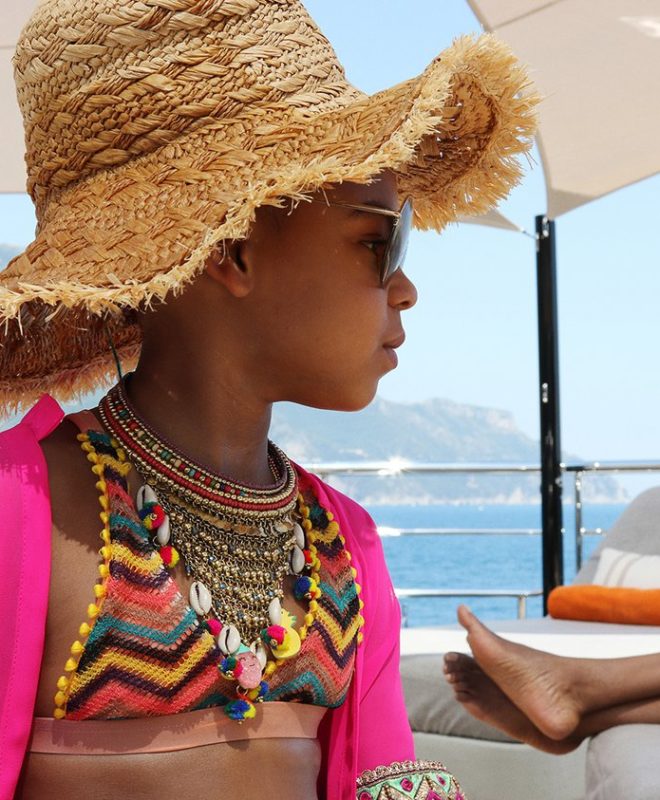 Another photo shows her wearing an adorable zigzag-patterned two-piece bikini she matched with a statement necklace, straw hat and pink shirt, again with a pair of sunglasses.
She can also be seen meditating with Beyoncé in other photos, and spending time with mom and grandma Tina Lawson in other photos. One pic shows Bey and Blue wearing matching pink outfits.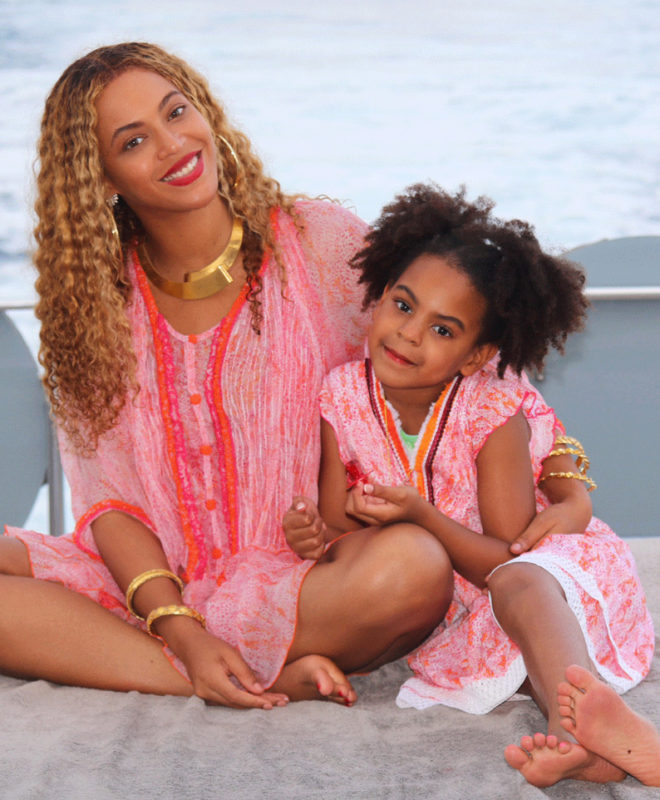 Twitter immediately took notice of Blue Ivy's worry-free European yacht vacation.
Blue Ivy is really out here living her best life pic.twitter.com/BWIoyEiV81

— BEYONCÉ HUB (@theyoncehub) July 26, 2018
Blue Ivy is a whole MOOD. pic.twitter.com/MVqj2IwwgG

— TW? (@mayathemuse) July 26, 2018
Blue Ivy is living a better life in 6 years than i have in over 20 years https://t.co/QdyQtclaA5

— Shafeeq (@Y2SHAF) July 26, 2018
Look at Blue Ivy, man. She so rich she don't even play in the pool like regular kids. pic.twitter.com/oY5DMKRfsQ

— BIG MAMA. (@HUMonTHESE) July 26, 2018
Blue Ivy stay reminding me how broke I am pic.twitter.com/gz3RsjUnba

— Jason Dumas (@JDumasReports) July 26, 2018
The only two moods that matter.
Thank you, Blue Ivy. pic.twitter.com/mErqxbq0fx

— palesa (@palesakgasane) July 26, 2018
Blue Ivy the unbothered legend pic.twitter.com/bVz12C0Hgi

— Black Girl Culture (@blkgirlculture) July 26, 2018
https://twitter.com/imafreebeotch/status/1022166487631417344
My vacation as a kid vs. Blue Ivy's vacation pic.twitter.com/feQvjoyyx0

— Joseph Zambrano (@JZnotthatJAYZ) July 26, 2018
Blue Ivy in a swimming pool at 6 vs. Me in a swimming pool at 6 pic.twitter.com/JnsDZ0l3lH

— Giuly ? (@Princessofwifi) July 27, 2018
beyoncé and blue ivy watching girl meets world. LEGENDS ONLY pic.twitter.com/7kghW43IYs

— have A VERY merry christmas (@singularsabrina) July 27, 2018
I can't believe Blue Ivy invented shades pic.twitter.com/upUJ8idaG6

— . (@badgalmunaaa) July 26, 2018
Blue Ivy is honestly making me feel pathetic right now. pic.twitter.com/Yu6L42bzy9

— Woman (@0e_f0) July 26, 2018
Retweet for Blue Ivy to bless your future. pic.twitter.com/JjVK8ndaB0

— BEYONCÉ HUB (@theyoncehub) July 26, 2018
https://twitter.com/TweetECR/status/1022463392366436352
Check out more pics of Blue Ivy Carter and her family below: