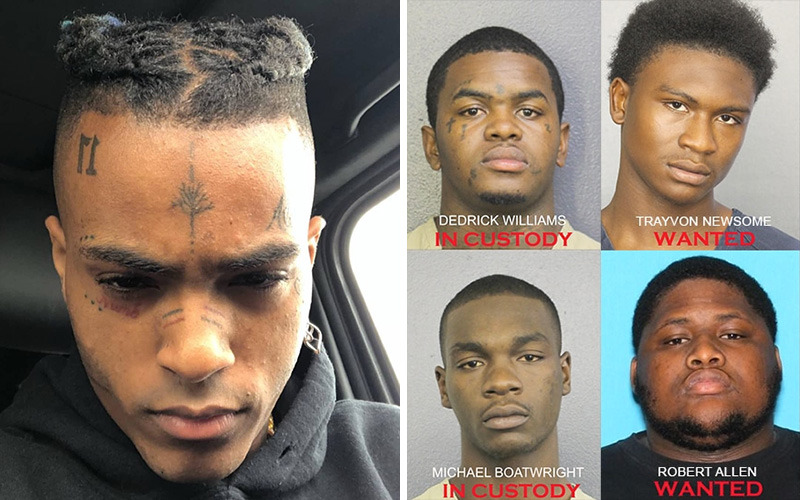 The four men involved in the shooting death of XXXTentacion have been indicted by a Florida grand jury, and police are asking for help finding two of them who are still at large.
According to Broward County sheriff's deputies, the 20-year-old rapper (real name: Jahseh Dwayne Ricardo Onfroy) was shot and killed on June 18th in an apparent robbery attempt as he was living RIVA Motorsports in Deerfield Beach, Florida.
Two men, Dedrick Williams and Michael Boatright, both aged 22, have been arrested on charges of murder and armed robbery in connection with the attack, while two other men, identified as 20-year-old Trayvon Newsome and 22-year-old Robert Allen, remain at large and are wanted by police. All four of the men were indicted on Wednesday, July 18th.
Broward County sheriff's deputies said Boatwright and Newsome were armed when they confronted Onfroy in broad daylight and they were the ones who actually pulled the trigger and fatally shot him, ending his life. Boatwright was charged with first-degree murder on July 10th. He had been in jail since July 5th on charges unrelated to the shooting, deputies said.
Dedrick Williams was also arrested in connection with the killing days after it occurred and is being held on bond. He is believed to have had an "active part" in Onfroy's death, deputies said in his arrest warrant.
The Miami Herald detailed the June 18th incident that led to XXXTentacion's shooting death:
Before Pompano Beach rapper XXXTentacion swung by Deerfield Beach's Riva Motorsports to look at motorcycles on June 18, he stopped at a Bank of America branch to take out $50,000 in stacks of $100 bills.

That $50,000 was in the Louis Vuitton bag that gunmen stole when they fatally shot XXXTentacion as he and a friend tried to drive out of Riva's parking lot, according to an arrest warrant.

The warrant says Allen was seen on surveillance video at Riva with Williams minutes before the robbery. Also, the warrant says Allen was with Boatwright and Tony Robinson, Williams' close friend, when Robinson rented the 2017 Dodge Journey detectives say blocked XXXTentacion's BMW as he left Riva's parking lot. Arrest warrants say witnesses and surveillance cameras saw two gunmen jump out and take the Louis Vuitton bag, then take XXXTentacion's life.

As described in Boatwright's arrest warrant, investigators followed a Dedrick Williams trail to the indicted quartet. Williams' arrest warrant said Riva staff recognized him by his heavily tattooed face as a regular customer, and Riva's surveillance cameras spotted him in the store buying a black mask beforehand while wearing idiosyncratic orange sandals seen on his Facebook and Instagram accounts.

(Boatwright's warrant said Williams originally denied being at Riva on June 18, but changed his story when detectives told him of the store's near-omniscient surveillance camera system).

The warrant also says Tony Robinson, so tight with Williams that she often says she's Williams' sister, rented the Dodge Journey from Miramar resident Tanisha Clark on June 17 for $60 via the Turo app. Robinson told detectives she let Allen have the car and never saw it again.

She told cops that the next day, June 18, she got a call that Newsome had wrecked the Dodge Journey. That crash, a hit and run at 3100 NW 19th St. in Fort Lauderdale, happened three hours after the robbery. Fort Lauderdale police identified Newsome as the driver.

When BSO detectives hit Williams' car and home with search warrants, Boatwright's arrest warrant claims, they found the orange sandals, a live .22 caliber round of the same brand as the casings found around the BMW and a loaded .38 caliber gun. They also found $800 of clothing bought at Just for Sports in Fort Lauderdale on June 19.

Williams' babysitter told police when Williams came home on June 18, Williams paid him with a single $100 bill.

On Williams' cellphone, the Boatwright warrant says, police found a June 18 video of Williams "dancing with a large amount of $100 bills which he throws out on the floor in front of him" and a June 19 video of "a person sitting in the driver's seat of a vehicle holding a large amount of 100 dollar bills in both hands. This clear video shows that the person depicted in the video is Dedrick Williams, not Robert Allen as first believed."

On Boatwright's cellphone, the warrant says, cops found photos of Boatwright taken June 18 with "a large amount of $100 bills fanned out in front of him" and one in which he and Newsome were "holding a large amount of $100 bills."

Also on Boatwright's phone: On June 29, he searched for information on "accessory to murder."
Anyone with any information about Trayvon Newsome and Robert Allen's whereabouts has been asked to contact the BSO homicide detectives John Curcio or Walt Foster at (954) 321-4210.
Those who wish to remain anonymous are asked to contact Broward Crime Stoppers at 954-493-TIPS (8477) or online at www.browardcrimestoppers.org. Anonymous tips that lead to an arrest may be eligible for a reward of up to $3,000.
Be the first to receive breaking news alerts and more stories like this by subscribing to our mailing list.