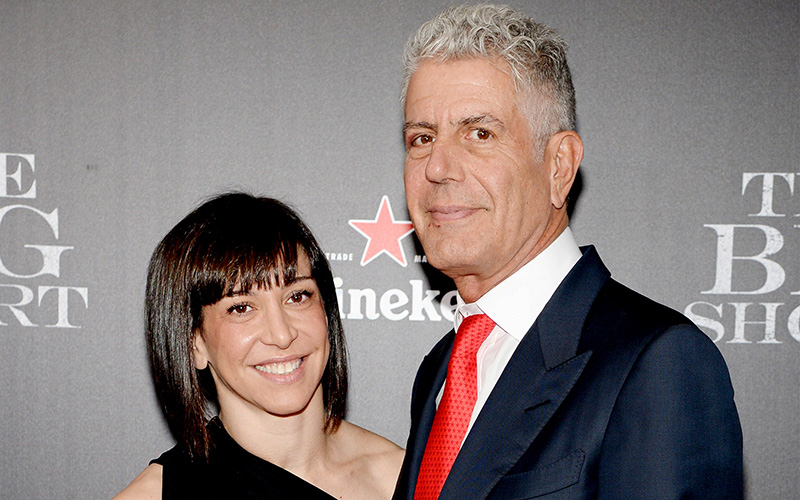 Celebrity chef and TV host Anthony Bourdain died Friday (Jun. 8) of an apparent suicide at the age of 61. The "Parts Unknown" had hanged himself and was found unresponsive in a hotel room in France by his friend, chef Eric Ripert. Bourdain was in France shooting his CNN show "Parts Unknown" when he killed himself.
In addition to his legion of fans who are now mourning his loss, Bourdain is also survived by a family who loved him dearly, including his ex-wife Ottavia Busia and daughter Ariane.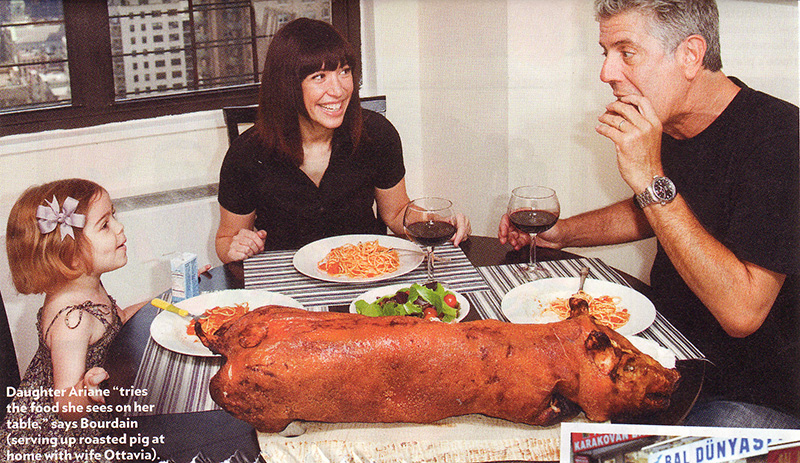 The pair married on April 20th, 2007, a little over a week after Busia gave birth to their now 11-year-old daughter Ariane. The couple announced their split in 2016, citing Bourdain's demanding work and travel schedule for making their relationship impossible. Busia said in a statement to Page Six at the time, "Because of professional decisions we both have made, my husband and I have been for years in an unconventional relationship. Nothing has changed. We love each other. We respect the decisions the other has made. And we'll always consider ourselves a family."
Here's what you need to know about Anthony Bourdain's second ex-wife Ottavia Busia.
Ottavia Busia grew up in a small town in Italy and moved to the U.S. as a groupie with an Irish rock band.
https://www.instagram.com/p/YDJBECoCMO/?taken-by=ottaviabourdain
In a 2012 interview with the New York Times, Ottavia Busia said that she grew up in a small town in the northern part of Italy. She said she was studying to be a dentist, but all of that changed in 2000 when Busia moved to the United States to follow an Irish rock band.
On music, Busia said her gym playlist was "pretty eclectic" and contained artists such as the Foo Fighters, Smashing Pumpkins, Rage Against the Machine, Vampire Weekend, Perl Jam and others.
Ottavia and Anthony were introduced by Anthony's good friend, chef Eric Ripert.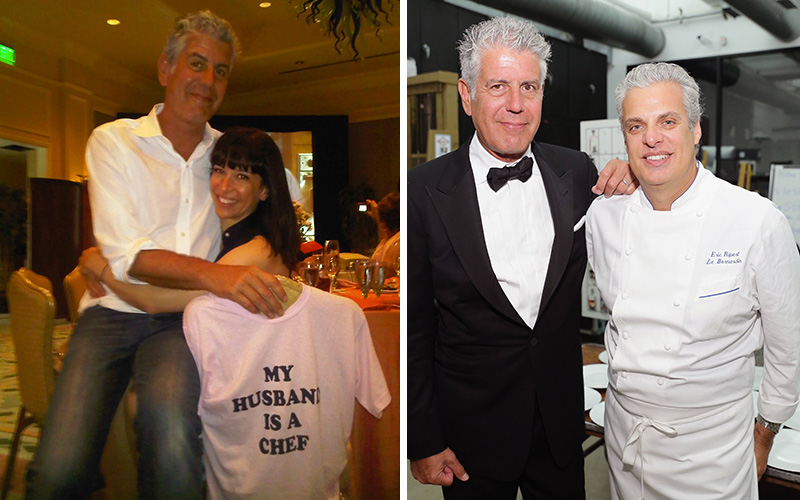 In her interview with the Times, Busia said that her first job was a waitress in a pizzeria in Italy, and after moving to the U.S. she worked various restaurant jobs in New York City before becoming the general manager of a sushi restaurant called Geisha.
The restaurant's consulting chef was Bourdain's friend Eric Ripert—the man who would in later years find the CNN star dead. Ripert thought that Bourdain and Busia would hit it off so he introduced them to each other. Ripert told the Times, "It was what we call in French a coup de foudre," which means love at first sight. And it certainly was, considering the pair got matching chef's knife tattoos after "a few dates," the NY Times reported.
Bourdain said in an interview with Cosmopolitan Magazine that he fell in love with Busia while watching her devour a six-pound lobster. He also talked about how the couple had their first date in a cigar bar.
Busia told Married to a Chef that the restaurant business was what brought her and Bourdain together. She said that they would often meet after her shift and drink beers for hours on end while discussing the business. Busia said, "Anybody else would have been bored to death, or horrified, but for him it was enjoyable and it would bring back memories his days in the business."
Busia said in her interview that Bourdain didn't cook for her at home. When she was asked what the best part of being the spouse of a chef was, she answered, "Not the food!" She said, "My husband doesn't cook at home, although if you ask him he'll tell you I don't let him, or that I don't appreciate his cooking, which might or might not be true."
Ottavia said that the biggest strain on her relationship with Anthony was his demanding work schedule.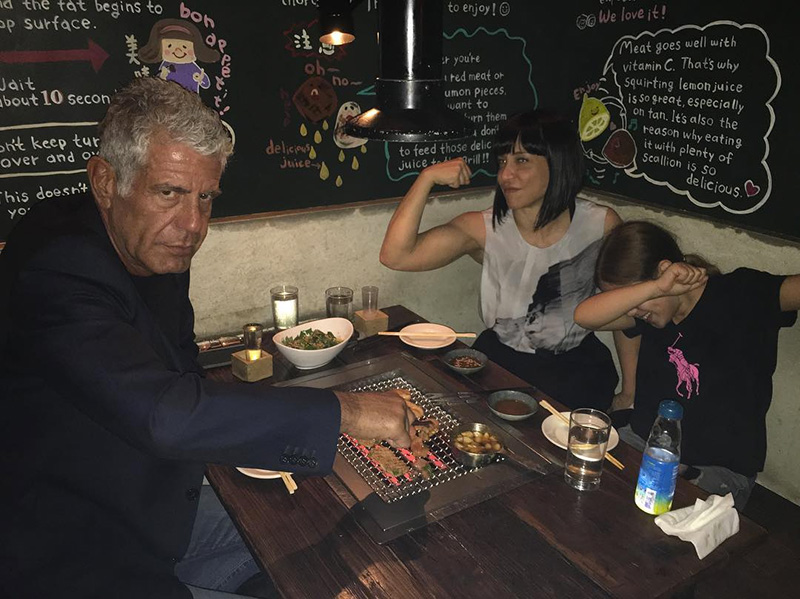 Ottavia Busia said in a 2010 interview with the Miami New Times that the hardest part of her marriage to Anthony Bourdain was his constant traveling schedule for work. Busia joked that it had been her "childhood ambition to marry Anthony Bourdain."
Busia said a perfect day for her would be drinking daiquiris with her husband while their daughter is "splashing around in the sea." She added that her ideal date would be "a weekend room at #55 at the Chateau Marmont."
Busia also revealed how her husband's increasing fame impacted their lives.
"When I first met my husband he wasn't particularly famous, he was recognized in certain circles but people wouldn't stop him in the street. His level of popularity has now definitely increased, he has written more books, he does speaking engagements, and his shows are broadcast all over the world," she said.
"I have to admit at first, when people started asking for pictures or autographs pretty much everywhere, it was a little unsettling, now I'm the one who offers to take the picture if someone approaches him," she added. "I completely support everything he wants to do, whether it's traveling to Libya, bungee jumping or writing a comic book."
Expanding on her feelings regarding Bourdain's demanding work schedule, Busia said, "I remember once waking up in the middle of the night terrified because someone was in my bed. That someone was my husband, I had just forgotten that he was home."
Thanks to Busia's MMA passion, Bourdain wrote in a 2013 Vice article: "Date night is pretty much going to a fight. In between we watch tapes of guys wrestling each other. Romantic? Not."
Bourdain and Busia divorced in 2016 after nine years of marriage. He was dating Italian actress Asia Argento at the time of his death.
Ottavia Busia is an MMA fighter, and she said Bourdain would often joke, "I married Sophia Loren and ended up with Jean Claude Van Damme."
https://instagram.com/p/BJoL7jxBJef/?utm_source=ig_embed
Ottavia Busia is a trained MMA fighter and she specialized in the art of Brazilian Ju-Jitsu. She wrote in an essay for Lena Dunham's Lenny newsletter about her love of MMA in 2016. Busia mentioned in her essay that Bourdain would often joke that he "married Sophia Loren and ended up with Jean-Claude Van Damme."
https://instagram.com/p/BKuI11hhQFz/?utm_source=ig_embed
She explained how she became interested in the sport, writing:
I began kickboxing on the Upper East Side shortly after the birth of my daughter nine years ago. The gyms and locker rooms there smelled of fresh blowouts and nail polish.

Like me, most of the other women were there to "get their body back" after pregnancy or to learn self-defense. But even after I had "gotten my body back" and finished the self-defense classes, I found myself wanting more. I was hooked.

When I decide I like something, I go in all the way. And what I really liked was hitting my instructors. So they told me I should train in jujitsu.
About Anthony's Sophia Loren joke, Busia shared:
"There's something to that. I'm not the same person. I'm hard now, physically and mentally. The confidence I gained is something I'm proud to share with my daughter, who, like me, has been training jujitsu for some time."
Busia says her MMA training diet consists of "mostly meat and cheese, with the occasional donut."
https://www.instagram.com/p/BCWTuOQICLC/?hl=en&taken-by=ottaviabourdain
Ottavia Busia explained her MMA training diet in an interview with the Jiujitsu Times. She said that her diet is "definitely not hard to maintain" considering it's "mostly meat and cheese with the occasional donut." But she did note that her diet not work for everyone because she trains around 20 times per week.
On Busia's discipline, Bourdain said, "I'm not like Ottavia, who's doing this three or four hours a day, or my daughter who goes five to six hours a week. … It's a family affair, a togetherness thing. I'm liking it, but I'm trying to be reasonable about it. My wife is serious about it. She's a competitor. I'm not. I'm a dilettante."
Be the first to receive breaking news alerts and more stories like this by subscribing to our mailing list.