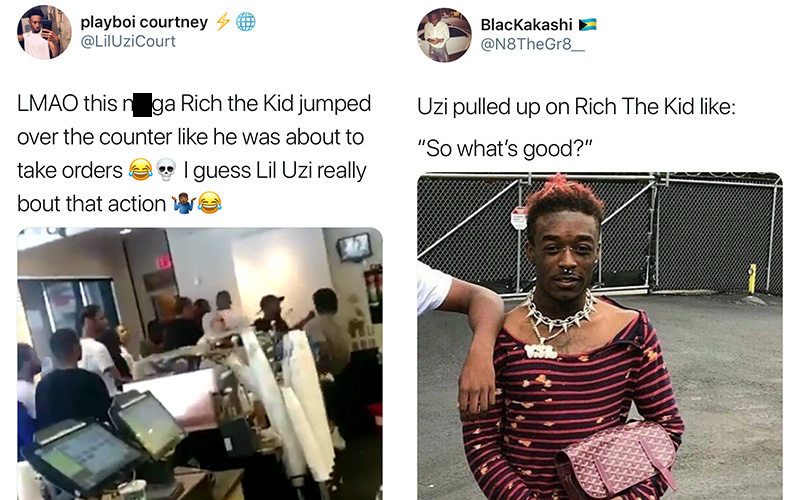 It looks like Rich The Kid and Lil Uzi Vert's rap beef has spilled over into "the streets," and the internet is doing what it does best: turning the situation into countless memes.
Uzi and Rich have been going at it ever since Uzi rejected Rich's label deal, opting instead to go with DJ Drama. Back in February, the two rappers had a heated back and forth on social media when Uzi called Rich a "1,000 crab." And a month later, Rich released an Uzi diss track titled "Dead Friends," an obvious reference to Uzi's "XO Tour Lif3" lyric "Push me to the edge, all my friends are dead." Rich's Uzi diss track also included the line, "Yo money getting shorter," referencing Uzi's "Money Longer" hit.
Hilarious video footage that has gone viral on social media shows Lil Uzi Vert confronting Rich The Kid in Philadelphia over the weekend. Both rappers were in town Saturday (Jun. 2) for the annual Roots Picnic festival.
In the fan-shot footage, Uzi can be seen verbally confronting Rich on a street corner. Apparently, Uzi was riding in a car when he saw Rich standing on the street corner and decided to hop out to confront him.
Another video shows Rich then running down the street into a nearby Starbucks, where a physical confrontation ensued. While inside the Starbucks, Uzi punches Rich, causing him to jump behind the counter in an effort to evade the punches.
Rich later took to social media where he posted a video of his own in an effort to prove to the world that he was unscathed in the confrontation.
After all was said and done, Uzi was spotted in the club later that night dancing to Rich the Kid's "New Freezer," seemingly gloating about his victory.
https://twitter.com/UziVertically/status/1003336993965858816
Rightfully, Rich the Kid was given the Donkey of the Day award by Charlamagne tha God of the Breakfast Club:
And from the confrontation on the street to the altercation inside the Starbucks, the whole Lil Uzi vs. Rich the Kid situation has inspired a number of hilarious memes and Twitter reactions.
Check out some of the best/funniest ones below:
BREAKING:
Lil Uzi Confronts Rich The Kidpic.twitter.com/onUoJiGZjK

— lukey 9000 degreez®(dripologist) (@lukevoice) June 3, 2018
Lil uzi wear crop tops and still pulled up and knocked rich the kid upside his head. An elusive and feisty king

— steve (@StevesBussin) June 3, 2018
Folks surprised Uzi pulled on Rich the Kid like he ain't do this to the guy who kept leaking his music ? pic.twitter.com/ITuhL6O4b2

— Chado (@joeychadass) June 3, 2018
Pusha T revealed that Drake had a hidden child

Chief Keef finna kill 6ix9ine's pedo ass

Uzi just ran up on Rich the Kid in Philly

Hip-Hop beef is finally good again

— censored dialogue (@censoredialogue) June 3, 2018
https://twitter.com/LilUziCourt/status/1003093759683383296
https://twitter.com/geneidon/status/1003148193444646912
Rich the kid finna be employee of the month ?? pic.twitter.com/5oQqKd7LVP

— Miguel (@THELASTGOON1) June 3, 2018
Rich the kid running away from Lil Uzi Vert pic.twitter.com/71RIbZu8M5

— Cristian (@Cristian_thefag) June 3, 2018
https://twitter.com/Kiandraaaaaa/status/1003128074903412736
Lil Uzi will pull up on Rich The Kid and then go back to sipping Rosé wearing a Chanel purse with Young Thug. A master of balancing feminine and masculine energy.

— Mike Karpouzie (@mikepouzie) June 3, 2018
Lil Uzi Vert pulled up on Rich the Kid in Pink margielas PINK FUCKING MARGIELAS, Don't come for him again #LilUziVert pic.twitter.com/5G23jVhuTO

— theafterparty (@cj262343) June 3, 2018
Uzi pulled up on Rich The Kid like:

"So what's good?" pic.twitter.com/Q2SuRdFJK3

— BlacKakashi ?? (@N8TheGr8__) June 3, 2018
https://twitter.com/DCSpero/status/1003116792754180096