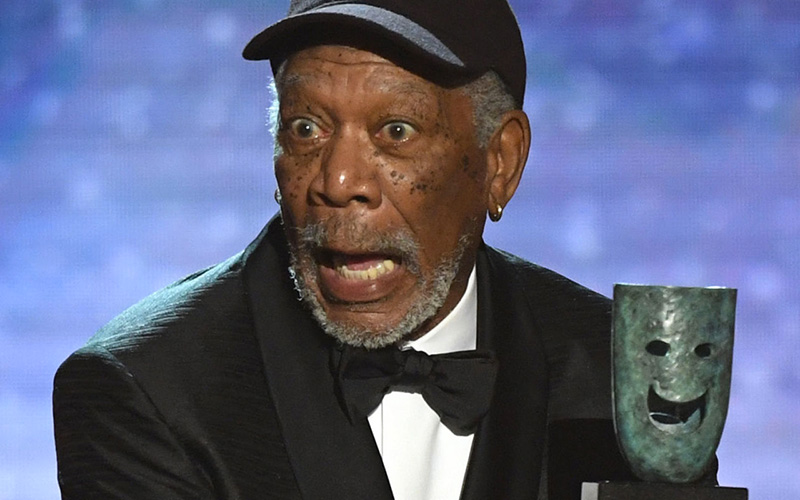 Legendary actor Morgan Freeman is the latest celebrity to see his name added to a growing list of Hollywood's alleged sexual offenders.
Just one week before his 81st birthday, the Academy Award winner is making headlines today after at least eight women have come forward accusing the actor of sexually harassing them over several years on the set of his movies or during media events related to his projects.
CNN says they spoke to 16 people—eight of whom claim they were victims and eight who were witnesses to the alleged misconduct—describing multiple troubling incidents throughout Freeman's career.
One of the allegations comes from a young production assistant, who said that in the summer of 2015, while she was working on Freeman's bank heist comedy Going In Style, she was subjected to harassment that spanned over a period of several months.
She told CNN that Freeman repeatedly tried to lift up her skirt to see if she was wearing underwear and also made unwanted comments about her figure. She said Freeman's co-star, Alan Arkin, saw what was happening and told Freeman to stop. "Morgan got freaked out and didn't know what to say," she recalled.
Another woman who worked with Freeman on the movie "Now You See Me" in 2012 as senior production staff member told CNN that Freeman would often make comments about her body and that of another female staffer, saying that women on set knew how to cover up whenever he was around. "We knew that if he was coming by … not to wear any top that would show our breasts, not to wear anything that would show our bottoms, meaning not wearing clothes that [were] fitted," she said.
A CNN reporter also said that she was subjected to Freeman's alleged misconduct, recalling a 2015 media junket in which Freeman told her she looked "ripe." She was six months pregnant at the time and alleges that Morgan said to her "Boy, do I wish I was there" to see her conceive her child.
At the request of a spokesperson for Freeman, CNN e-mailed a "detailed list" of the accusations against the actor—who was once accused of having an illicit affair with his late step-granddaughter, whom he'd known since she was a child—but has so far not received a response.
Be the first to receive breaking news alerts and more stories like this by subscribing to our mailing list.