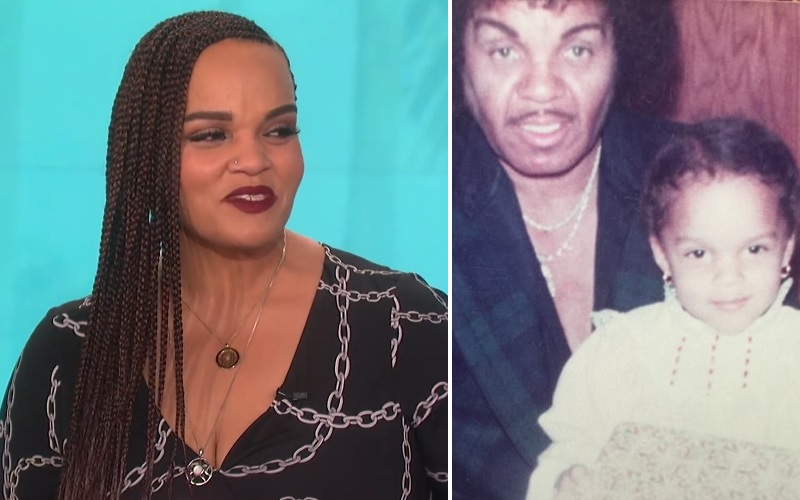 Did you know Michael Jackson, Janet, and the rest of the Jackson kids have a half-sibling? Joh'Vonnie Jackson is Joseph Jackson's youngest child from a 25-year long affair and she's telling her story in her memoir, "Bastard Child."
Joh'Vonnie, 43, appeared on The Talk last week to promote the book. She's always had a relationship with her father. She also knew of her famous siblings but reveals during the interview that they really didn't acknowledge her.
Rebbie—the oldest Jackson sibling—was the only one who welcomed Joh'Vonnie and even introduced her to Janet. Though Joh'Vonnie was a fan of Janet's album Rhythm Nation 1814, she says the initial meeting went left.
"We met up at Rebbie's house and we were having a pretty good conversation until I said, 'Daddy' and she got upset. But the reason she got upset is because he did not allow them to call him Daddy."
As you may recall, Janet, Michael and their siblings often called their father "Joseph." Joh'Vonnie explains that Joe was 46 when she was born and believes he allowed her to call him "daddy" (and not his other kids) because he "just didn't care that much" at that point.
Growing up just "5-8 miles" away from Joseph's family with Katherine Jackson, Joh'vonnie says her father lived two separate lives and supported two families. Joe had a 25-year long affair with Joh'Vonnie's mom, Cheryle Terrell, which was mostly behind Katherine's back.
"Katherine believed Joseph was away on business when he was probably away with us for the weekend," Joh'Vonnie told The Daily Mail.
Joe spent quality time with Cheryle and Joh'Vonnie, often bringing them gifts, taking them on trips and eating dinner as a family, which Cheryle cooked.
"He would come round most days sometimes without warning, he was very much a presence in my life, I was a daddy's girl. I would be so excited, he would bring me presents, my favorite black walnut ice cream. I was spoiled rotten."
But what Joh'Vonnie didn't know is that her father was still married to Katherine, an uncomfortable fact she learned when she was 11. She recalled on The Talk the first time she met Katherine at 14, a chance encounter at a local nail salon.
"We walk in [the salon] and there's Katherine Jackson sitting right there. I got so upset, so nervous – I was confused. And she said, 'She looks just like him' – she said that to my best friend. So, I left out and shouted, 'I'm gonna call my daddy.'

"The reason I was so upset was because we couldn't even shop at the corner grocery store. We had to go to a different grocery store. And now she's in the neighborhood getting her nails done, I'm thinking I might possibly get in trouble. It was such a confusing time."
Daily Mail reports Katharine often referred to Joh'Vonnie as the "bastard child," which could explain the title of Joh'Vonnie's book. However, the two have since made amends.
"You find strength in forgiveness," she said of her strained relationship with Janet, which could also be applied to her relationship with Katherine and her other Jackson siblings. "That's being strong… let bygones be bygones."
"Bastard Child" is available now.
Be the first to receive breaking news alerts and more stories like this by subscribing to our mailing list.