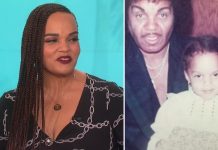 Did you know Michael Jackson, Janet, and the rest of the Jackson kids have a half-sibling? Joh'Vonnie Jackson is Joseph Jackson's youngest child from a 25-year long affair and she's telling her story in her memoir, "Bastard Child." What in the hayell is going on with The Jacksons? That's the question that's on everyone's minds following multiple reports from TMZ, regarding the famous... Lots of celebrities, including actress/singer Janet Jackson, pictured above with her sister Rebbie Jackson, attended the special screening for Tyler Perry's latest film, "Why...