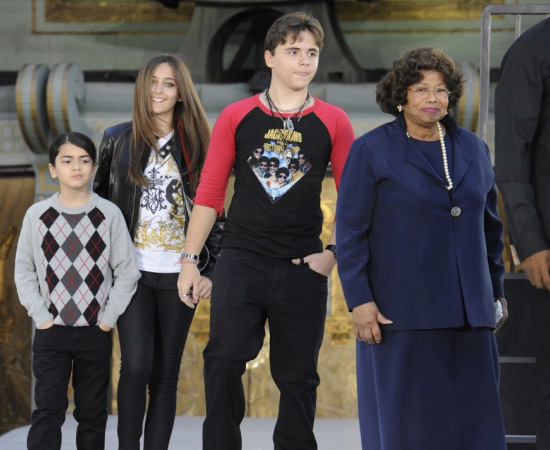 What in the hayell is going on with The Jacksons?
That's the question that's on everyone's minds following multiple reports from TMZ, regarding the famous family and their public meltdown over Michael Jackson's will and the custody of his 3 children — Paris, Prince and Blanket.
According to TMZ, an all-out war — complete with slapping and punching — broke out at the Jackson family compound in Calabasas, CA after Janet, Jermaine and Randy "ambushed" Katherine Jackson's home in an attempt to kidnap her grandchildren.
Sources tell the site that two SUVs — with Janet, Jermaine and Randy inside — followed a car driving Paris, Prince and Blanket into the gate's of Katherine's home.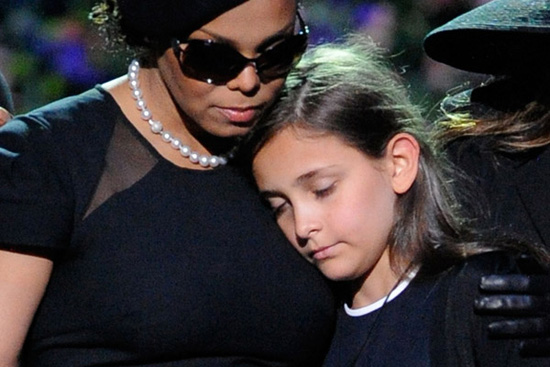 TMZ reports that Michael's three siblings DID NOT have permission to enter the premises, and tried to "strong-arm" all three of MJ's kids, in order to get them into an SUV and take them to Arizona, where their grandmother has been staying.
Needless to say … at that point, all hell broke loose!
Sources say at one point Janet tried to grab a resistant Paris' cell phone, a scuffle ensued and Janet slapped the teenager, screaming, "You're a spoiled little bitch!"

Paris fired back with her own slap and told Janet, "This is our house. Not the Jackson family house. Get the f**k out!"

At the same time, Trent Jackson, who was at the house, tried to stop an aggressive Randy and Jermaine. Trent put Randy in a headlock and punched Jermaine in the mouth.
Police were reportedly called to the scene, but didn't make any arrests.
Meanwhile, Katherine Jackson is staying with her daughter Rebbie in Arizona, because doctors have ordered her to stay away from computers and phones so that she can "de-stress."
Some of her children — Randy, Jermaine, Tito, Janet and Rebbie — allegedly signed a letter asking for Michael's Will Executors to step down, on claims that they had been manipulating Katherine and caused her to have a mini-stroke.
Earlier this week, she was presumed to be missing after Paris tweeted:
yes , my grandmother is missing . i haven't spoken with her in a week i want her home now .

— Paris Jackso? (@ParisJackson) July 22, 2012
But the next day, TMZ reported that Katherine Jackson was alive and well and also posted a photo of the Jackson family matriarch playing a friendly game of UNO with her daughter Rebbie, her granddaughter Stacy and her great grandson London.
In an interview with Good Morning America, Randy Jackson also talked about the "scuffle" at the Jackson family home. While he admitted that things "did get out of hand," when Janet, Jermaine and himself paid a random visit to the house … he blamed the altercation on security guards who tried to stop them from going on the property.
He also denied allegations that Janet slapped Paris and called her a "spoiled little bitch."
"There was no slapping or calling of names. That never happened," he told GMA. "(We were) coming to tell the children that they could talk to and visit with their grandma anytime they want, that she was resting on doctors orders," he added. "We were denied access to our own home."
Paris also responded to TMZ's report that there was a slapping/cursing match between herself and her aunt via a message on Instagram:
"Dear TMZ … No one slapped anyone, and I did not cuss Janet out."
In the meantime, Trent Jackson — Tito's son — was just made the temporary guardian of MJ's three kids, in place of Mrs. Jackson, who her kids believe is believing held against her will "from third parties" (Translation: Randy, Janet, Jermaine … and of course Rebbie).
One of the most bizarre things brought out in court was a conversation TJ had with his grandmother earlier this week:
"I've never heard my grandmother talk like that. She wasn't sharp. The pauses, choice of vocabulary … she has not used certain phrases like that before."
TMZ reported that TJ, who was noticeably "choked up" as he addressed the court, thought his grandmother was speaking in code.
The judge reportedly agrees with TJ, and he too believes that Katherine was being prevented from fulfilling her guardianship duties by "an intentional act from third parties." (Once again, translation: Randy, Janet, Jermaine and Rebbie)
Under TJ's guardianship, the judge said that unless a court order is obtained … the children are NOT to be removed from the state of California, like their aunts and uncles allegedly tried to do Monday.
The judge has also ordered the Michael Jackson Estate to provide TJ with the funds necessary to take care of Michael's children.
The kids' lawyers also told the judge that Paris, Prince and Blanket, as well as the Michael Jackson Estate, supported TJ becoming their guardian.
TJ's lawyer is expected to file for permanent guardianship of the kids within the next 48 hours.
…And you thought YOUR family had issues.
Be the first to receive breaking news alerts and more stories like this by subscribing to our mailing list.