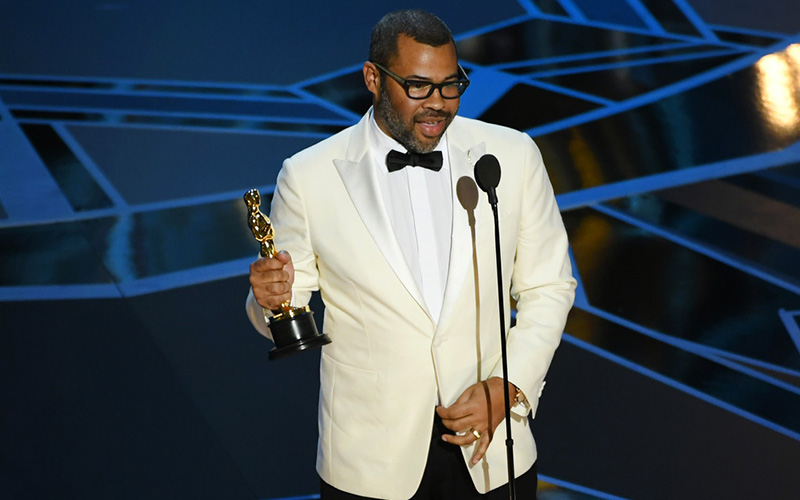 Jordan Peele just gave the world another reason to put some respeck on his name.
The 39-year-old actor, comedian, writer, producer and director won the Oscar for Best Original Screenplay for his insanely popular "Get Out" movie Sunday night (Mar. 4) at the 90th annual Academy Awards, making him the first black screenwriter to receive the high honor.
In his acceptance speech, Peele—who received a standing ovation—dedicated his award to people "who raised my voice and let me make this movie."
"This means so much to me. I stopped writing this movie about 20 times because I thought it was impossible," he said. "I thought it wasn't gonna work, I thought no one would ever make this movie, but I kept coming back to it because I knew if someone let me make this movie, then people would hear it and people would see it."
He continued, "To the cast and crew, I love you, thank you so much. My wife, who supported me through this whole process. My mother, who taught me to love even in the face of hate. And to everybody who went and saw this movie. Everybody who bought a ticket, told somebody to buy a ticket, thank you. I love you for shouting out at the theater, for shouting out at the screen. I love all, thank you so much goodnight."
Peele and "Get Out" were nominated for a total of four awards tonight, including best picture.
In the Oscars' 90-year history, including Peele, only four black film writers have been nominated in the "Best Original Screenplay" category: Suzanne de Passe ("Lady Sings the Blues," 1972), Spike Lee ("Do the Right Thing," 1989), John Singleton ("Boyz n the Hood").
Peele also made history this year by becoming the first black director to receive nominations in the writing, directing and best picture categories for his directorial debut. After his Oscar win, he posted a tweet suggesting that he couldn't believe that he is now an Academy Award winner.
I just won an Oscar. WTF?!?

— Jordan Peele (@JordanPeele) March 5, 2018
"Get Out" was a huge hit with critics and audiences this year and grossed $176 million domestically. The film, described as a "social thriller," received praise due to its thought-provoking take on race issues in America.
Be the first to receive breaking news alerts and more stories like this by subscribing to our mailing list.