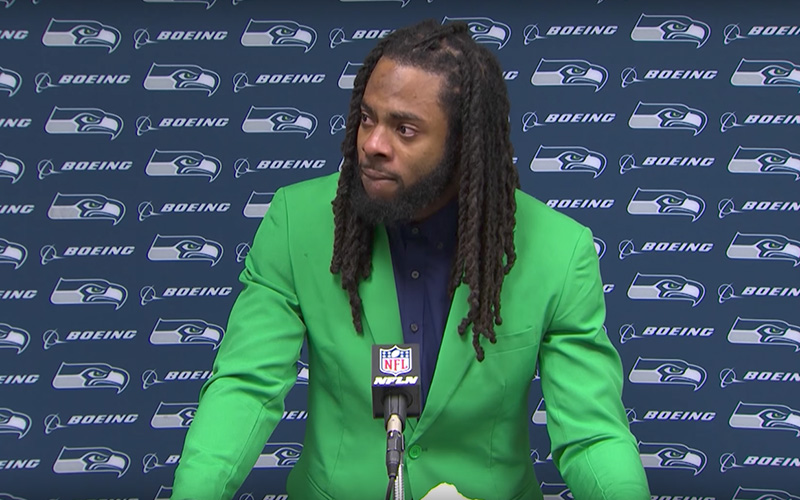 Seattle Seahawks All-Pro cornerback Richard Sherman will miss the rest of the 2017 NFL season after suffering a ruptured Achilles tendon in Thursday night's game against the Arizona Cardinals.
Sherman, who has been bothered by a sore Achilles' tendon all season, went down while trying intercept a pass in the third quarter of the game, which the Seahawks ended up winning, 22-16. He laid on the field clutching his right heel before limping to the bench, where he appeared to break the sad news to his teammates.
Seahawks head coach Pete Caroll said Sherman will undergo surgery after the swelling goes down.
Sherman, one of the league's best cornerbacks, had two interceptions and 31 tackles heading into Thursday night's game, and losing him will likely be a devastating blow to Seattle's chances of making it to the NFL playoffs.
During the postgame press conference, Sherman, who walked in on crutches, fought back tears as he answered questions from reporters.
"I thought I could get the ball. Once it popped, just unfortunate," said Sherman, who was visibly emotional at times while addressing reporters. "One of those things that you have to play through for as long as you can. When it goes, it goes. I've put a lot of stress on it. Think it would have gone eventually."

In a text message to ESPN's Josina Anderson, Sherman later said, "I'm gonna be back with a vengeance."
When specifically asked about the love and support shown by his teammates, Sherman said, as his voice cracked, "I've just gotta stay positive, that's all I can do."
Richard Sherman broke down at the end when talking about his ruptured Achilles and how he tried to stay strong for his teammates pic.twitter.com/Ku9cA8VAvS

— Stefanie Loh (@StefanieLoh) November 10, 2017
Sherman also spoke about his injury on Twitter, saying the support he's received from his fans and teammates means a lot to him.
Thank you for all of the thoughts and prayers! l will do everything in my Power to come back faster and stronger than ever. Until then l will be here to cheer my teammates on! l sincerely appreciate the outpouring of support! Means a lot to me.

— Richard Sherman (@RSherman_25) November 10, 2017
While Sherman's injury was the biggest and most notable, he wasn't the only Seahawks player injured Thursday night. Left tackle Duane Brown and running back C.J. Prosise suffered ankle injuries, safety Kam Chancellor left the game with a "stinger" (injury to the nerves in the neck and shoulder) and wide receiver Doug Baldwin had his hip tighten up while going through pre-game warmups.
Other players who suffered injuries included Jarran Reed (hamstring), Michael Wilhoite (calf), and Sheldon Richardson and Frank Clark (thigh), who ran into each other in Arizona's backfield.
Coach Carroll said it was hard for him to be excited about their win, considering multiple players were injured in the game.
More via Seahawks.com:
"It's hard for me to be fired up about this, because a lot of guys got banged up today," Seahawks coach Pete Carroll said. "…He's been just a bastion of consistency and competitiveness and toughness. Through all of the stuff we've worked through together and all of it, it has been awesome. It has been hard, it has been challenging. He has been an extraordinary, almost iconic player in this league. I'm going to try not to go overboard about this, but that's just how I feel about it. We'll miss the heck out of him. He'll be with us every step of the way when he can, but we'll miss the heck out of him."

Added linebacker Bobby Wagner, "It's hard to enjoy the win. You've got so many people down on both teams. These Thursday night games, it's tough on a lot of these players to get their bodies back. It's unfortunate the amount of guys who got hurt today."

Sherman's injuries hit teammates and coaches hard not just because they knew the team lost one of its best players, but because of how much work they have seen him put in over the years, allowing him to go from fifth-round pick to one of the game's biggest stars; because of the teammate he has been, making it a point throughout his career to take young defensive backs under his wing; and because of how tough he has been throughout his career, playing through numerous injuries to play in 117 consecutive games, postseason included, a streak that will come to an end when the Seahawks host Atlanta next week.

"To see Richard Sherman go down, that was tough," said quarterback Russell Wilson. "He's a guy who works so hard, he's a great teammate, he's a guy who's dedicated to the game, dedicated to his teammates. It's a tough sport we play, and when you see guys like that go down, you get a little emotional, because the guy has worked so hard to be great—he's going to be a Hall of Fame corner—and to lose a guy like that is never good."

With so many players on both teams going down with injuries, Carroll wanted to stress just how taxing this game can be on players, something that was all too obvious as key players on both sides left the game early.

"I hope you guys recognize how challenging this is for NFL players," Carroll said. "It's so challenging physically, they have to go through so much and they risk so much. For them to fight and scratch and claw like that—I'm talking about both teams and every team that plays this game, not just about tonight. I hope you guys will understand how admirable it is, because they love the game. Of course they're getting paid and all, but they go through a tremendous amount, and it just tears your heart out when it gets taken away because of injuries."
Richard Sherman has publicly stated that he's against Thursday night football, saying it's "hypocritical" of the NFL to promote player safety and then turn around and require teams to play after only three days off. Late last season in an op-ed for The Players Tribune titled "Why I Hate Thursday Night Football," Sherman called the league's midweek game a "poopfest."
"The NFL preaches player safety. The league says it wants to do everything in its power to protect its players," Sherman wrote. "But when it comes down to it, it's not the players that the NFL protects. It's the Shield."
Watch Richard Sherman's emotional press conference in full below:
Be the first to receive breaking news alerts and more stories like this by subscribing to our mailing list.