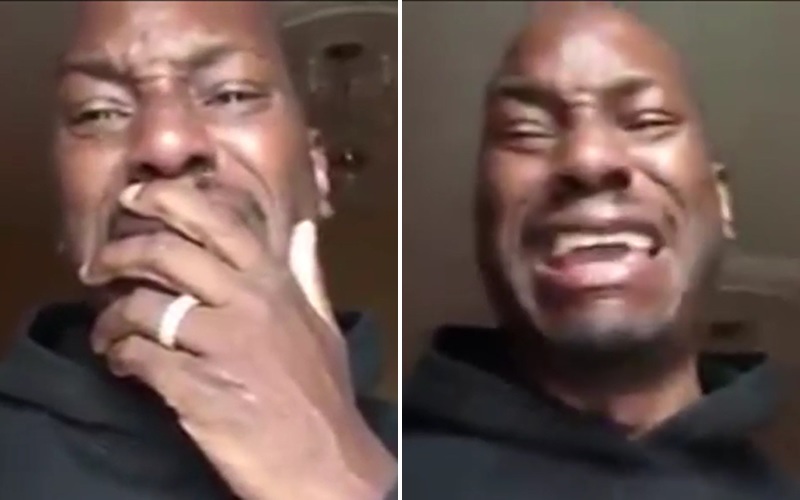 For several weeks and months, we've seen Tyrese unravel while embroiled in a custody battle with his ex-wife and expressing frustration over the direction of the Fast & Furious franchise. Unfortunately, the actor has reached his breaking point and seemingly suffered an emotional breakdown on social media.
In a Facebook video recorded today (Wed, Nov. 1) shortly before a court appearance, Tyrese breaks down and begs the courts not to take his child away. He says he's going broke paying legal fees, having trouble finding work because Norma has tarnished his reputation, and his rich friends have not reached out to help.
"Don't take my baby, please don't take my baby. This is all I got. Don't take my baby, ok? I've been away from my baby for two months. I just want my baby and no one's listening cause no one's in the court room… I'm at $13,000 a month; What more do you want from me?!"
Tyrese is fighting for the right to see his 10-year-old daughter, Shayla, after his ex-wife, Norma Gibson, accused him of child abuse. Norma was granted a temporary restraining order and for the first time in 60 days, Tyrese was able to see Shayla during a supervised visit just a few days ago. However, the matter is still being heard by the court.
Also, in a bizarre lengthy Instagram post today, Tyrese explained his frustration over Dwayne "The Rock" Johnson's decision to do a Fast & Furious spin-off film is because it potentially affects his ability to financially fight for custody of Shayla. He writes in part:
"FYI I was never mad at The Rock – I was just mad that he was 'pitched' an idea privately and said yes to it without thinking of what I'm dealing with personally I'm almost broke paying legal fees…

"So the rock how does it feel bro? going home to your daughter every night. it's [sic] was 60 days before I seen my baby and all I asked you to do 'privately' was NOT accept a role that would deeply effect us all. You are simply NOT the people's champ. you are a selfish champ.

"I'm almost broke swimming in legal fees CAA tried but couldn't book me anything cause my ex wife killed my reputation so no one wants to hire me."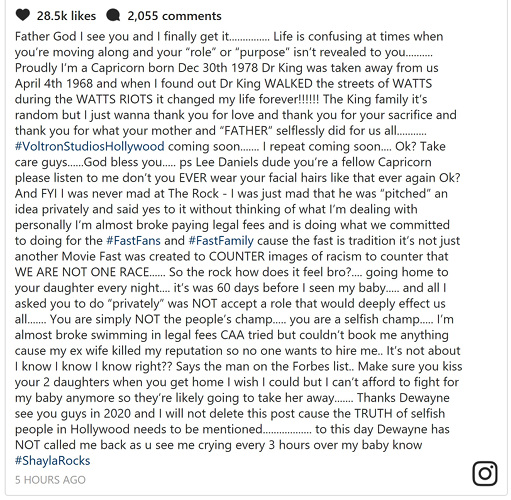 It has been confirmed that Johnson will star in a spin-off film centered around his Fast & Furious character. Slated for a 2019 release, Johnson's spin-off film will delay production of Fast & Furious 9 a full year and will be released in 2020, thus affecting Tyrese's job security.
However, it seems Tyrese put his own job security in jeopardy. In another post today, he announced that if Johnson appeared in the Fast & Furious 9, he would quit the film. Tyrese joined the franchise in 2003 in its second film, while Johnson was added to the cast in 2011 (Fast 5).
"Hello world. hello loyal fans and loved ones from OUR fast universe. I'm sorry to announce that if Dewayne is in Fast9 there will no more Roman Peirce – You mess with family and my daughters survival I mess with yours. close your eyes dude you're a 'Clown'. #CandyAssBitchMade"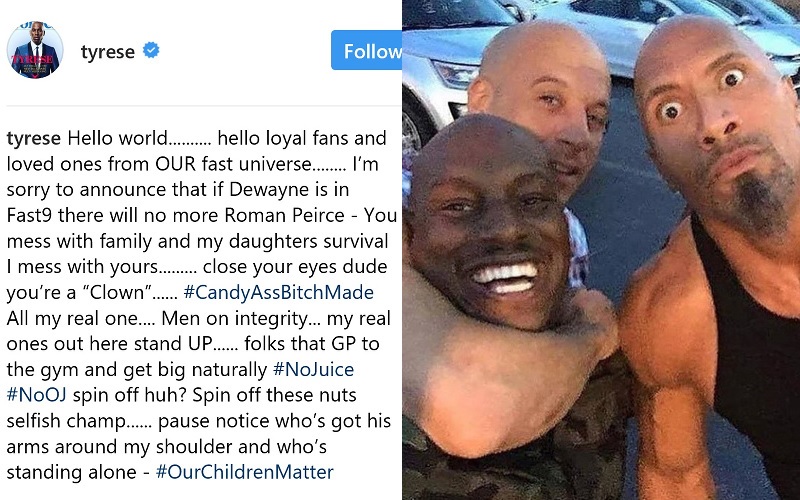 So yeah, Tyrese is definitely going through it. We do hope things get better for the singer/actor.
Be the first to receive breaking news alerts and more stories like this by subscribing to our mailing list.