Did Kenneka Jenkins' "friend" Irene Roberts turn herself in to Chicago police for questioning in regards to Jenkins' mysterious death? According to posts floating around Facebook, the answer to that question is yes.
READ MORE: Chicago Teen Found Dead in Hotel Freezer After Disappearing From Friends' Party
Nothing has been confirmed by authorities or any local news outlets, but someone posted on Facebook Monday afternoon (Sep. 11) that Roberts was spotted in a police station station being questioned for her involvement in Jenkins' death.
There's also video footage of Roberts allegedly sitting in the in the police station:
The footage and screenshots are very blurry and you can't tell if this is really Irene Roberts (who was spotted in a Facebook Live stream around the time Jenkins went missing), but it does look like her.
But, again, this has NOT been confirmed by any credible media outlets, so take this "news" with a grain of salt.
19-year-old Kenneka Jenkins was pronounced dead early Sunday morning (Sep. 10) after her body was found in a walk-in freezer in the kitchen area of the Crowne Plaza Hotel in Rosemont, Illinois–a suburb just outside of Chicago.
Folks on social media accused Kenneka's friends Monifah Shelton, Irene Roberts and Shamaya Winder of luring Kenneka to a hotel party, where she was last seen alive. The women allegedly got Kenneka drunk and invited three men to the hotel room to sexually assault her.
The party was live streamed by Roberts on Facebook Live using Shelton's account, and in the video footage (which is still posted on Shelton's page), you can hear a lot of activity in the background, though it's not clear who all was in the room at the time. Most of the video shows Roberts smoking weed with her friends and listening to music. You can also see Shelton in the footage, but apparently she didn't want to be seen.
Social media sleuths have reviewed the footage multiple times and believe that the answers to any questions people have about Kenneka's mysterious death can be found in the video. At one point in the video (around the 3-minute mark), a high-pitched sound can be heard, which some are speculating was Jenkins screaming "Help me!" as she was being sexually assaulted (or otherwise harmed) before her alleged screams were quickly drowned out by music.
Roberts can also be heard on the video mentioning $200, which some believe was either a payment from the men to have sex with Kenneka or what the women (Roberts and Shelton) paid the men to "take care of" (i.e. kill) her and hide her body.
Rosemont village spokesman Gary Mack said authorities have identified most of the people on the video.
"Yes, they've looked at it and continue to look at it and all the other social media videos and posts," Mack told the Chicago Tribune on Monday. "They are leaving no stone unturned as far as trying to corral everyone they can and talk to them and interview them about what happened and what was going on that night."
Mack said that to seasoned investigators, this type of social media attention has become the norm, and, fortunately, it doesn't hurt the investigation. "In law enforcement this kind of social media has become king, so everybody with a camera is a reporter now, and they're just taking it in stride as best they can," he said.
Mack said it could take several weeks to determine what really happened due to toxicology tests routinely taking weeks, months even, to complete. "I don't think anything has been ruled in or ruled out at this point," he said. "It's just considered a death investigation at this point."
After Kenneka's death was confirmed by police and subsequently local media outlets, the teenager's friends took to social media and shared photos of her, with many of them directing their anger towards Roberts, who eventually deleted her Facebook page after many failed attempts to clear her name.
Before taking her page offline, Roberts tried to place the blame on Shelton, saying that she saw her carry Kenneka out of the hotel room and leave her in the hallway. "Man all I kno was nifah took ha out the room she never return wit ha," she wrote. But Shelton wrote in a now-deleted post that she never took Kenneka out of the room, and Winder corroborated Shelton's claims, writing:
"We never left, we was standing by our room door, we literally never left the 9th floor, our room # was 926, that's what door we stood by, literally! We never walked off, she told me go get her phone out the room n that's what I did."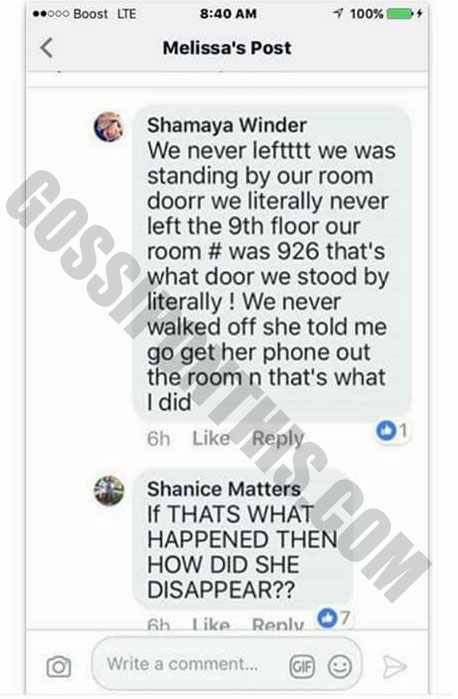 According to Kenneka's mother, Tereasa Martin, the women called her at 4:30 a.m. Saturday morning after Kenneka went missing. They told her that when they were getting ready to leave the party, they realized Jenkins had left her cell phone and car keys back in the room. They said Jenkins stayed in the hallway while they retrieved her stuff, but when she got back to the hall, she was gone. Martin, however, says she doesn't believe the women's version of events because they have changed their stories multiple times.
When Martin arrived at the hotel around 5 a.m., she asked staffers to review surveillance footage of the area, but they refused, insisting that they needed a missing persons report from police to look at the tapes. Once that report was obtained, the Crowne Plaza hotel staff and management "actively canvassed and searched the immediate area," police said.
In the early hours of Sunday, Jenkins was discovered lifeless in the freezer. She "was beyond resuscitation and was pronounced dead on the scene," Rosemont police said. The police told her family that she was seen on the security footage around 3:20 a.m. Saturday morning "staggering" drunk near the hotel's front desk, Martin told the Tribune Sunday.
Rosemont police told Martin Jenkins was intoxicated when she walked into the unused freezer, however, Martin says she has doubts about the authorities' version of events because if her daughter was as drunk as police described her, she wouldn't have been able to open the double steel doors of the freezer and close them herself.
Also, according to Gary Mack, the unused freezer was located in an under-construction area of the hotel where a new restaurant was being built. "This is not an area where anyone would typically be who was a guest in the hotel," he told the Tribune.
An autopsy performed on Kenneka's body Sunday failed to determine a cause of death, and the medical examiner's office said it was awaiting toxicology tests and further investigation by police.
In several Facebook posts before and after Kenneka's body was found, Monifah Shelton repeatedly referred to her as her "best friend," and lashed out at allegations that she and her friends were to blame for her death.
She wrote on Saturday night: "On kewan grave this shit blowin me when I saw kenneka wasn't behide me we got the lookin everybody in that hotel room was laughing didn't nobody bother to get tf up and help us I look for her to the top floor to the bottom I was knocking on mfs door rooms I look where the car was at & everything for y'all to sit on here and keep saying shit we Kno fucked up we was drunk wtf yall staying sayin it's our fault like that shit so fuckin lame man den y'all wanna switch the story around I'm waiting to talk to the police if a mf knew some I would of said some I told her mom who all was there who the boys was & everything y'all steady blaming mfs"
"Bro I don't give no fuck what nobody sayin I love u more then anything I will never hurt chu man come home please kenneka I never felt like this before you got me sick I Kno everybody gone talk but it don't even matter just pop up come home god please let her return home safe amen," she wrote in another post Saturday night.
"G she my bestfriend why would I do anything to harm her man just please leave me alone please," she shared in another post Saturday. She wrote in another post that everyone was "drunk off our shit" and she had done everything she could to help find Jenkins in the hotel.
She wrote Sunday morning, "Can y'all please leave me alone bro we been bestfriend since 3rd grade we did everything together literally everything we use to call ourself the nene twins we slept together ate together broke bread together that was my ace it hurting me I never thought I was be doin this we suppose to be takin trips we had shit planned out I'm so sorry g  we sisters for life."
"Everybody Kno our bond was tight she was the sweet friend I was the mean friend Mfs Kno I didn't play about her & she didn't play about me I'm so sorry this happen to u u didn't deserve it u I'm missing tf outta u #Sister4Life," she wrote in another post Sunday morning.
Shelton also posted a video showing her in the hotel with Jenkins:
RELATED: Did Kenneka Jenkins' Friend Monifah Shelton Really Commit Suicide?
Shelton's most recent update on Facebook was a profile photo she shared of her and Jenkins at 10:53 a.m. Sunday morning, which has fueled speculation that she committed suicide. But, as far as we know, those are just internet rumors (spread by a fake "clickbait" site called VybzMedia) and no credible news outlets have reported on that.
Be the first to receive breaking news alerts and more stories like this by subscribing to our mailing list.