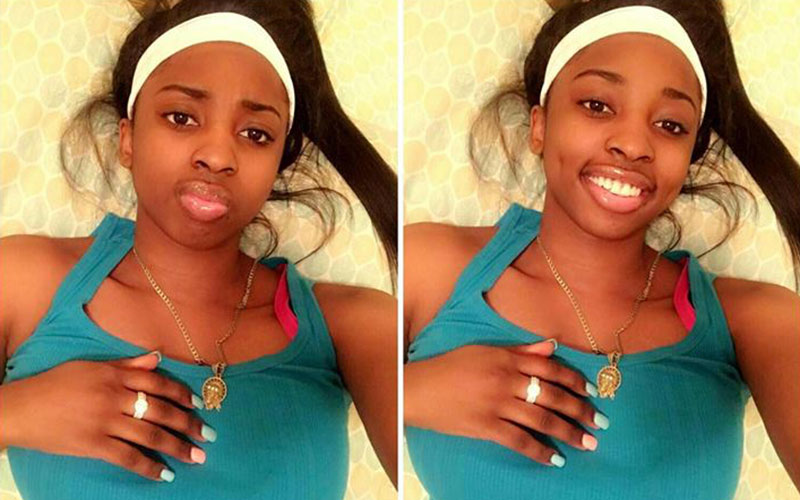 A 19-year-old woman from Chicago was found dead at a Rosemont hotel early Sunday morning (Sep. 10), almost a day after she had gone missing from a party she had attended with several friends.
According to the Cook County medical examiner's office, the body of Kennesha Jenkins was discovered inside the Crowne Plaza Chicago O'Hare Hotel and Conference Center's walk-in freezer after a nearly 12-hour-long search. She was officially pronounced dead at 12:48 a.m. Sunday morning.
Police haven't revealed an official cause of death for Jenkins nor have they confirmed whether or not foul play is suspected, but a number of people on social media are giving this story the side-eye and believe her friends may have had something to do with her mysterious death.
Here are some things you need to know:
Kenneka Jenkins' mother, Tereasa Martin, says her daughter's friends called her around 4:30 a.m. Saturday morning saying they couldn't find her.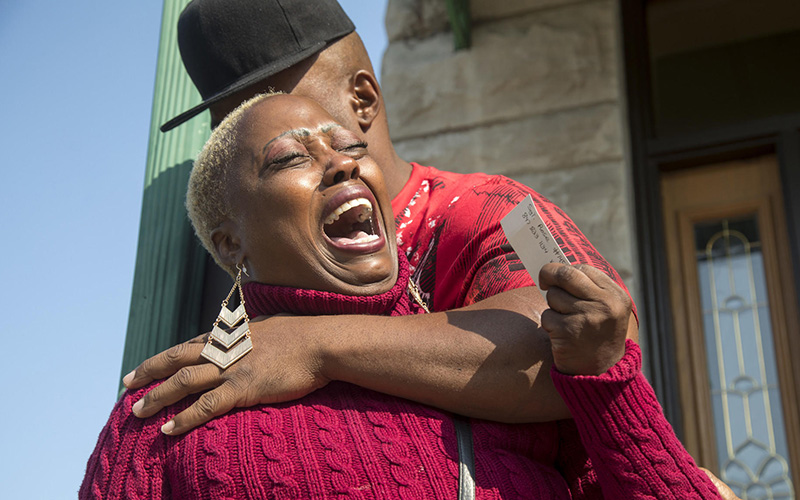 Kenneka Jenkins was last seen alive at a party at the Crowne Plaza Chicago O'Hare Hotel and Conference Center in Rosemont, a Chicago suburb.
According to Jenkins' mother, Tereasa Martin, the 19-year-old left her house (about 16 miles away from the hotel, a 20-30 min. drive) around 11:30 p.m. Friday night (Sep. 8) to hang out with a group of friends. Jenkins was said to be celebrating her new position at her job, a nursing home, according to a local news report.
Gary Mack, a spokesman for Rosemont village, said Jenkins' sister last spoke to her around 1:30 a.m. Saturday, just two hours later. Mack said witnesses told police they saw Jenkins a party on the hotel's ninth floor.
Martin said her daughter's friends called her around 4:30 a.m. and told her they had lost track of Jenkins, and left the hotel after they weren't able to find her. Jenkins' friends told Martin they were in the car Martin had lent her for the night and they had her cellphone.
After actively searching the hotel for nearly 12 hours, police eventually found Jenkins dead in a walk-in freezer in the kitchen.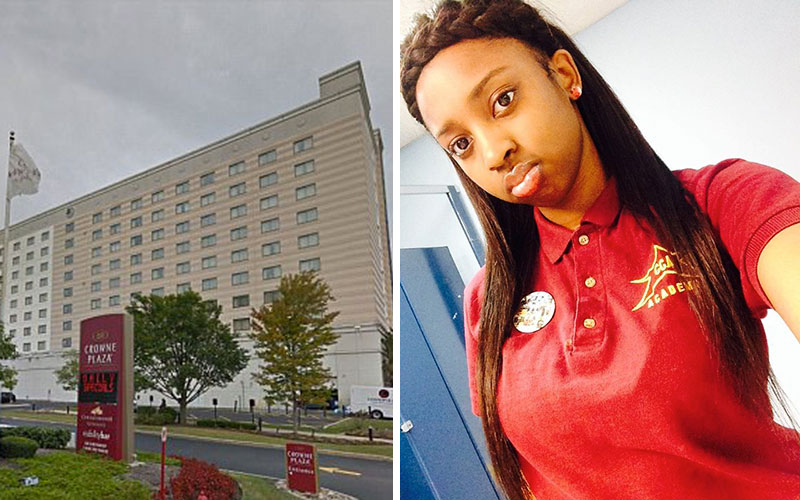 Martin said she went to the hotel around 5 a.m. to try to find her daughter. Upon arrival, she asked hotel staffers if they could review surveillance video of the premises, but they said they couldn't do that without an official missing persons report from police. At that point, Martin called the Rosemont Police Department, who told her to wait a few hours before filing the report in case Jenkins eventually turned up.
A few hours later, Jenkins' older sister, Leonore Harris, filed a missing persons report with Rosemont Police, and authorities notified the hotel about the missing teen around 1:15 p.m. early Saturday afternoon.
After the missing persons report was filed, police searched all public areas, as well as the hotel's ninth floor, where Jenkins was last seen by witnesses. Around 3 or 4 p.m. Saturday, police reviewed surveillance videos, however they didn't see Jenkins on the cameras.
Jenkins' family left and came back to the hotel a third time around 6 p.m. Saturday evening and went knocking door-to-door asking guests if they knew or saw anything. After receiving complaints from guests about the knocking, the hotel then called the police to report the disturbance. After hearing the family out, one of the responding officers agreed to view the security camera footage again, Martin said.
Around 10 p.m. late Saturday night, police told Jenkins' family that they had seen her on the cameras at around 3:20 a.m. that morning "staggering" drunk near the hotel's front desk. And around 1 a.m. Sunday morning, police informed Jenkins' relatives that they had found the young woman's body in a walk-in freezer located in the hotel's kitchen area.
It wasn't immediately clear who found Jenkins' body, but officials said the hotel was doing some construction in the area where she was discovered. The freezer was turned on and cold, but wasn't being used to store food.
"I just happen to know there's work being done on some new facilities over there, so there is some construction activity where a new restaurant is being built, and (she was found) in that vicinity," Rosemont village official Gary Mack said.
It wasn't clear whether or not the construction area was blocked off, however, "this is not an area where anyone would typically be who was a guest in the hotel," Mack said.
Police told Martin her daughter apparently let herself into the freezer while drunk and died inside, but Martin says she doesn't believe that.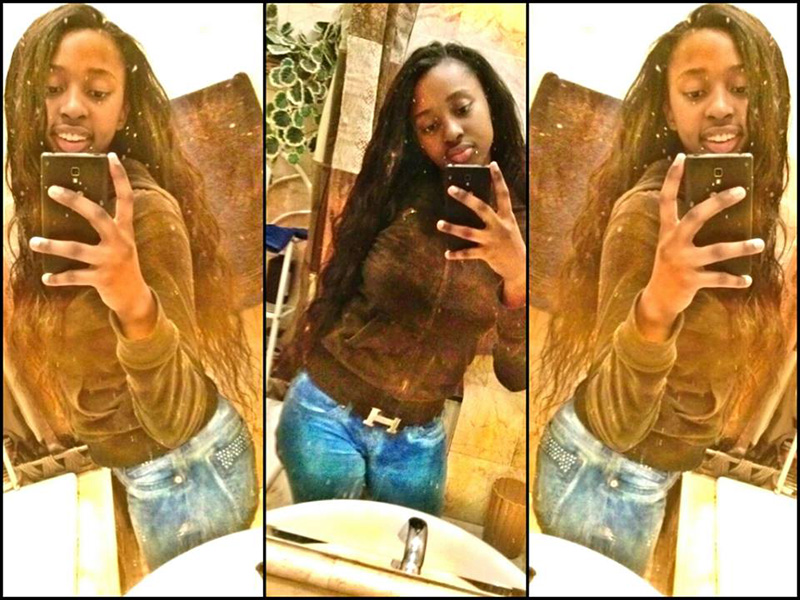 Martin told reporters police said her daughter apparently let herself into the freezer while drunk and died inside. An autopsy was performed on Jenkins Sunday, but it wasn't clear whether foul play was suspected in her death, nor was the cause and manner of the teen's death determined.
In a press conference outside the hotel Sunday morning, Martin said she was having a hard time understanding exactly what happened. "(I'm) horrified," she said. "It's something that no one could ever imagine. It's unbelievable."
Martin also said she was having trouble believing the police's story that Jenkins walked into the freezer because if she was so drunk, she wouldn't have been able to open the heavy freezer doors by herself. "Those were double steel doors, she didn't just pop them open," Martin said.
Martin says she had no idea her daughter was attending a hotel party and her friends' stories have changed "over and over."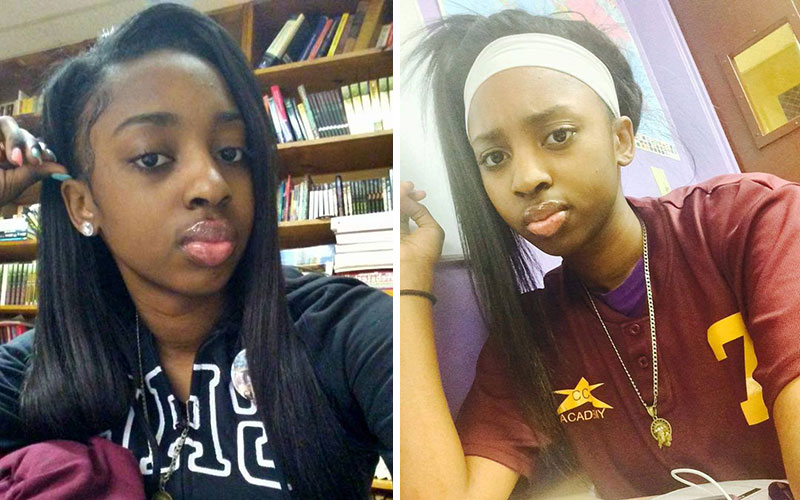 Martin said Jenkins didn't tell her anything about a party at a hotel when she left their home late Friday night. She said her daughter told her she was "going to the show and bowling," and she didn't find out about the party until Jenkins' friends made that 4:30 a.m. phonecall to tell her they couldn't find her.
The friends said the three of them were getting ready to leave the party, but realized Jenkins had left her cell phone and car keys back in the room. Martin said they told her Jenkins stayed in the hallway while the friends retrieved her stuff, but when got back to the hall, she was gone. Martin, however, doesn't 100% believe the friends' version of events because their "stories changed over and over."
Martin said she was angry about the hotel staffers' lack of urgency in the situation when they told her to contact police instead of immediately reviewing the footage from the security cameras. She also said she wasn't happy with how Rosemont police handled the situation. "If they had taken me seriously and checked right away, they could have found my daughter much sooner and she might have been alive," she said.
"Anyone can understand how a parent can feel distraught over the loss of a child and feel the need to lash out due to the tremendous pain they're feeling, and we can certainly understand that," Rosemont village spokesman Gary MackGary Mack said. "But people can rest assured Rosemont is one of the top, highest trained, most respected police departments in the state of Illinois and does a good job at what they do."
Mack added, "Every situation has a lot of variables, and certainly this one did. The hotel has probably never seen anything like this, either, I would imagine."
Kenneka Jenkins' story has gone viral on Facebook and people are looking at her friends with the "side-eye," believing that they had something to do with her going missing and her death.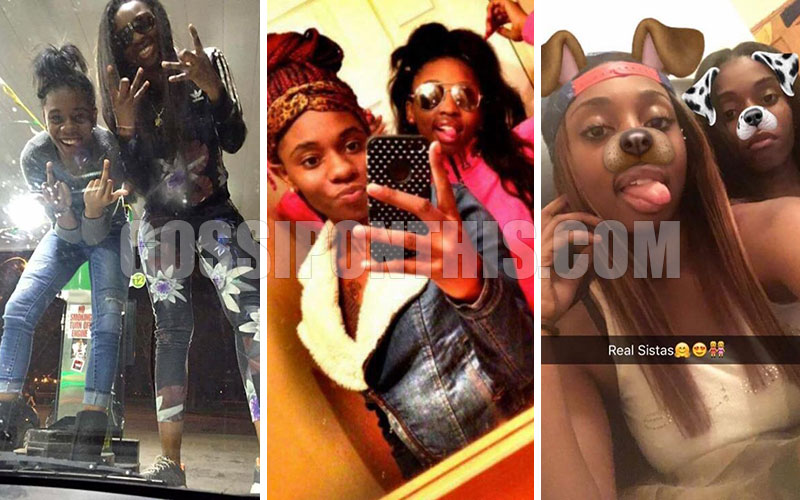 The story of Kenneka Jenkins' mysterious death is being reported by a number of major media outlets, including the Daily Mail, CBS News, the Associated Press, and more, causing it to go viral on Facebook.
As more and more people catch wind of the story, they are investigating the situation and are coming up with they're own theories and have lots of questions for Jenkins' friends, who they are giving the side-eye (i.e. questioning the validity of their version of events, like Martin's mother).
In fact, many Facebook users believe Jenkins' friends (Irene Roberts, Monifah Shelton and Shamaya Winder) had something to do with her going missing and her subsequent death.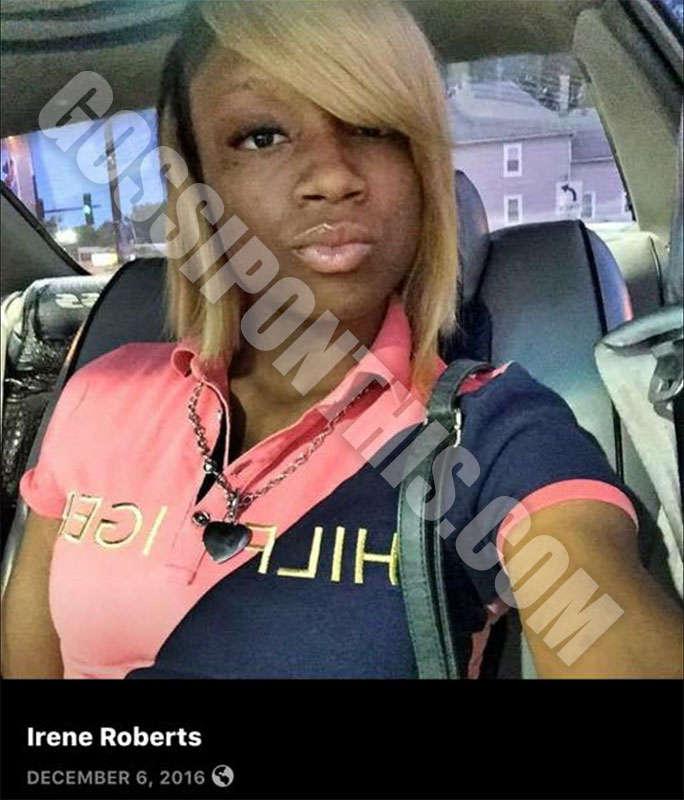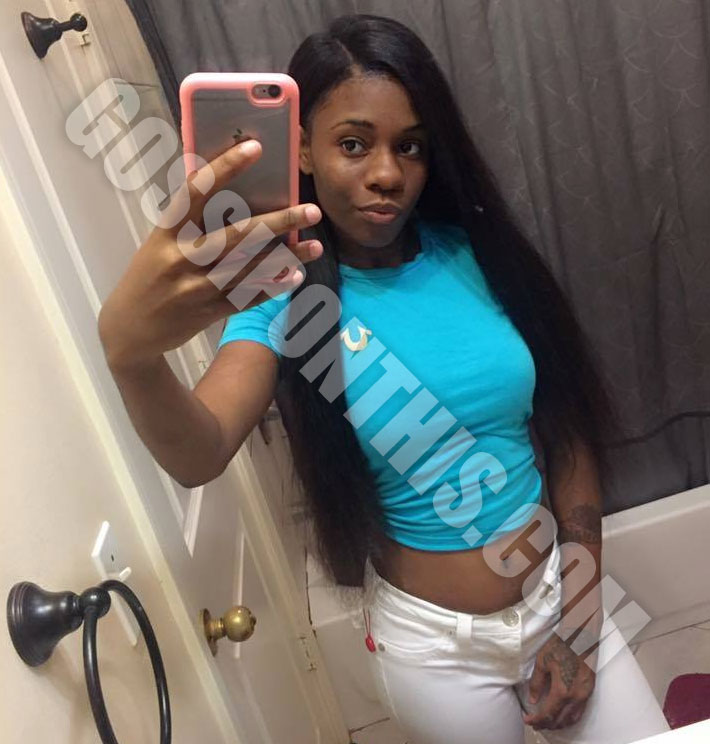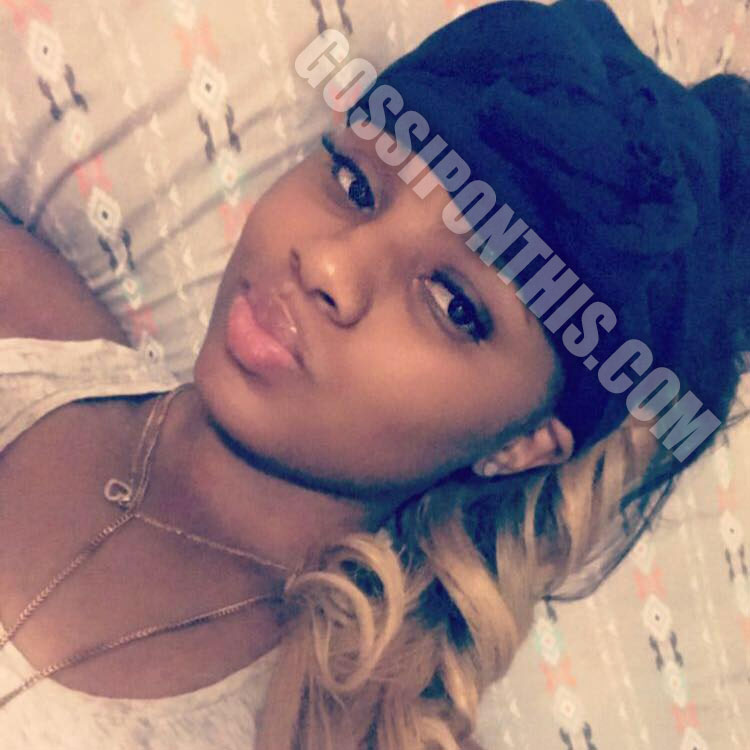 The most popular theory sparking various discussions all over Facebook is that Kenneka's friends set her up in exchange for $200, though those accusations haven't been proven to be accurate. Kenneka's friends haven't made the situation much better either, as they have been writing questionable statuses and leaving strange comments under people's posts.
For instance, in one thread, as people were questioning how Kenneka initially disappeared, Irene Roberts shared a GIF of a cartoon character from the TV show Teen Titans saying "Magic!"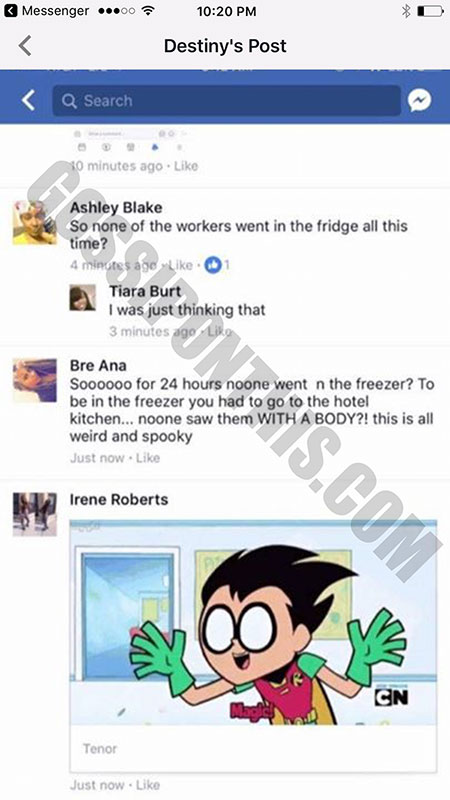 Also, one Facebook user named "Chalo Chalo Chalo" (possibly one of the friends who was in the hotel room with Kenneka) wrote a status update that makes it seem like Monifah took Jenkins out of the room because she was so drunk, and that's when she disappeared:
All we wanted to do was enjoy ourselves fa Rene bday & we did that but who would've known our smiles was gone quickly change into frowns. Kenneka Martin you hurted us with this one we all was just turning up together after u knew u was too lit u wanted to lay down & mfs made sure of that. Why nifah couldn't just leave u instead of picking u up so that y'all could leave. U was in our eye sight til they took u out da room & nobody knows wtf happened outside Dat room #JusiceforKenneka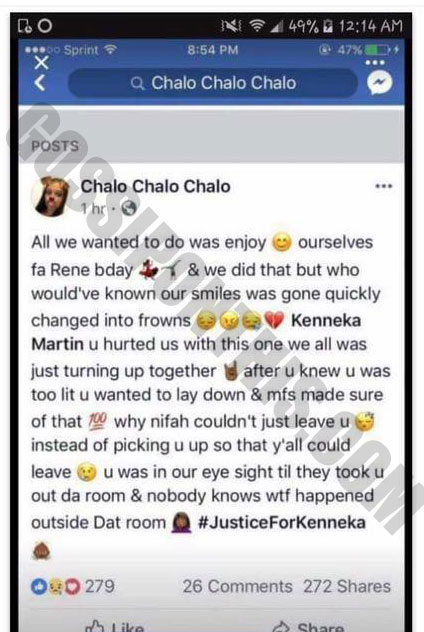 Irene also corroborated the story that Monifah took Kenneka out of the room: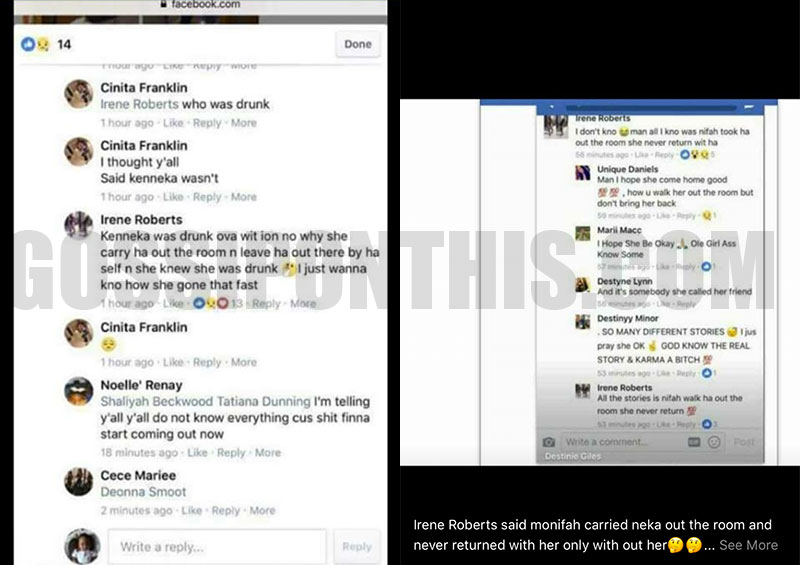 But Monifah said in a now-deleted post that the story of her taking Kenneka in the hallway by herself is not true:
Now I took kenneka in the hallway bro we all left out the room together once she said she was ready to go I ain't blame not one mfs but everybody wanna throw shade my way be knowing that girl since 3rd grade I will never do no shit to hurt her if anything it's all our fault cus we all girls right we was suppose to look out for each other so Irene berebre shamaya should feel some type of way yall throwing fingers at each other trying to get y'all name right and blame me shit sad I don't gotta answer y'all tell y'all shit when I told her mother everything y'all down my back gettin mad makin status cus I'm not telling y'all shit sad asf just gtfo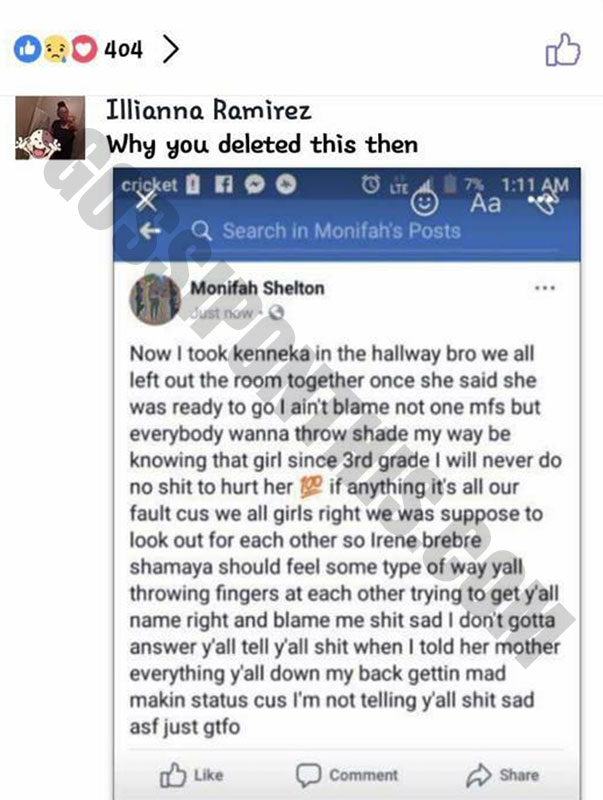 And another thread shows Monifah and "Chalo Chalo Chalo" going back-and-forth about their different versions of events: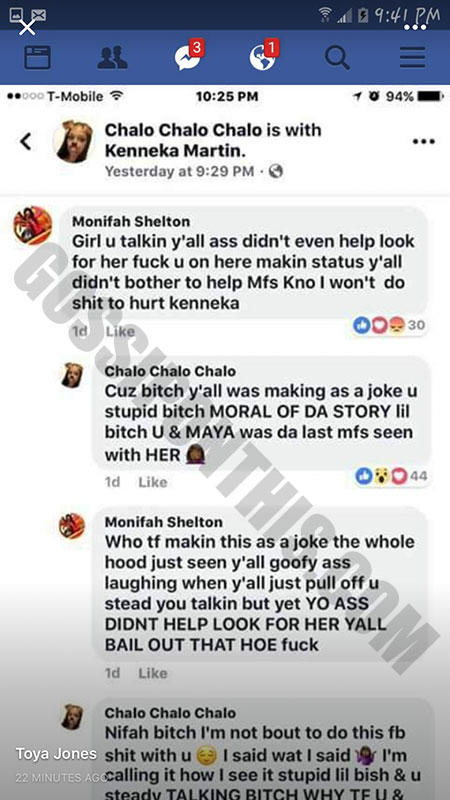 In another comment thread, Shamaya Winder wrote:
"We never left, we was standing by our room door, we literally never left the 9th floor, our room # was 926, that's what door we stood by, literally! We never walked off, she told me go get her phone out the room n that's what I did."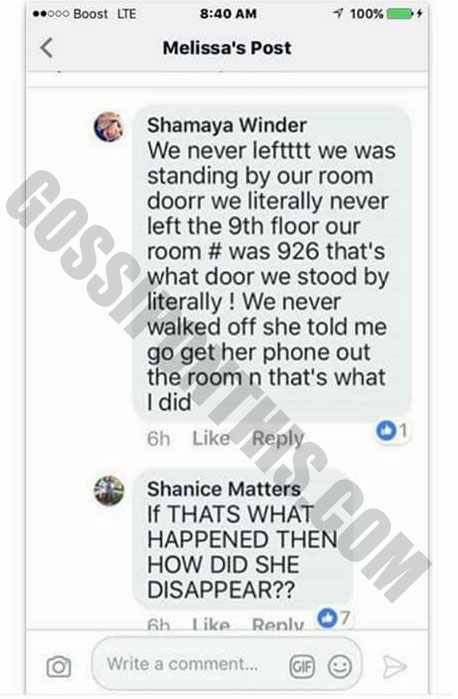 Irene has since deleted her page from Facebook, but not before users took screenshots of a few statuses posted before and after the incident.
"I feel wrong as a friend I wasn't post to leave that hotel period without ha. I should have did some I really thought they was playin this shit so crazy frfr," she wrote in a post after Jenkins' body was found.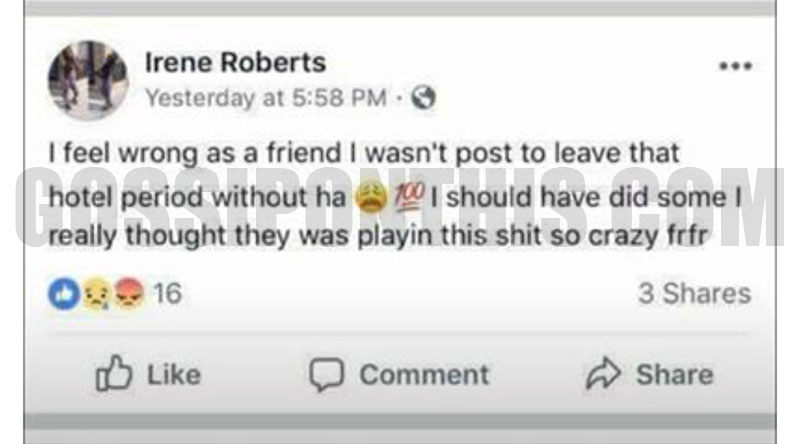 And in a questionable post the day before the hotel party, she wrote, "The trick to being smart is knowing when to play dumb."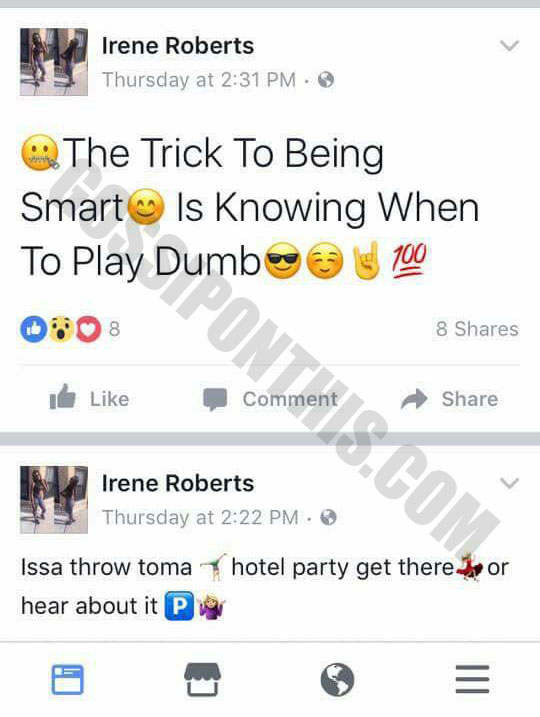 Another theory spreading on social media is that Kenneka was raped and murdered by three other men at the hotel.
Additionally, a Facebook Live video (below) recorded by Irene Roberts and shared on Monifah Shelton's page supposedly depicts a girl yelling "Help me!" (around the 3:08 mark) in the background, but the sound is indistinguishable and could possibly be from the music playing.
Again, all of this is pure speculation and nothing has been confirmed, but there are a lot of unanswered questions surrounding this story, and we will keep you updated on any developments or confirmations from investigators as they come in.
Be the first to receive breaking news alerts and more stories like this by subscribing to our mailing list.