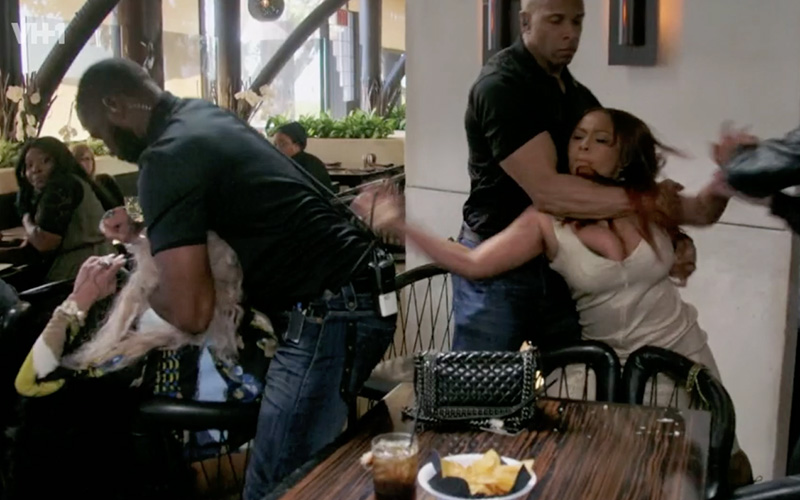 Love & Hip Hop Hollywood Season 4 debuted Monday night (Jul. 24), and it was nothing short of the hilarious, drama-filled, shade-throwing all around hot mess that we know and love this entire franchise for.
SEE MORE: "Love & Hip Hop Hollywood" Season 4 Cast, Synopsis and Spoilers
From Moniece taking a swim in the lady pond to Hazel E getting heckled at her own party to newcomer Zell Swag staying late at the library to read bad bitches, we have some of the funniest and shadiest moments for you below:
Moniece Slaughter is swimming in the lady pond.
In one of the episode's opening scenes, we are formally introduced to Moniece Slaughter and her new lesbian lover Annette "A.D." Briggs.
After getting her heart broken by a number of guys (including her baby daddy Fizz, LHHNY's Rich Dollaz and even Ray J on the low), Moniece is now giving the ladies a try. "I have never been in a happier place than I am right now," Moniece says as we see her sucking face with her girlfriend A.D., who she says she's been dating "for the past six months."
Moniece adds that she "could not be happier" swimming in the lady pond, as Fizz is accepting of her new relationship and their son also approves. "Moniece is not known for the kinky, but I bring out that kinky in her," her Justin Bieber look-a-like girlfriend tells Masika and LHHH newcomer Zell Swag, who may be the messiest cast member on the show this season.
The conversation then quickly turns to Messy Masika throwing shade at Hazel E—or "Nasal He," as she calls her—when she recalls an e-mail she got "in her spam" about an invite to a "women's empowerment" party Hazel is throwing. After going in on Hazel's struggling music career and her new bae Rose Burgundy ("Girl, let me find him on backpage!" shouts Zell Swagg) the Messies (minus A.D.) all decide that it's a good idea to show up and show out at Hazel's party. What could go wrong, right?
Hazel E (aka "Nasal He") gets heckled by Masika and co. at her "women's empowerment" party.
Masika must not have gotten the memo that Hazel E's "Girl Code Inc." event was a celebration of women's empowerment. Or maybe she did and just didn't give AF, because homegirl was just RUDE from the moment she walked in the door. Not only did she bring the drama, but she also brought HEADPHONES, not to cancel out the noise from the helicopter (which Hazel arrived in), but to cancel out the "noise" from her performance.
"But we have to be nice," pleads Moniece, who, shockingly is the LEAST messiest member of Masika's Messy Crew (at least in this case). "It's women's empowerment, we have to give her a chance…" It's sad when Moniece is the nicest person in the group.
As Hazel E arrives to her event, Zell Swag and Masika waste no time going in. "What kind of circus is this?!" Zell asks as Hazel's chopper makes its landing. When Hazel exits the helicopter with her boyfriend wearing a big fur coat, Zell inquires, "Is it a bear?! Is it an ape?!" As she's hitting the stage, Zell makes his excitement known: "I've never seen an animal perform before, I'm so excited!"
The whole time Hazel was performing—and, let's be honest, it was pretty bad—Masika was going on about how "awful" it was while Zell was hollering "boo!" At the end, when she was thanking everyone for being there, Masika started heckling her. "Do we hear the birds chirping in the corner?" Hazel asks the crowd, who burst out laughing. "Does somebody have any bread?"
Then Hazel hops off the stage to confront Masika, who then takes her drink and throws it at her. Hazel responds by tossing her microphone at her and all hell breaks loose. Welp, so much for women's empowerment.
Safaree reaction is all of us:
Safaree has the best reactions to all the mess ? #LHHH

— Working in Lena Waithe's writing room (@PushaCeeeeee) July 25, 2017
Hazel E and Teairra Mari waste good food and drinks by throwing them at each other.
Even though they're not really on the best terms, Hazel E extended an invitation to Teairra Mari for her to come to her Girl Code Inc. event, however, according to Teairra, she never got the invite. But besides all that, Teairra is not happy about Hazel talking about her behind their back. So in true reality TV fashion, the two meet up for lunch to hash things out, but instead of having an adult conversation, Hazel and Teairra immediately start hurling insults at each other while everyone else in the restaurant looks on in utter amusement.
When Teairra gets up from the table and refers to Hazel as a "Miss Nikki Baby knock-off," Hazel E picks up her plate of food and hurls it at Teairra's back. Teairra then quickly turns around and throws her drink (glass and all) at Hazel, causing security to rush in between them to stop things from getting anymore physical. "I was gonna say 'Where's my crab?' but I guess I threw that," Hazel says to herself, laughing, as she's wiping off her Chanel purse.
I don't know how y'all get down in Hollywood, but where I come from, we don't waste good food. We may throw hands, but we for damn sure don't throw plates.
Zell Swag can't hate on bad bitches, but he does read them.
After Hazel E meets and bonds with Alexis Skyy over their mutual hatred for Masika (aka "Hoesika"), the two of them, along with Miss Nikki Baby, decide to "crash" Masika, Zell and Moniece's weekly karaoke outing. Only, Masika isn't there that particular night because she's "booked and busy," leaving Zell to take all the heat.
After going back and forth with Hazel and Nikki, Zell (whose one-liners are HILARIOUS, btw) proceeds to inform the ladies that while he "can't hate on bad bitches," he has no problem reading them. That's when Alexis throws her purse at Zell, Zell throws his drink at her, and she responds by tossing a drink his way.
These Love & Hip Hop folks LOVE throwing things, don't they?
Be the first to receive breaking news alerts and more stories like this by subscribing to our mailing list.