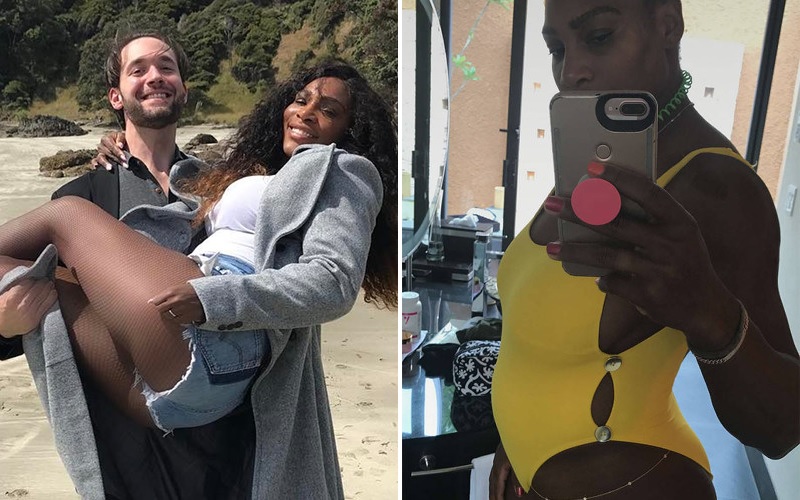 The world was treated to some of the best news we've had all year. Serena Williams is pregnant!
The tennis legend subtly announced her bundle of joy in a now-deleted Snapchat post. Serena, who is currently on vacation in Mexico, wore a yellow swimsuit that revealed her baby bump. She captioned the photo "20 weeks."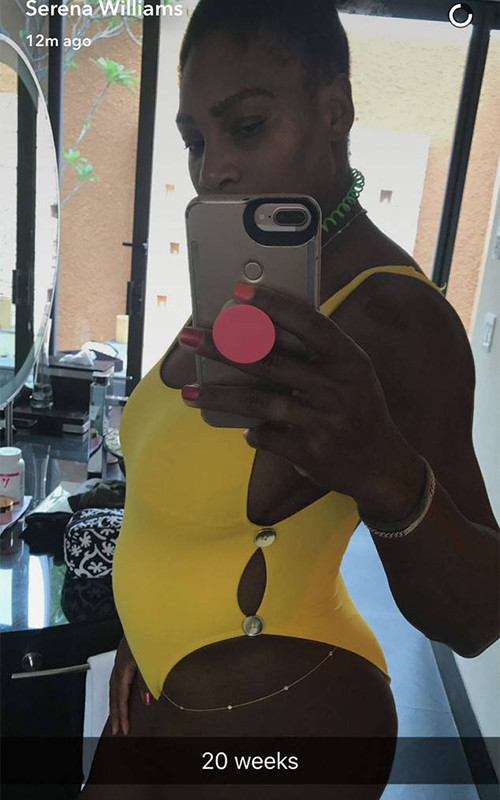 This would also mean that Serena was pregnant when she won her 23th Grand Slam title at the Australian Open in January.
Other than the sole Snapchat photo, Serena's social media has been baby-free. She nor fiancé, Reddit co-founder Alexis Ohanian, has said anything else regarding the pregnancy.
This doesn't mean social media can't comment on Serena's baby. Twitter erupted with excitement once the news broke. Many are already anticipating the birth of a future tennis champion, while others simply couldn't handle that Serena and Beyoncé are pregnant at the same time.
Serena Williams was pregnant when she won her 23rd grand slam tournament at the Australian Open. And did not drop ONE SET. Let that sink in.

— The Live Revolution (@noelleharmony) April 19, 2017
https://twitter.com/abarty_intheusa/status/854830219177467905
https://twitter.com/PearlThusi/status/854783405686497284
Until a Man can win a championship while pregnant…Serena Williams will be hands down the greatest athlete of all time.

— IG:Oba_Ola (@IGOba_Ola) April 19, 2017
How the rest of the tennis world responded when they heard Serena was pregnant & they wouldn't have to compete against her for a minute. pic.twitter.com/9T0PyqiXxe

— Matthew A. Cherry (@MatthewACherry) April 19, 2017
I get to exist in an era when Beyonce & Serena Williams are pregnant at the same time. Goddess is so good. pic.twitter.com/gIqSk6oWWq

— Asexual Whore of Babylon (@SoualiganAmazon) April 19, 2017
can't wait for serena williams' child to become the president of the united states

— amita m. (@amita_mall) April 20, 2017
Beyoncé gave us iconic performances pregnant and Serena Williams won her 23rd grand slam while pregnant. Black women are on another level. pic.twitter.com/RACfnh5e2F

— ? (@MJFinesseLover) April 19, 2017
yall what if serena has her baby on beyonce's birthday.

— king crissle (@crissles) April 19, 2017
https://twitter.com/humbIepride/status/854717870626017280
It was also noted that Serena announced her pregnancy on "rival" Maria Sharapova's birthday.
Serena Williams announcing her pregnancy on Maria Sharapova's birthday pic.twitter.com/t7t8R9Uu0q

— chrissy (@chRIHssy) April 19, 2017
Serena Williams announces pregnancy on Maria Sharapova's birthday and will return to world number one on Monday.

Gosh I love tennis

— José Morgado (@josemorgado) April 19, 2017
When you can't even win on your birthday pic.twitter.com/3b1H8iQhkU

— philip lewis (@Phil_Lewis_) April 19, 2017
When Maria Sharapova tried to grab all the tennis headlines in April but Serena Williams announces she is pregnant ? pic.twitter.com/C50CLSxuhv

— Chris Goldsmith (@TheTennisTalker) April 19, 2017
Serena Williams' baby has more grandslam titles this year than Maria Sharapova.

— Morena (@Mothupiii) April 19, 2017
A rep for Serena has also confirmed the pregnancy and revealed she is due in the fall. With her last match in January, the No. 1 tennis star's 2017 competitive season is finished. However, the plan is to return to the court in 2018.
This is the first child for Serena, 35, and Ohanian, 33. The two became in engaged in December and reportedly started dating in 2015.
Be the first to receive breaking news alerts and more stories like this by subscribing to our mailing list.