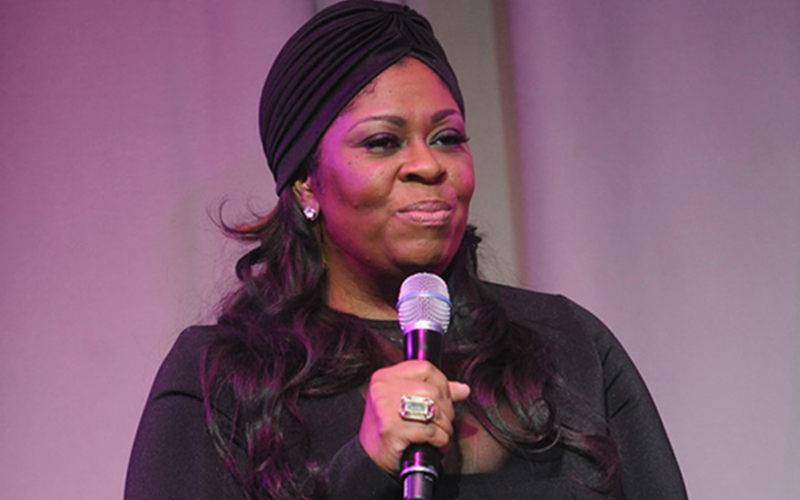 Gospel singer and pastor Kim Burrell is making "no excuses or apologies" for condemning the LGBT community — I mean, the "homosexual spirt" — during a recent sermon.
The gospel singer was under fire and dragged on social media after referring to gay people as "perverted" in a sermon that has since gone viral. While preaching to her Love & Liberty Fellowship Church congregation in Houston, she stated:
"You play with the homosexual spirit in God's house and you'll die from it in 2017…

The perverted homosexual spirit, and the spirit of delusion and confusion, it has deceived many men and women. You as a man, you open your mouth and take a man's penis in your face, you are perverted… You are a woman and will shake your face in another woman's breast, you are perverted."
The backlash and the accusations that she said all LGBT people were going to hell in 2017 caused Burrell to respond via two Facebook videos on Friday (Dec. 30).
"We're not in a war against flesh and blood. I came on because I care about God's creation and every person from the LGBT and anything else, any other kind of thing that is supporting gay…I never said LGBT last night. I said S-I-N and whatever falls in the sin was preached."
Burrell believes that since she didn't specifically say LGBT people or the community that her sermon wasn't a "personal agenda against people" and that she loves people.
"To every person who is dealing with the homosexual spirit, I love you because God loves you. But God hates the sin."
Yeah, still sounds like a "personal agenda against people" to me. There's no other way anyone in the LGBT community could listen to her comments and not take them personally. Just like some racists can never utter the n-word a day in their life, but they're still a racist. That concept applies here as well.
Meanwhile, Burrell is scheduled to appear on The Ellen DeGeneres Show Thursday (Jan. 5) with Pharrell Williams to perform their song, "I See Victory" from the Hidden Figures soundtrack.
Williams as well as Hidden Figures stars Octavia Spencer and Janelle Monae have spoken out against Burrell's homophobic rant and expressed their support for equality.
https://www.instagram.com/p/BOsTLbfBCPE/
Spencer reposted Williams' statement and wrote:
"I agree. We are all God's children equal in his eyes. Hatred isn't the answer. Intolerance isn't the answer."
Monae also reposted the IG post and included a lengthy statement of her own. She wrote in part:
"I shouldn't even have to post this as you guys should already know where I stand. I unequivocally repudiate ANY AND ALL hateful comments against the LGBTQ community. Actually I'm tired of that label. We all belong to the same community, a shared community called humanity…

"I will rejoice when folks stop thinking they ARE GOD, Jesus' assistant, picking and choosing what 'sins' are acceptable in the Bible, and using the Bible as a whip!"
https://www.instagram.com/p/BOtFCavgE7B/
It's unknown how Ellen producers plan to handle to Burrell's hate speech or even if she will still perform with Williams. Burrell probably doesn't want to be near "perverted" lesbian DeGeneres anyways. In her Facebook response, she noted her LGBT fans have failed to help her sell over 1 million records or earn her a Grammy.
On another note, Burrell also seemingly referred to Bishop Eddie Long in the now-viral clip.
"Nobody would think you have AIDS if homosexual men didn't come out and reveal what you did behind closed doors."
In 2010, four men accused Long of coercing them into sexual relationships when they were teenagers. The cases were settled out of court. Long recently made his first public appearance in months, after dealing with an undisclosed health issue, looking extremely thin and unhealthy. Though unconfirmed, some have wondered if the illness is HIV or AIDS.
No matter how she tries to explain it, Burrell preached hate under the guise of "love." But she surely found out that such hate is not tolerated by many and will get checked really quick.
I just hope anyone LGBT struggling with acceptance listen to Williams, Spencer, and Monae's words rather than hold on to the hate that Burrell spouted and continues to stand by.
Be the first to receive breaking news alerts and more stories like this by subscribing to our mailing list.