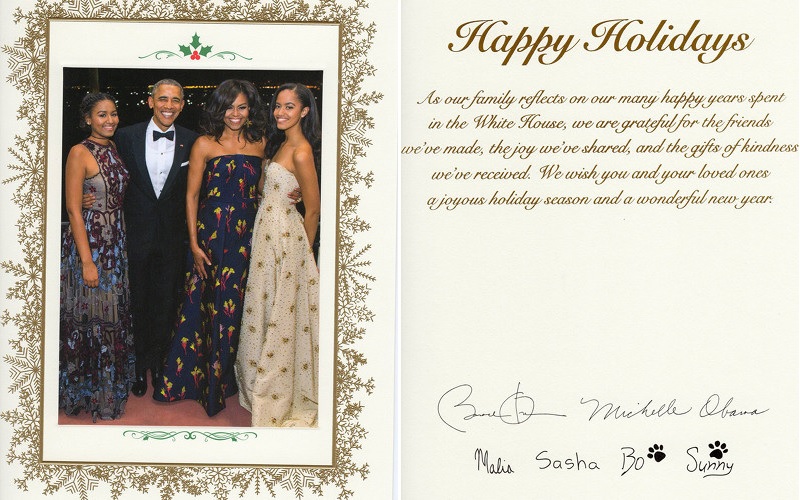 It's all becoming too real; The Obamas are leaving the White House! The First Family just sent out their final holiday card and it's got us all in our feelings.
Breaking tradition of using paintings or scenic photos, the President decided to the give family dog, Bo, a break and chose a candid photo of his beautiful family for the front of the card.
The photo was taken in March 2016 during the State Dinner for Canadian Prime Minister Justin Trudeau. It was Malia and Sasha's first and only State Dinner they attending during their 8-year stay in the White House.
With "Happy Holidays" as the greeting, the card is signed by the First Family, including family dogs Bo and Sunny. It reads:
As our family reflects on our many happy years spent in the White House, we are grateful for the friends we've made, the joy we've shared, and the gifts of kindness we've received. We wish you and your loved ones a joyous holiday season and a wonderful new year.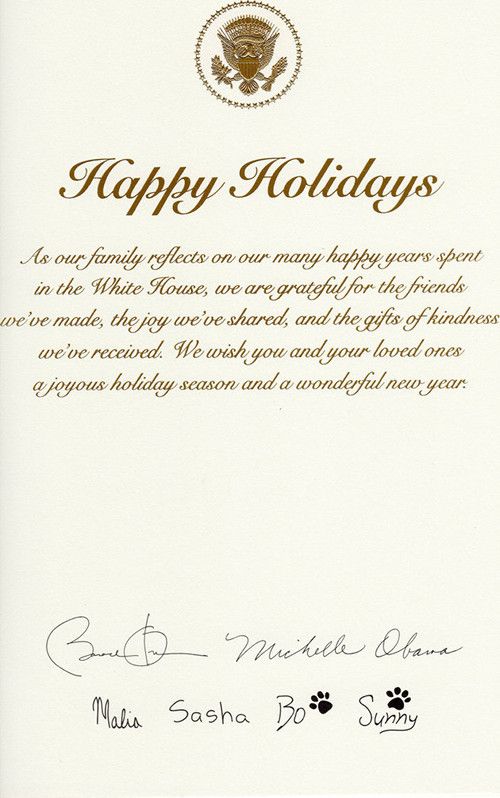 The card was sent to friends, White House staff, supporters, and members of the media.
President Calvin Coolidge sent the first White House holiday card in 1927 and the tradition has continued since. The 2016 card is only second time the president has been featured on the card, with Bill and Hillary Clinton first posing in 1993.
Past Obama Holiday cards have prominently featured Bo and Sunny in paintings or images.
The 2016 card is bittersweet because it's a reminder our time with the Obamas as the First Family is winding down and we have to say goodbye to our first black POTUS and FLOTUS in just a matter of weeks.
Be the first to receive breaking news alerts and more stories like this by subscribing to our mailing list.