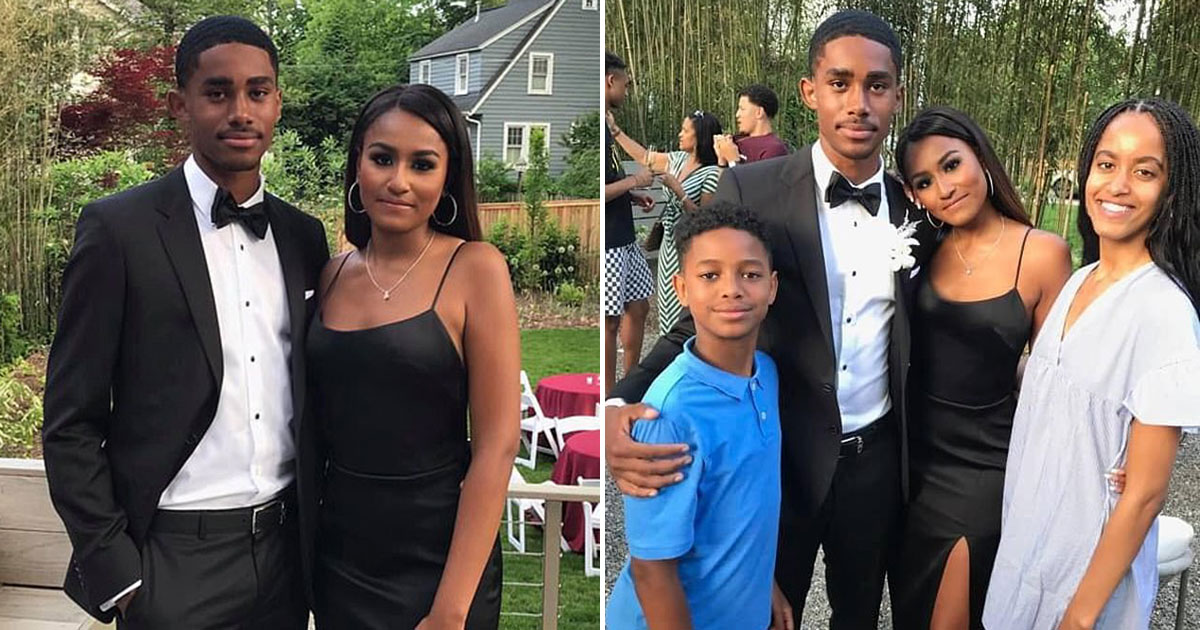 If you're looking for a reason to feel old today, look no further than these newly released photos of Sasha Obama and her prom date.
The youngest Obama daughter attended the prom Friday night (May 24), and the former first daughter, who is now 17 years old, looked flawless in a classic black dress.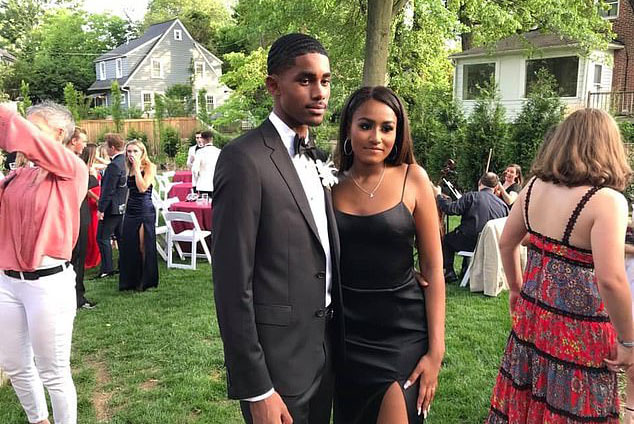 Standing arm-in-arm with her boyfriend, Chris Milton, who looked dapper in a matching black tux, the pair garnered a number of positive comments on social media from folks gushing about how the teenagers make a "cute couple."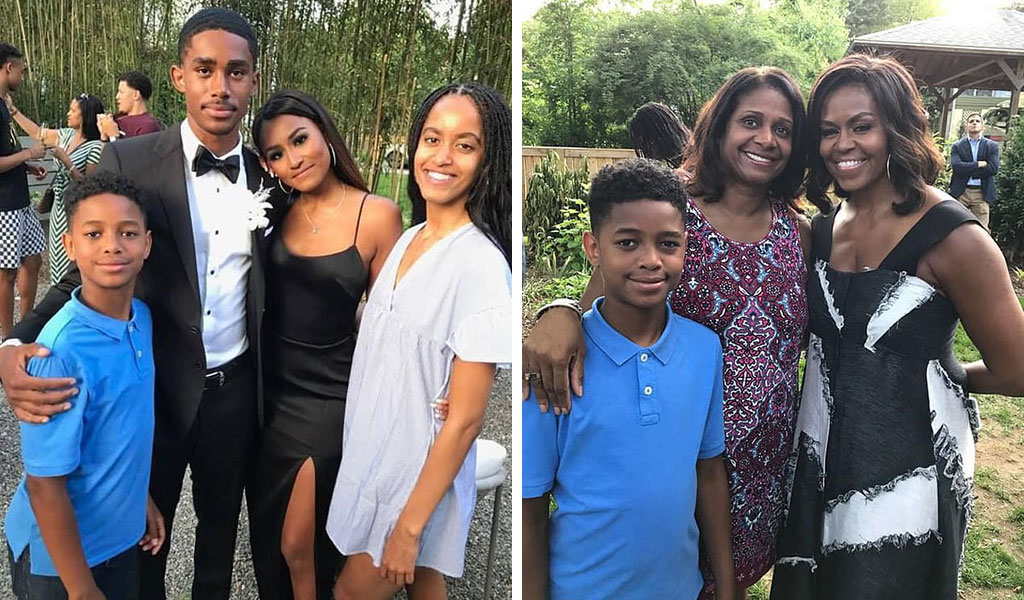 While dad Barack was nowhere to be seen, Sasha's mom, Michelle, and older sister, Malia, were there to send Sasha off and also posed for a few photos with her.
Meanwhile, Chris was applauded on social for being brave enough to Sasha to the prom, considering who her father is.
"Can we just appreciate the absolute guts this kid must have had during the 'dad talk' with Barack," one Twitter user remarked.
Though the former POTUS didn't appear to be there to send Sasha off, social media was filled with jokes about how the family's Secret Service detail wouldn't be too far behind throughout the evening.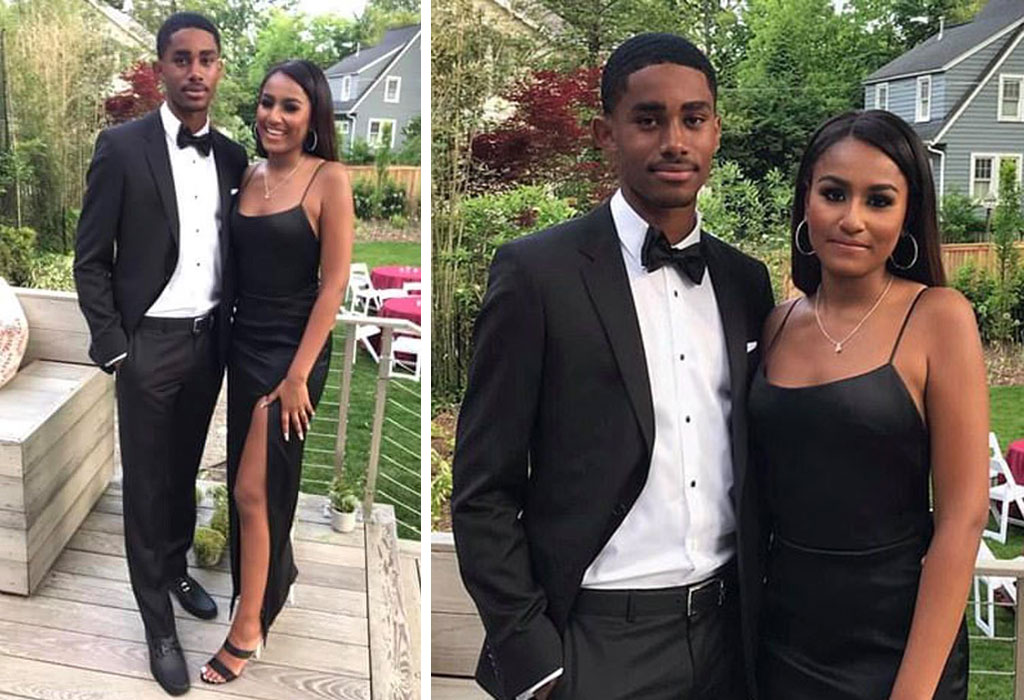 "Young fella [looks] like he sees Secret Service in her peripheral in all of these [pictures] lol," joked one Twitter user. "Probably was a legendary prom. But his eyes look like they're saying, 'I'm going to have fun…..but not too much fun, Sir.'"
Black Twitter was prepared to go to war after seeing Sasha's name trending, but they were glad to see it was because of how beautiful she looked in her prom dress:
I saw Sasha Obama trending, and I was ready to fight all of Twitter.

But then I saw baby girl looking beautiful and going to prom, and I was like pic.twitter.com/GbyiSK54Hs

— TheMagicalBridget (@BridgetBundy) May 25, 2019
The way #BlackTwitter was about to assemble when we saw Sasha Obama trending pic.twitter.com/UlaNRFh7K0

— Matthew A. Cherry ? (@MatthewACherry) May 25, 2019
Damn, everyone was ready to FIGHT when they saw Sasha Obama trending. Like, seriously, ready to THROW DOWN with the first person who utters one bad word about our girl. It's ok, though, it's just prom – and she looks STUNNING.

PS – I really miss the Obamas. A lot. ? pic.twitter.com/2ZJ4Dwv8N3

— Persistent Woman (@PixMichelle) May 25, 2019
Saw Sasha Obama trending and my fist automatically clenched up but it's all good because she's just growing up and served nothing but looks at prom pic.twitter.com/An4Cb9ioXW

— lyss (@lyss_bear) May 25, 2019
How everybody came ready to see why Sasha Obama was trending pic.twitter.com/BgTFRcEuPT

— rest jorion?? (@NylesD) May 25, 2019
Saw that Sasha Obama was trending and automatically wanted to throw hands, but baby girl just went to prom ?. I was ready to fight lol.

— BlackGrlNxtDoor? (@ChickFromQuip) May 25, 2019
me when I saw Sasha Obama trending not knowing its just because her prom pics pic.twitter.com/WIXuK6xVwd

— DG (@DominicccG) May 25, 2019
Black and Hispanic twitter ready to defend the home girl after "Sasha Obama was trending" pic.twitter.com/GKffxbehno

— LilClamChowder (@IsaboPr) May 25, 2019
My heart stopped when I saw Sasha Obama trending … And then I saw why! ?

What a classy, beautiful young woman! Happy Prom!! ? https://t.co/3ezL0tb2dj

— Social?Fly (@socflyny) May 25, 2019
Sees Sasha Obama trending.
Fears more garbage.
Realizes she's fine.
Breathes a sigh of relief.
Then misses the humanity, the competency and decency of @BarackObama and @MichelleObama for the umpteenth time.

— Steve Marmel (@Marmel) May 25, 2019
sasha obama is the beyonce of her family.

— ash karda$h. ? (@missessmalcolm) May 25, 2019
Sasha Obama looks gorgeous in her prom photos. Both girls are so lovely and I will fight ANYONE who spouts some bigoted bullshit about them ANYWHERE, ANY TIME.

— Nadia Vulvokov (@vulvokov) May 25, 2019
Obama and Biden when the prom date shows up to the house looking for Sasha Obama. pic.twitter.com/zBxzXeucSz

— Deon (@imnottayediggs) May 25, 2019
Saw Sasha Obama trending. I'm so glad it's prom pics, 'cause… pic.twitter.com/PKr9NKf7i9

— ItsMe (@TheKagneiKing) May 25, 2019
Sasha Obama will graduate from Sidwell Friends High School in June, and she's reportedly considering attending the University Michigan for college in the fall.
The teen reportedly turned down a place at Yale, opting not to follow in the footsteps of her big sister, who chose to attend an Ivy League School (Harvard).
Sasha allegedly wrote on her private Instagram account that she's looking forward to attending the Ann Arbor School with her friends, who she called her "sisters."
"So proud to say I'm going to college with my sisters!!" Sasha reportedly captioned underneath a photo of herself and two friends standing in front of Michigan' football stadium, nicknamed "The Big House."
Be the first to receive breaking news alerts and more stories like this by subscribing to our mailing list.