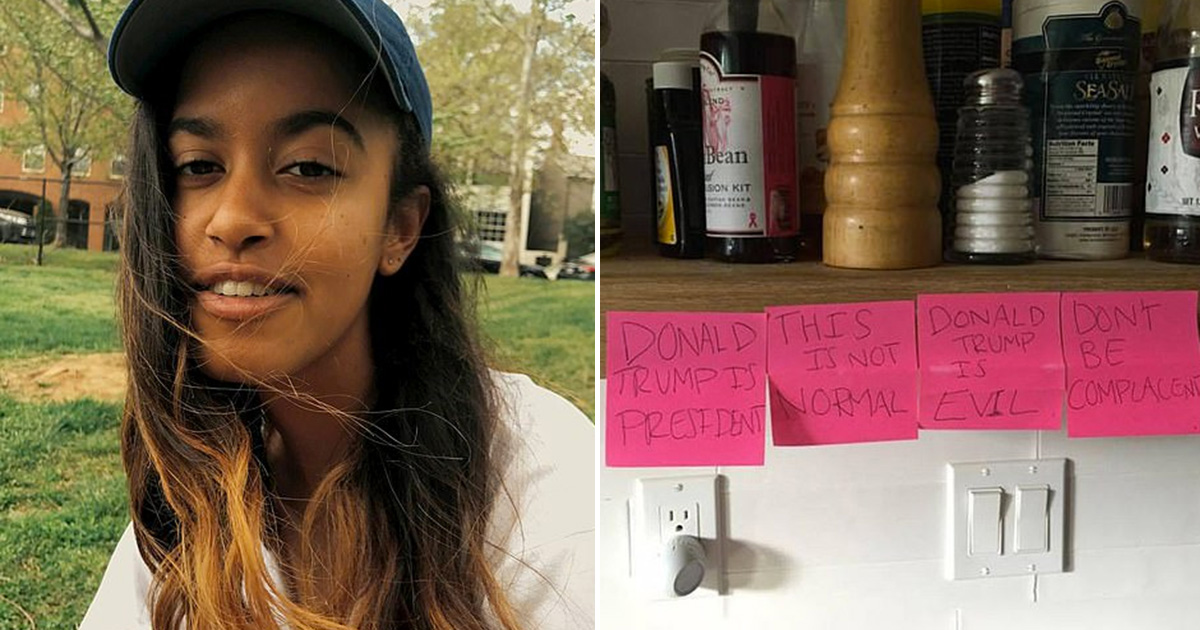 It's probably not going to shock you, but nonetheless, it's making headlines across the world: Malia Obama is not a fan of Donald Trump.
I mean, given that Donald Trump spent years smearing her father as an un-American, secret Muslim for years, it's not much of a surprise that Malia Obama doesn't think too highly of Agent Orange.
This obvious assumption was confirmed when The Daily Mail got a hold of a screenshot from a secret Facebook account that Malia used to post some anti-Trump stuff.
Most notably, this Facebook cover photo which used Post-It notes to remark on how crazy it is that Donald J. Trump is the president of the United States of America.
Just in case you were wondering how they knew that this account was legit, Joe Biden's granddaughter Finnegan Biden liked and commented regularly on the account's posts. She can be seen commenting on the post screenshotted above: "Never saw this. I like it."
The other news shaking the internet's table is the earth-shattering news that Malia Obama has been drinking Rosé while she's vacationing in Miami.
Rosé all day: Malia Obama, 20, spotted sipping on a $80 bottle of Whispering Angel with three friends at Miami Beach pool party pic.twitter.com/cbrwDc6m8a

— Lilian Chan (@bestgug) February 17, 2019
The big OMG thing of this is that Malia is 20, not 21, and is seen drinking wine in the private company of friends.
Because none of us drank underage, right? Mind you, Malia's daddy admitted to doing cocaine in high school and college, so a little Rosé a few months before her 21st birthday (which is in July) ain't nothin' but a G thang, baby.
As far as troublemakers go, Malia's stuff has been pretty mild, especially considering the kind of press George W. Bush's daughters used to get for their hard-partying ways. So Malia, enjoy yourself and don't mind the gawking haters.
Be the first to receive breaking news alerts and more stories like this by subscribing to our mailing list.