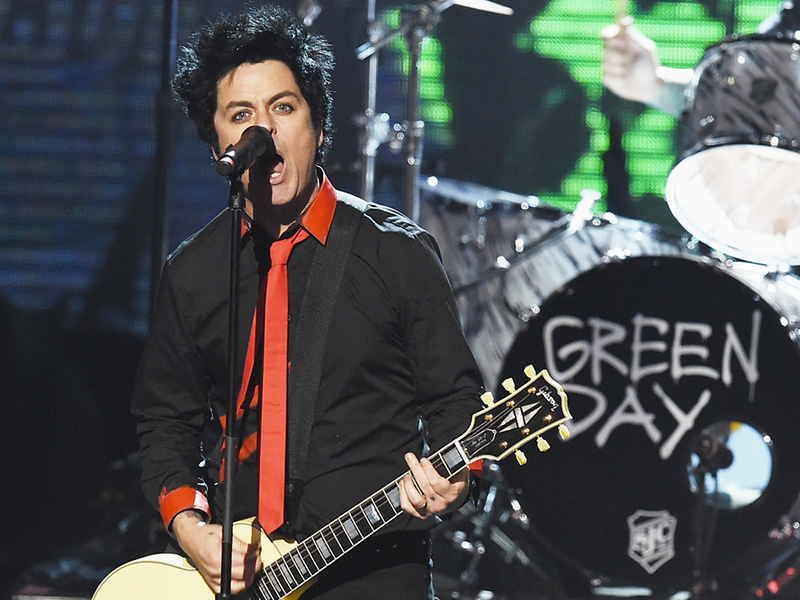 Green Day delivered a strong political message at the 2016 American Music Awards Sunday night (Nov. 20).
While performing their new single "Bang Bang," the punk rockers decided to express how they feel about President-elect Donald Trump and a certain subset of his most vocal supporters.
In the middle of their performance, the group's lead singer Billie Joe Armstrong, repeatedly said the phrase, "No Trump, no KKK, no fascist USA" as he raised his fist in the air, and the crowd seemed to agree, giving the band a standing ovation at the end.
Twitter also seemed to enjoy Green Day's political statement:
Green Day dragging trump on live television I am here for it

— ??????? (@faguettte) November 21, 2016
That is why Green Day will forever be one of the greatest bands ever. #amas

— mik (@soldatbcrnes) November 21, 2016
GREEN DAY IS SCREAMING NO TRUMP NO KKK WHICH IS COMPARING TRUMP TO THE KKK THIS IS SO ICONIC IM DEAD #AMAs

— layla (@harryxmendess) November 21, 2016
I always loved Green Day. They are now even more legendary in my mind!!!! NO Trump!!! No KKK!!! No Fascist USA!!!! #AMAs #GreenDay pic.twitter.com/HAMf9MB3Xo

— Protect Robert Mueller ?? (@TerpGrad01) November 21, 2016
https://twitter.com/5S0SSnapchat/status/800548239720251393
https://twitter.com/MissAllyssa_/status/800554269766254592
Just became a green day fan
No trump
No kkk
No facist USA#AMAs

— Barri (@musicadr0gata) November 21, 2016
GREEN DAY, new heroes! #AMAs

— yosh kimmel (@coyoshh) November 21, 2016
I think Green Day and the AMA's are about to join Hamilton & SNL on Trump's shit list ????????? pic.twitter.com/b2EhE4MaBk

— Hercules Mulligan (@johnvmoore) November 21, 2016
Green day chanted "No Trump, no KKK, no fascist USA." Now Donald Trump will complain about them bullying him and demand an apology at 4 am

— thugga OG (@tattedpoc) November 21, 2016
Green Day's Billie Armstrong hasn't been shy about how he feels about President-elect Trump in recent interviews. Back in August, in an interview with the magazine Kerrang!, he compared Trump to Hitler, and just last week, he told Noisey in an interview:
"Hillary lost and it's over. As far as I'm concerned it was fair and square. But I look at the kind of campaign that [Trump] ran and we're already seeing the fallout from it. People are saying 'make America white again' and putting up swastikas. The KKK and other white supremacist organizations have been emboldened by it. The Republican party is like a big house. There's the fiscal conservatives, the Christian right, and they left a little bedroom in there for the white supremacists… But they're like rats, and now the rats have taken over the f**king house."
In addition to Green Day's anti-Trump/anti-racism chant, the AMAs had a number of political references throughout the night. Hosts Gigi Hadid and Jay Pharoah each did Melania and Donald Trump impressions, Chrissy Teigen referenced the "f**ked up f**king election" (which was bleeped out by TV censors, obviously), and as we previously noted, Nicki Minaj basically emulated Trump's infamous "grab them by the pussy" comment.
SEE MORE: Nicki Minaj & Ariana Grande Show Trump How to Grab Their Pussies in "Side to Side" AMAs 2016 Performance
Be the first to receive breaking news alerts and more stories like this by subscribing to our mailing list.