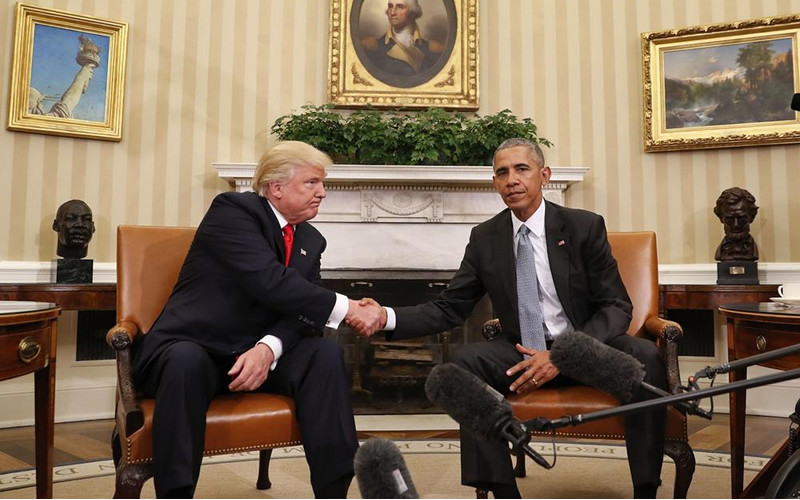 Since Hillary Clinton clinched the nomination to be the Democratic Presidential nominee, President Barack Obama was probably looking forward to passing the reins to capable hands. Unfortunately, that's not going to happen and Obama might have to linger around the White House longer than he anticipated.
Anyone with a little a bit sense can agree that President-elect Donald Trump — who, unlike the 44 presidents before him, has never held elected office or served in the military — is in over his head has assumed the role of Commander-in-Chief in just a few months. Because of this, there are reports that reveal Obama will basically babysit Trump and "spend more time with his successor than presidents typically do."
The Wall Street Journal reports:
During their private White House meeting on Thursday, Mr. Obama walked his successor through the duties of running the country, and Mr. Trump seemed surprised by the scope, said people familiar with the meeting. Trump aides were described by those people as unaware that the entire presidential staff working in the West Wing had to be replaced at the end of Mr. Obama's term.

After meeting with Mr. Trump, the only person to be elected president without having held a government or military position, Mr. Obama realized the Republican needs more guidance. He plans to spend more time with his successor than presidents typically do, people familiar with the matter said.
So yeah, we're screwed!
All of the fears and worries you've have had since election night are completely justified. Trump has spent most of Obama's presidency questioning his citizenship and, during his own campaign, vowed to dismantle the president's legacy. Now, the President-elect even concedes he will need Obama's "counsel" in the future and is overwhelmed with the task(s) ahead of him.
Is it too late to for a recount? Better yet, can the Supreme Court just grant Obama another year or two under these dire circumstances?
Be the first to receive breaking news alerts and more stories like this by subscribing to our mailing list.