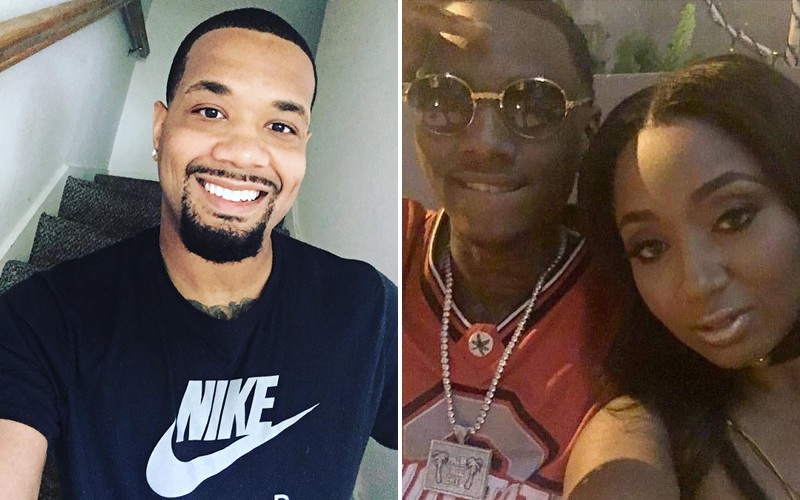 Former Basketball Wives LA star Brittish Williams her ex-fiancé Lorenzo Gordon have been in a social media war for the past few days and Soulja Boy is at the center of all the drama.
Brittish and Lorenzo recently split, after dealing with multiple infidelities on Lorenzo's part. However, it seems Brittish has moved on to Soulja Boy — who also recently split with ex-girlfriend Nia Riley.
Soulja posted a video on Instagram of the two at dinner with friends. He also posted a pic with Brittish with the caption, "that way." He later deleted both posts. However, blogs like Cup of Messy and Fameolous were quick to save the posts.
https://www.instagram.com/p/BLgnGkMB_FW/
Though Brittish and Soulja have not confirmed their relationship, the IG posts definitely got Lorenzo into his feelings. The basketball player took to Instagram and wrote, "I don't f–k with Brittish Williams no more thats Soulja boy chick."
https://www.instagram.com/p/BLfvF0iBCF5/
He even posted a video claiming he was going to sell Brittish's purses at the same store he's been helping Brittish to open at the Galleria Mall in St. Louis.
https://www.instagram.com/p/BLfxJJhBI1D/
https://www.instagram.com/p/BLhbqyYBpt4/
Lorenzo also claimed Brittish is only hooking up with Soulja because she thinks he's still cheating. He, of course, denies being unfaithful.
"She did all this s— on purpose to hurt me. Trying to get back at me for some s— that happened years ago. I ain't been cheating on that girl but what I HAVE been doing is working on getting her store open day in and day out. I been working to make her dream happen while she flying out to LA seeing other n—–. And for all those who say I cheated name one person I ACTUALLY been linked with in the blogs!? I'll wait."
Brittish responded to Lorenzo's IG rants and his claim that he's been faithful recently.
"Talking to bitches at 2am and 3am on the phone bill I pay ain't cheating huhh," she wrote in a now-deleted post. She even wrote that her 70-year-old grandmother informed her that Lorenzo was still cheating after overhearing a conversation in a restaurant.
It seems Brittish might have been right because a woman has since come forward claiming Lorenzo was sending her late-night text messages.
https://www.instagram.com/p/BLhykngBB8I/
Once all was said and done, Lorenzo deleted his posts and issued what seems to be a heartfelt apology to Brittish.
He wrote in part:
"After being with a person for 5 years you just don't stop loving them. As a man I am definitely hurt once you love someone you never stop loving them. Brittish I apologize for all my actions and I wish you well in all of your future endeavors.
That's a nice mea culpa, but keep your eyes glued to their social media accounts to see what drama the two will spark next.
Be the first to receive breaking news alerts and more stories like this by subscribing to our mailing list.