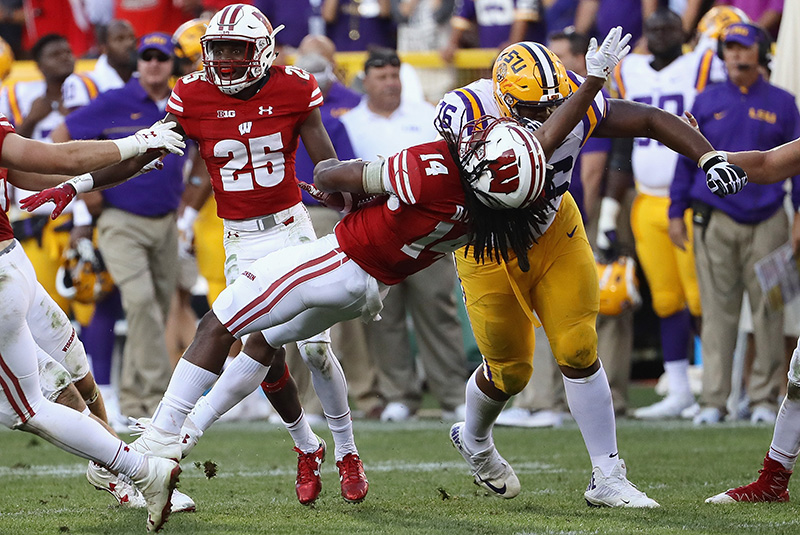 It's official…football is back! Last weekend marked the return of football with the greatest opening weekend of college football ever. And it didn't disappoint. The holiday weekend was chock full of shocking upsets, amazing plays, and, unfortunately, a few cheap shots as well.
Take, for example, this late blow by LSU's Josh Boutte. In one of the better games of the weekend, Wisconsin intercepted the ball late in the fourth quarter to put the game away. During the ensuing celebration, Boutte (an offensive lineman for LSU) delivered this hit on D'Cota Dixon.
The late hit earned Boutte a flagrant foul and a suspension from the next game, and rightfully so. I get being mad about losing the first game of the year, but that hit was totally uncalled for.
Boutte wasn't the only one this weekend pulling some unsportsmanlike moves, though. During the second quarter of the blow out between Alabama and USC, USC's defensive end pulled a Draymond Green and went after an Alabama player's goods.
This move also earned a suspension, with USC's Jabari Ruffin being forced to sit the first half of their next game. On top of that, he also has to write an apology letter to Minkah Fitzpatrick of 'Bama. That should be an interesting letter to read (Hey Minkah, sorry about stomping on your nuts. No hard feelings?).
Players weren't the ones on the receiving end of unfortunate plays, though. During perhaps the best game of the weekend, Notre Dame versus Texas, the Notre Dame quarterback took out a Texas coach with an errant pass.
Just goes to show, even if you're outside the sidelines, you still got to be paying attention. If you're not, you might catch a bullet of a pass to the face.
Needless to say, it was a crazy weekend for college football, and maybe with all the suspensions being dished out players will cool their jets a bit in week 2. Regardless, I think we can all agree that it's nice to have football back in our lives.
Be the first to receive breaking news alerts and more stories like this by subscribing to our mailing list.