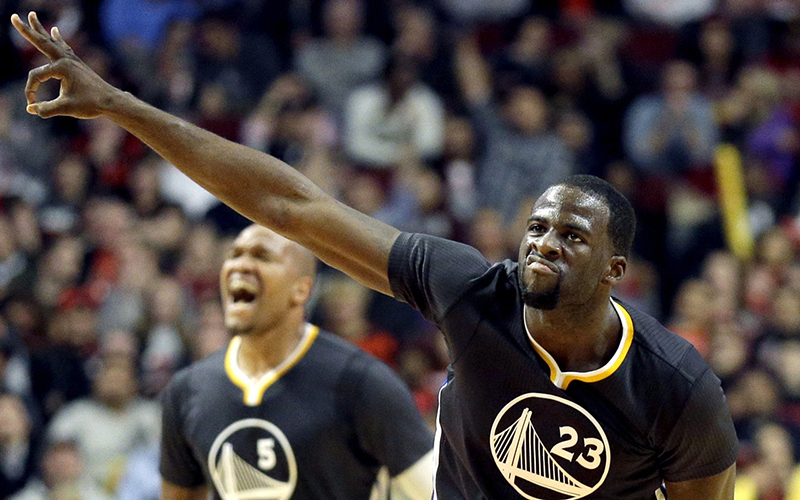 It looks like things are finally beginning to turn around for ole Draymond Green. After accidentally posting a nude picture on Snapchat and then being mocked by his fellow USA basketball teammates, Green has received a generous offer that may make this whole fiasco worth it.
Turns out, Steve Hirsch — the man behind the celebrity sex tapes of Kim Kardashian, Chyna, and Pamela Anderson — was impressed by the pic.
"Here's the deal: We will give you $100k to star in a porn called 'Drayzilla,'" Hirsch wrote in a letter to Green. "You call the shots. You pick your co-stars and set up the scene however you want."
Hirsch continued on to say he truly believes the tape can "really make history."
$100K for one day of work, doing something you already do for free all the time, ain't too shabby of an offer. And Green's got to take at least a little comfort in knowing his picture was impressive enough to be deemed porn-worthy. But if I was a betting man, I'd say Green probably isn't going to take him up on the offer.
I can't imagine his teammates (both USA and Warriors), Coach K, or Adam Silver and the NBA would be too fond of one of their most notable players doing a side gig as a porn star.
Regardless, the craziness that is Draymond Green's life just continues. It's remarkable what a few crotch kicks and dick pics can do for a person's exposure.
Be the first to receive breaking news alerts and more stories like this by subscribing to our mailing list.