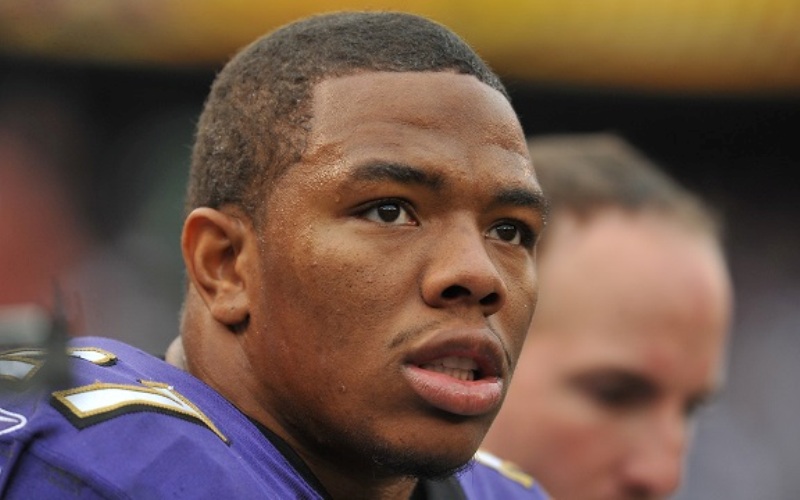 Ray Rice is so desperate to get back onto the field that he's offered an incredibly generous pledge to any NFL team willing to sign him. The free agent says he will donate his entire salary to domestic abuse programs if given a chance to return to the NFL.
Rice was released from the Ravens and banned from the NFL in 2014 after video footage captured him knocking out his then-fiancé Janay Palmer with one punch while in an elevator. Other footage from the incident captures the couple arguing and Rice pulling an unconscious Palmer out of the elevator.
Rice's NFL ban was eventually lifted near the end of 2014. He and Palmer are now married and the couple is currently expecting their second child.
"All the scrutiny that I've got, it was deserved, because domestic violence is a horrible thing," Rice told USA Today. Now he wants to bring awareness to the issue and do whatever he can to help while playing the sport he dedicated his life to.
"Me donating my salary is something that'll be from the heart for me. I only want to play football so I can end it the right way for my kids and for the people that really believed in me. But I know there's a lot of people affected by domestic violence, and every dollar helps. It's raising awareness."
It's a nice gesture, but does he really mean it? This could just be a way for the disgraced athlete to get back into the good graces of the NFL and football fans. Most don't excuse domestic violence or forgive abusers easily. Rice would have to do something extremely grand to receive a second chance.
It should also be noted that Rice currently donates to charities and gives lectures on his experience with domestic violence.
I have very little knowledge of how the NFL handles certain situations. However, the organization has taken a stance against domestic abuse in recent years and I'm not sure if Rice would be welcomed with open arms, despite his supposed well-intentions.
If an NFL team does sign him, Rice's minimum salary would be $885,000, a far cry from his previous contract which earned him $25 million over the course of 2 years.
Be the first to receive breaking news alerts and more stories like this by subscribing to our mailing list.