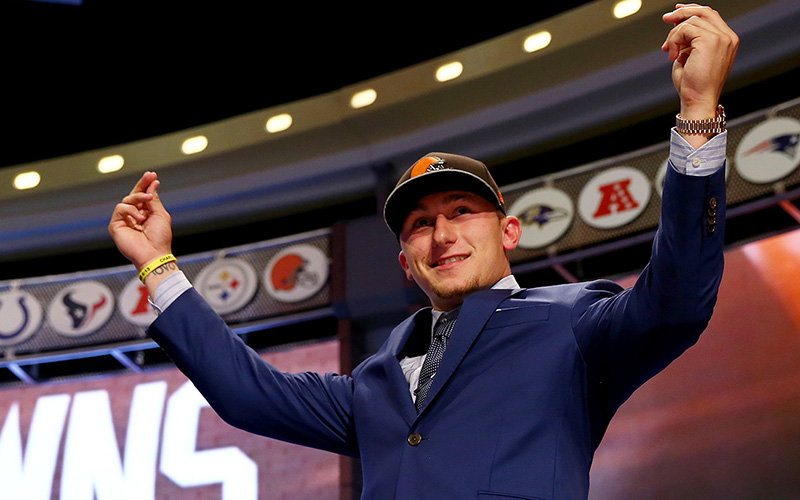 Former Cleveland Browns quarterback Johnny Manziel has vowed to pursue sobriety starting July 1st. The Heisman winner has struggled with off the field issues since joining the NFL in 2014 as the 22nd pick, playing in only 14 games. Most of his issues have come from his inability to stop partying.
"YOU DON'T THINK I CAN STUDY MY PLAYBOOK WHILE LAYING ON A GIANT SWAN & DRINKING A HUGE BOTTLE OF CHAMPAGNE?" -JFF pic.twitter.com/LswxjlgFN3

— Adam Klug (@Adam_Klug) June 7, 2014
From the moment he was drafted, the issues began to manifest. From partying in Vegas, drinking on a swan, wearing disguises, and using more illicit substances, the antics never seem to quit despite constant assurances from Johnny Football that he wants to focus on the sport he loves.
A nice timeline of these incidents can be found here.
After two years of the same old thing, the Browns finally got fed up and cut Manziel this past year, leaving him as a free agent. This apparently wasn't enough to force Manziel to change, though, as his partying ways have continued on throughout the summer.
But earlier this week, it appears that might be set to change. Manziel told TMZ that he's going completely sober starting tomorrow, July 1st. First, though, he needs to finish his week-long party in a Cabo mansion filled with booze and drugs.
The announcement comes fresh off the heels of a statement made by Manziel's father, Paul, where he called his son a druggie. Paul's full quote was:
"He's a druggie. It's not a secret that he's a druggie. I don't know what to say other than my son is a druggie and he needs help. He just hasn't [sought] it out yet. Hopefully he doesn't die before he comes to his senses. That's about all you can say. I don't know what else to say…there are two things that are going to happen: he's either going to die, or he's going to figure out that he needs help."
Whether or not his father's words had any effect on Manziel's decision to go clean is unknown, nor do we know if he will actually follow through with it. Manziel has made this claim many times before, and while I hope he's able to clean up his act, at this point, I'll believe it when I see it.
Be the first to receive breaking news alerts and more stories like this by subscribing to our mailing list.