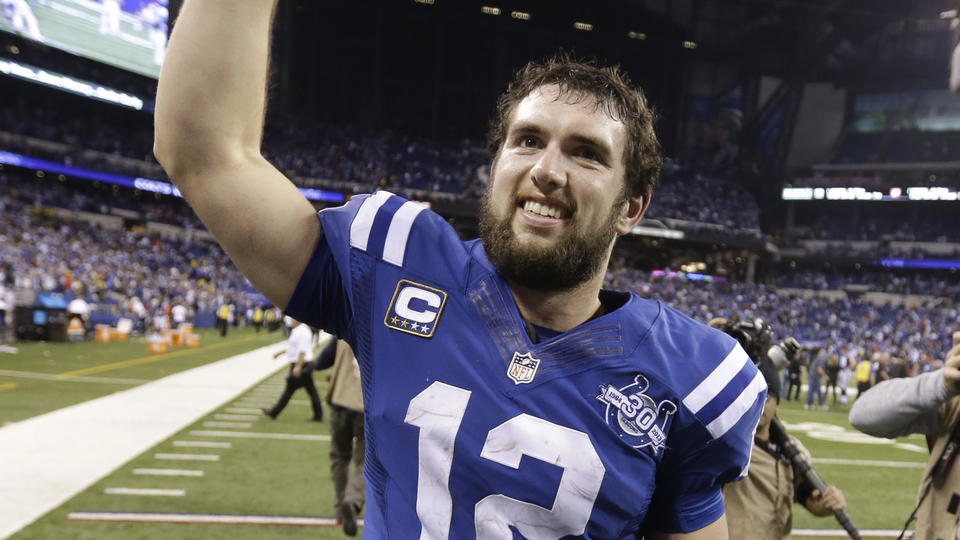 The Indianapolis Colts have officially re-signed their quarterback, Andrew Luck, to a six-year, $140 million contract. Colts Owner Jim Irsay announced the deal via Twitter.
Andrew has signed through 2021

— Jim Irsay (@JimIrsay) June 29, 2016
$140 Million over 6 Years… Biggest Contract in NFL History… Congrats to #12!!!

— Jim Irsay (@JimIrsay) June 29, 2016
Insiders have been awaiting the announcement since February, when Irsay promised a "shocking" contract for his franchise quarterback. And boy, he did not disappoint. The Colts QB now has the biggest contract in NFL history.
The deal includes a $32 million signing bonus and $87 million in guarantee pay, or over $17 million per year. Needless to say, Luck is a pretty happy man today. But, in typical Luck fashion, he kept calm and played it cool.
"I am thrilled and excited to continue with this great organization," Luck said Wednesday. "I am thankful to the Irsay family and Mr. Irsay for providing me with this great opportunity and the trust that they've shown in me. I can't wait for the season to start."
Luck, who replaced the future hall-of-famer Peyton Manning as the Colts' starting quarterback in 2012, has had a great start to his career. Despite suffering from injuries last season, he has helped keep the Colts in playoff contention in an increasingly competitive AFC South.
With athleticism and intelligence, the Stanford grad has proven to be the perfect replacement to arguably one of the greatest quarterbacks of all time.
The biggest challenge for the Colts, now, will be to give Luck the protection he needs to stay healthy and succeed. Last year's Colts suffered from a revolving door of offensive linemen, but they have already taken steps to remedy that situation with their draft picks this year, going out and getting 3 linemen in their first 5 picks.
And they better hope that pays off, because without the protection up front that he needs, Luck will become the most expensive bench warmer in history.
With the largest contract ever in NFL history, you can bet that there will be a lot of eyes on the Colts and their starting quarterback come September. Hopefully Luck is good at handling the pressure.
Be the first to receive breaking news alerts and more stories like this by subscribing to our mailing list.