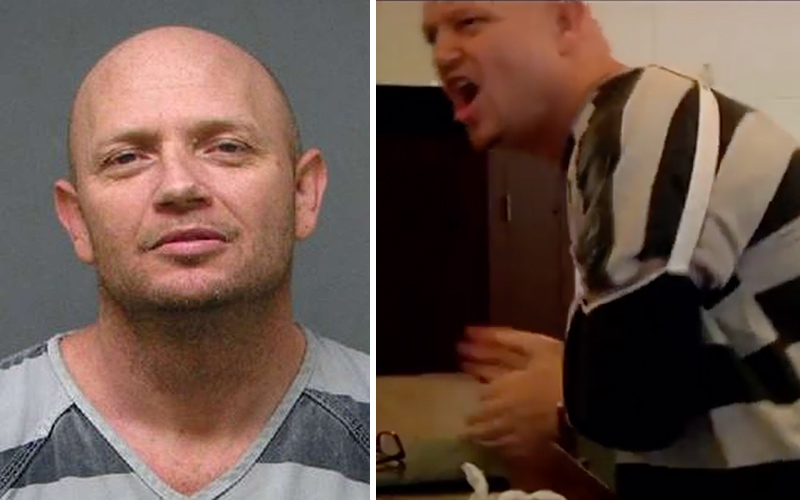 You could say that as the judge opened his mouth to read Ricky Hand's sentence in Springfield, Ill., that he realized he was in a real sh**ty situation.
After being convicted on a string of armed robberies, the judge decided it was time to throw the book at 46-year-old Hand. Hand, however, wasn't ready.
WHIO reports that Hand was remorseful for his behavior and blamed his drug addiction as the source of his criminal activities.
Wednesday he first apologized for the crime spree and told Common Pleas Judge Richard O'Neill he was fueled by his drug addiction.

"I need help with the core of my problem, and that's drugs," Hand said.

Hand was facing a possible 52 years in prison for his guilty pleas to seven of the original 30 charges for which a Clark County grand jury indicted him.

O'Neill sentenced Hand to 40 years in prison for the crimes, and then Hand appeared to get upset. He looked repeatedly at his lawyer asking "40 years?"

Then Hand interrupted the judge. "Did you just give me 40 years, sir?"

When the judge replied "Yes," Hand stood up and pulled a bottle from his pants, flinging the contents that hit his defense lawyer. Court deputies and a Springfield Police Division officer quickly tackled Hand.
Let me catch you up to speed here in case you missed any of that: Ricky Hand had a water bottle hidden on his person that was full of his own urine and feces. Pee and poop. Piss and shit.
And he hid it in his arm sling, plotting to wreak havoc if the trial didn't go his way.
It must be seen to be believed to be honest. Here's a video that includes footage from the Clark County Courthouse:
And here's another video from another angle for additional perspective.
https://www.instagram.com/p/BHAsNztl71W/
Understandably, the Clark County Court and judge are pissed (HA!) and they want to bring Hand back in to give him additional charges for his assault.
Frankly, I think they should throw terrorism charges in there as well. Because if slinging your fermented, liquid poop and piss at innocent people isn't terrorism, I don't know what is.
Be the first to receive breaking news alerts and more stories like this by subscribing to our mailing list.