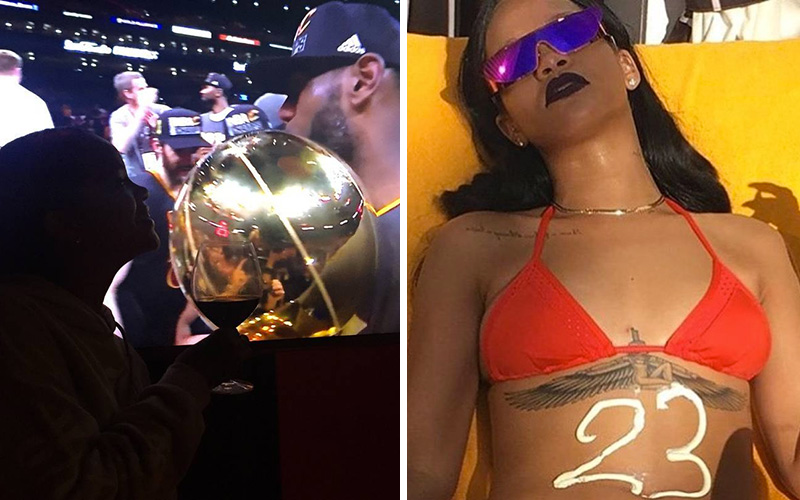 The city of Cleveland went crazy after LeBron James and the Cavaliers brought home the first championship for the city in 52 years. However, they weren't the only ones celebrating. Rihanna went into full stan mode as James bawled with joy over his epic Game 7 victory.
Although the singer was not sitting courtside, she expressed her excitement and obsession, I mean, ADMIRATION, for King James through her Instagram account. She first — like many others — trolled Golden State Warrior Stephen Curry with lyrics from her single, "Bitch Better Have My Money."
RiRi also trolled Curry with this "meme":
But she quickly shifted her focus to MVP LeBron. Continuing to use lyrics from BBHMM, she posted pics of him with his trophies, his jersey number on her stomach, and even called him her "Bae!"
Rihanna's love for James is no secret. As mentioned earlier, he's referenced in "Bitch Better Have My Money," and beyond that, she attends his games whenever possible, and she's been known to shout "Lebron!" outside the Cavaliers' locker room. During Game 1 of the 2015 finals, Golden State Warriors owner Joe Lacob had to change seats because Rihanna's LeBron super fandom could not be contained.
James is clearly riding a career high. Not only is he the 2016 NBA Champion and adding to his incredible NBA legacy, but freaking Rihanna is one of his biggest fans. What more could you even ask for?
Be the first to receive breaking news alerts and more stories like this by subscribing to our mailing list.