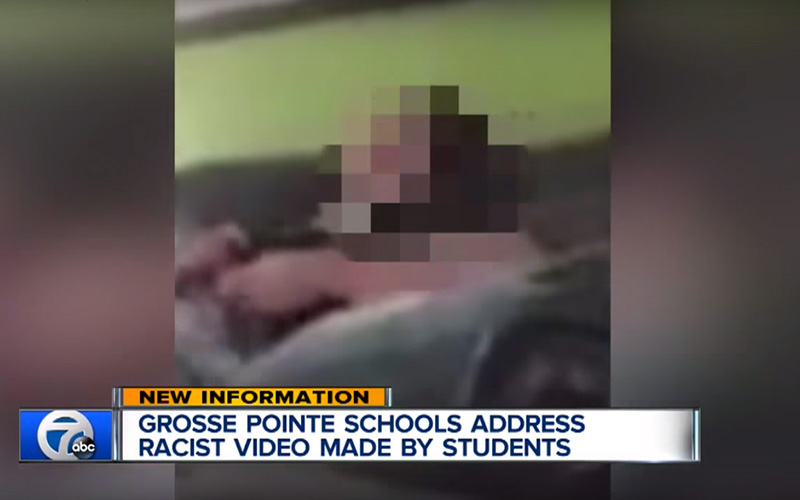 There is a disturbing trend happening in our schools. Although we may think racism will minimize as our youth become our leaders, three white Michigan high school students are doing everything possible to dispel that belief.
A video of several Grosse Pointe South High School students making racist remarks has gone viral. In the clip that was first posted on Facebook, the possible Trump supporters ponder what they would do if they were president in 2040.
"Stupid, worthless, need to leave our country, send 'em back to Africa," one student proclaims about African-American citizens. "White people are gonna be the dominants of the country," another follows. Branding Black people and burning them on the stake were also options the teens developed. They even suggested forcing black people to swim back to Africa via the "Atlanta" Ocean.
…But black people are the "stupid" ones. Yeah, OK.
Outrage over the video has lead to three of the students in the video being suspended from school. They have apologized for their statements and one claimed to be under the influence of alcohol during the taping of the video.
The superintendent of the school system has denounced the students' remarks, and he even commented on the current racial tension within the United States. The school's principal made a statement in a letter that was sent home to parents.
"During my nearly two years here at South, I have been consistently impressed with the depth of compassion and kindness exhibited by our students. I am confident that this incident will provide South the opportunity to stand with a united voice of love and acceptance for all," the statement partly read.
However, South High must not be full of compassion and kindness as the principal suggested. This is the second act of racism the school has encountered in just a few months. In March, six students were suspended after a photo surfaced on social media depicting the students with the N-word written on their bodies.
Unfortunately, racism is increasingly becoming an issue in schools. A few weeks ago, an Alabama teacher was placed on administrative leave after giving a middle school class a quiz that many deemed racially insensitive. I'm not exactly sure why some feel so comfortable engaging in racist rhetoric and actions, but I do know that students shouldn't be subjected to bigotry and hatred while trying to receive an education.
Maybe if these three racist students paid more attention to their education, rather than imagining ways to bring back slavery, they would learn about the Atlantic Ocean.
Be the first to receive breaking news alerts and more stories like this by subscribing to our mailing list.