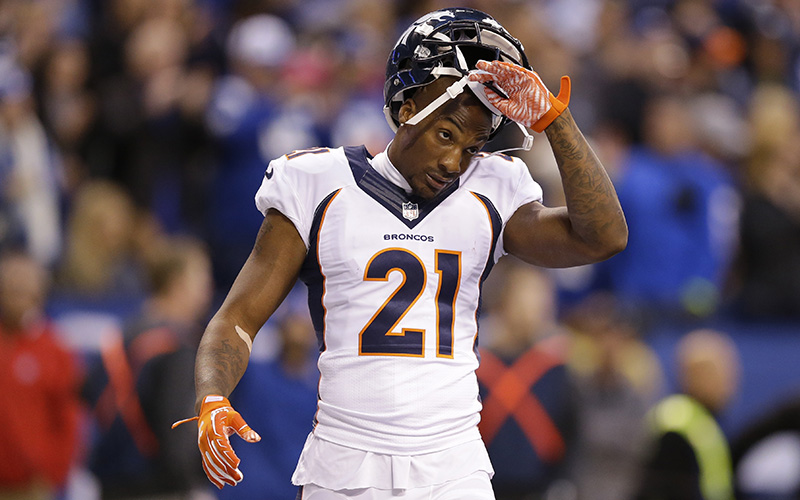 Super Bowl Champion Denver Broncos visited President Obama at the White House Monday (Jun 6), but one teammate was missing: cornerback Aqib Talib, who was involved in a shooting over the weekend, the circumstances of which are still under investigation. It seems he is trying to protect someone.
Talib, who is known to have an active social life, was reported to have been one of the victims of a shooting at a Dallas nightclub. The nightclub turned out to be a strip club, but that's the least of the discrepancies.
Dallas ABC affiliate WFAA reports that Talib initially told police he was at a park with a group of people around 3:40am when the shooting occurred. Talib claimed, "I heard a single gunshot and fell to the ground. Everything was a blur and I was too intoxicated to remember what happened."
How bad is the truth, when being too drunk to remember is your lie? According to KUSA, Talib is telling people close to him that he accidentally shot himself.
Why lie? Back in 2008, NY Giants Wide Receiver Plaxico Burress accidentally shot himself in the leg at a New York nightclub and spent almost 2 years (20 months) in jail, more time than most New York police officers serve for the same action.
Police say there were two shootings in the Dallas area that night and are trying to place Talib at the scene of one of them as he continues to blame it on the alcohol.
Medical reports state that the bullet entered the rear of Talib's right thigh and came out the calf. Talib will miss the rest of offseason practices, but is expected to make a full recovery.
Be the first to receive breaking news alerts and more stories like this by subscribing to our mailing list.