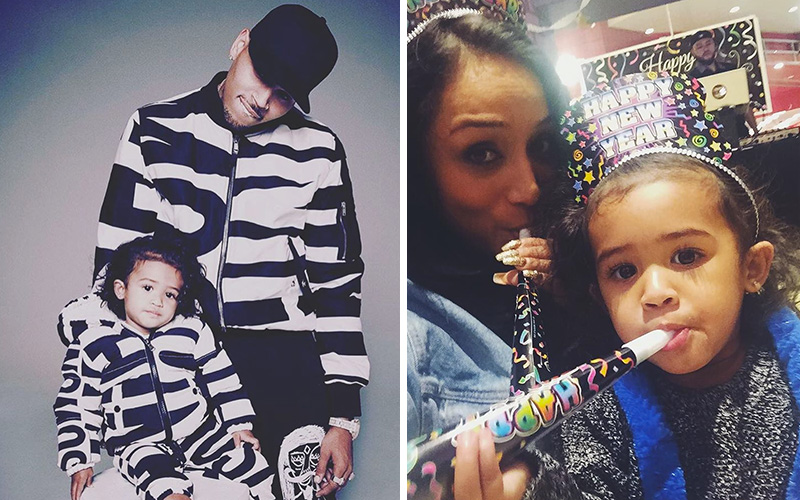 Another day, another night, the games Nia plays, makes Chris Brown wanna fight.
Ever since we found out that Chris Brown nutted up in some woman named Nia Guzman and popped up with a baby, life has been bittersweet for the singer.
On the one hand, the R&B star has embraced fatherhood with open arms. He openly gushes over his sweet baby girl Royalty on social media and even named his latest album after her.
But his relationship with Guzman has not been so sweet and the two have clashed more than once on social media.
Having conflicts with women isn't new for Chris Brown. His track record with Rihanna, who he physically assaulted, and Karrueche, who he verbally abused and cheated on, is well known.
But you'd think that his relationship with the mother of his child MIGHT be different. You were wrong though. Chris is just as dramatic, caustic and irrational with his baby mama as he ever was with any of his previous lovers.
Two recent emotional outbursts on social media with Nia Guzman punctuate Chris' problems.
First, Chris completely lost his shit over an innocent photo that Nia posted of their daughter Royalty pouting in a tutu.
Chris, for whatever reason, felt that the photo was risqué (he unfortunately spelled it as "risky." Jesus be a dictionary for this young man). He decided to share his feelings about the situation with the whole world and implied Nia was a bad mother.
If you thought Nia was gonna take that sitting down, think again. Nia clapped back.
After THAT little back and forth died down, Nia and Chris got into it again after news broke that a judge would not grant Nia sole custody of Royalty.
After being labeled a gold digger and terrible mother for attempting to separate her daughter away from her father, Nia defended herself in an interview with Latina magazine in which she discussed the argument about the tutu photo and elaborated on her relationship with Chris.
Did you speak with Chris after that comment?

No. After that comment, I don't think there's going to be anything good in talking, so we just don't. When it's that far, it's just rather nobody talks because me and him are both firecrackers, and then nobody gets anything accomplished but yelling. And it's just a place that I don't want to be.

Do you feel like he's too young and irresponsible to watch her alone?

It's pretty common sense. He knows. He knows he cannot do it on his own. She's only two, and she's a lot of work. I just wanted a nanny in place when she was with him, and it be agreed upon. It's not like I was just going to throw anybody in there, it was something that we would agree, and this was what it was going to be, and then we go forth.
Chris, of course, felt some type of way about Nia's gums flapping and he let his followers know it all.
https://www.instagram.com/p/BF4ypF7F76a/
Nia went in for the kill and called Chris a drug addict and a "LITTLE FUCKING BOY."
https://www.instagram.com/p/BF45dO-l74G/
Chris maturely responded by calling her "poop butt."
https://www.instagram.com/p/BF5IhEuF73G/
I wish I was making stuff up, but, sadly, I'm not. I'm not gonna lie, this shit that plays out on the 'gram is fun to watch, but it's not so fun when you remember the fact that the Internet never forgets and that Royalty is a real human being with two incredibly dysfunctional parents who are airing all of their dirty laundry in front of millions.
Royalty won't have a chance in hell against Google when she grows up and that's not fair at all.
I thought we all successfully voted to take direct social media access away from Chris Brown way back in 2009, but somehow, someway the high-yellow devil keeps finding his way back to the tweets.
Can somebody on Team Breezy please, please snatch this man's smartphone away from him and inform him that his babymama is not the one to play with out here in these streets? He stands to lose so much more than she does.
Be the first to receive breaking news alerts and more stories like this by subscribing to our mailing list.