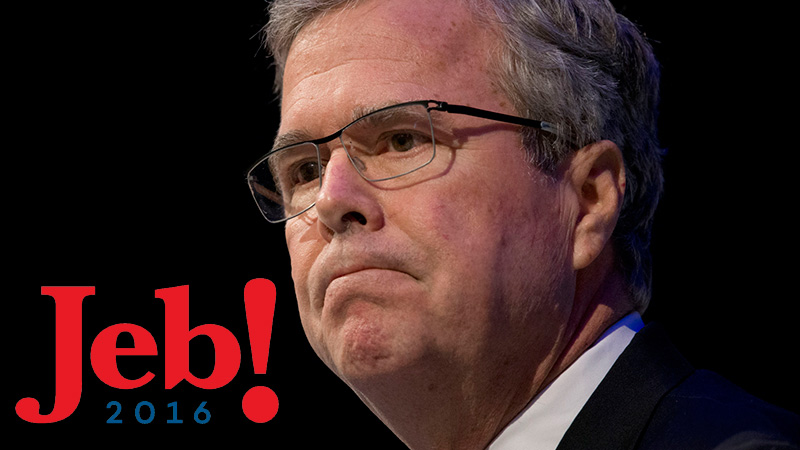 Jeb!'s attempt at becoming the next President of the United States is officially over.
Jeb!, who just so happens to be related to not just one but two former U.S. presidents with the last nam Bush, has dropped out of the Republican presidential race following an embarrassing loss in South Carolina to Donald Trump, who received more than 32% of primary votes.
A teary-eyed Bush says he's proud of the campaign he ran to unify the country and advocate conservative solutions.

The son and brother of former presidents George H.W. Bush and George W. Bush entered the race to huge expectations in June, and quickly fueled them with fundraising.

But he quickly slid in the polls behind some of his more outspoken Republican rivals such as billionaire businessman Donald Trump and Texas Sen. Ted Cruz, who have billed themselves as anti-establishment alternatives to the early front-runner.

Following disappointing performances in both Iowa and New Hampshire, Bush pinned his hopes on South Carolina, a state where the Bush name has maintained some clout. But Bush was unable to break into the top three in South Carolina. He would likely have faced pressure from GOP leaders and donors to drop out had he stayed in the race.
Aww. Poor Jeb!
Ever the professionals, Jeb Bush's campaign sends around the transcript of the Governor's exit speech. pic.twitter.com/QIR3mmJGI9

— Phil Elliott (@Philip_Elliott) February 21, 2016
Read Jeb!'s full concession speech (via TIME's Philip Elliott) below:
When I began this journey in Miami, I committed that, I would campaign as I would serve, going everywhere, speaking to everyone, keeping my word, facing the issues without flinching, and staying true to what I believe. For the better part of a year, I have endeavored to do just exactly that. I have put forward a vision for America that includes all and includes all … because our country deserves a president for everyone. The presidency is bigger than any one person … and it is certainly bigger than any candidate. This is not, we're different in our country because our head of state is not above us, but because the head of state, the people who aspire to the presidency are of the people. In a government "of the people, by the people, and for the people" we elect a president like us .. .imperfect under God's watchful eye. I have had a front row seat to this office for much of my adult life. I have seen fallible men rise up to the challenges of our time, with humility, and clarity of purpose … to make our nation safer, stronger, and freer. I firmly believe the American people must entrust this office to someone who understands that whoever holds it is the servant, not the master. Someone who will commit to that service with honor and decency. Our next president will lead an extraordinary country, whose people have always made the improbable, possible … in ways big and small. Every day, Americans test the boundaries of freedom and achieve more than what they could have dreamed. But over the last seven years, our nation's bright light has become little more than a flicker. We have retreated from the world stage. The American values that have brought peace and opportunity are fading. That is not the America we know and love. America is a country that thinks big, acts boldly and leads without apology. It will be up to the next president to restore that kind of leadership. I'm proud of the campaign that we have run to unify the country. And to advocate for conservative solutions that would give more Americans the opportunity to rise up and reach their God-given potential.

But the people of Iowa, New Hampshire and South Carolina have spoken. I respect their decision. So, tonight, I am suspending my campaign. I congratulate my competitors, that are remaining on the island, on their success in a race that has been hard-fought, just as the contest for the presidency should be because it is a tough job . In this campaign I have stood my ground, refusing to bend with the political winds. We put forward detailed, innovative, conservative plans to address the mounting challenges that we face. Because despite what you may have heard. Ideas matter, policy matters. I truly hope that these ideas that we have laid out will serve as a blueprint for a generation of conservatives leaders at every level of government so that we can take back our country. We laid out plans on everything from reforming our tax and regulatory system, to reviving our economy, to rebuilding our military, to fixing the VA once and for all. Finally, I am grateful to Senator Lindsey Graham of South Carolina, for his steadfast support and his amazing humor. He stole the line that I'm now saying which is that he has become a friend for life. I thank all of the Jeb alumni, many of them are here that have been going door-to-door all across the country, who put their lives on hold for this cause. To my mom and brother, who came here to South Carolina, America truly loves them and respects them and so do I. I want to thank all of my family, 2.0 is always back there in the back. To my dad, who has always served an inspiration to me and is the greatest man alive.

To the volunteers and supporters I have met along this incredible journey. And to all the fellow grinders" on our campaign, our staff who never ever gave up. I've had an incredib le life and for me, public service has been the highlight of my life. But no matter what the future holds, here's the greatest safety landing if you can imagine, tonight I'm going to sleep next to my best friend and the love of my life. I am totally blessed to be the father of three extraordinary children and you might know, four near-perfect grandchildren. And I will be blessed to say I am living in the greatest country the world has ever known. I remain optimistic that, with the right kind leadership, that we all need to work to make sure happens, America's best days are ahead. With strong conservative leadership, Republicans can win the White House, and we can get back to being in the verge of having the greatest time to be alive and that's what I honestly believe and I know you do as well. I look forward to working you to make that dream come true. I will do it as a private citizen, just as you are. Thank you for the opportunity to run for the greatest office on the face of the earth. I love you all, God bless you.
Be the first to receive breaking news alerts and more stories like this by subscribing to our mailing list.