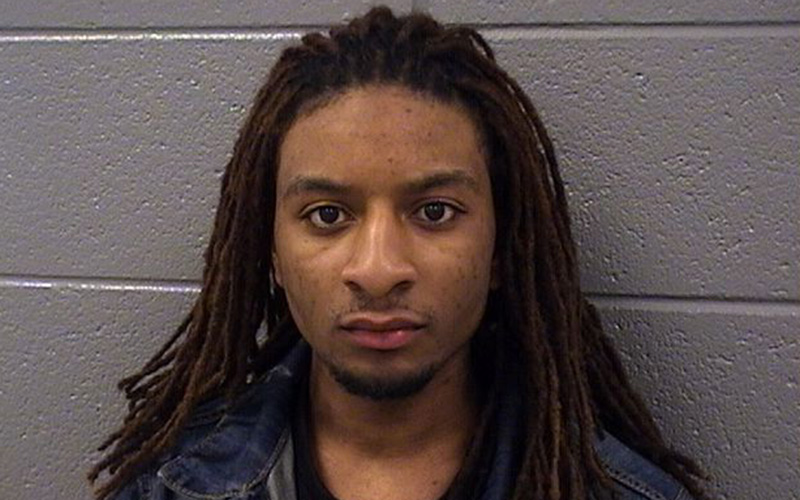 Is Qawmane Wilson (aka "Young QC") dead?
It's been a little over three years since Qawmane Wilson, the Chicago rapper known locally as "Young QC," allegedly had his mother killed, drained her bank accounts and collected money from her life insurance policies just so he could stunt on Instagram.
After police spent over a year piecing together clues from Wilson flaunting luxurious cars, jewelry, clothes, money and more across his various social media channels (Facebook, YouTube and Instagram), Wilson was arrested in December 2013 on murder charges and he's been in jail with no bond ever since.
The 26-year-old is set to stand trial sometime this year, however, if a rumor online is to believed, he won't be able to due to him being raped and stabbed to death in prison.
Reports began to circulate earlier this month that "Young QC" was brutally attacked in the shower at the Cook County Jail, where he has been awaiting trial since his December 2013 arrest. According to the report, Wilson was found naked in the shower with multiple stab wounds all over his body.
But it turns out the whole thing is a big ol' hoax that ended up being picked up by Media Take Out (y'all, please stop reading Media Take Out), which made it spread even further.
After doing a little digging, I came across the following story written in December 2015 from a website called GummyPost.com:
Rapper Young QC aka Qawmane Wilson Who was involved in the brutal slaying of his own mother that took place in 2012 for insurance money, Was found laying face down naked in the shower with stab wounds all over his body.

According to reports, deputy Swanson was doing head count when Wilson came up missing. Upon searching the unit Qawmane Wilson was found in the shower in a pool of blood with multiple stab wounds in the chest and upper torso, Wilson was sexual assaulted before they stabbed him to death.

An outgoing investigation is underway, Authorities believe it's gang-related.
Not only is the above story riddled with a ridiculous amount of punctual and grammatical errors, but it is also 100% FALSE.
"Gummy Post" appears to be a website that literally makes up articles in a desperate attempt at creating satire. Yet, that didn't stop several other websites from picking the story up and reporting on it as if it really happened.
According to DNA Info Chicago (a REPUTABLE news outlet that has been covering Qawmane Wilson's story since day one), a spokeswoman with the Cook County Sheriff's Office debunked the online hoax, saying Wilson is alive and well.
So while he deserves to die for what he did … Qawmane Wilson is NOT dead.
The sheriff's office said there haven't been any recent incident reports linked to Wilson, and he appeared in court for a routine status appearance on Monday, Feb 1.
Wilson's next court date is scheduled for March 1, though no trial date has been set.
Last year, a woman who said she was a friend of Qawmane Wilson's mother Yolanda Holmes remarked to reporters that the trial was "taking forever."
"A lot of people would like to know what's going on," Tia Bouvi'a said. "I would think that they would've processed this a little faster."
Whenever his trial does start, Wilson's attorney has said that he plans to plead not guilty.
Be the first to receive breaking news alerts and more stories like this by subscribing to our mailing list.