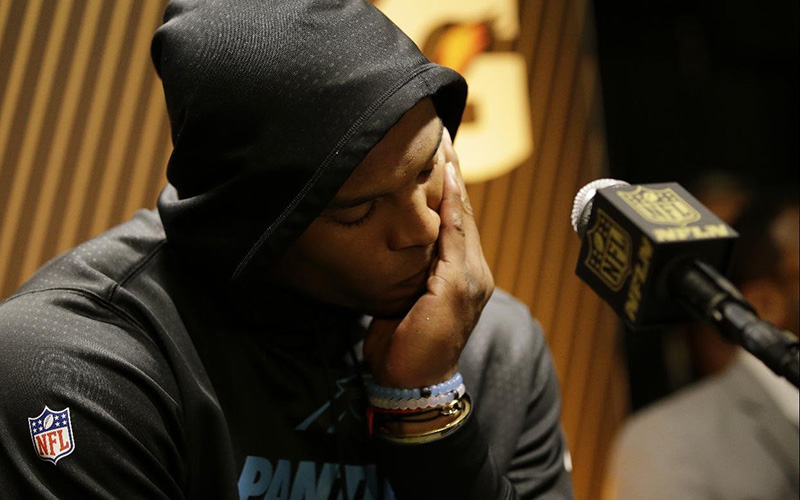 Cam Newton was clearly not in the mood to talk to the press after the Carolina Panthers' devastating 24-10 loss to the Denver Broncos in Super Bowl 50.
According to reports, the NFL MVP winner spent about three minutes sighing and giving mostly one-worded responses before he decided enough was enough and walked out of the room, abruptly ending his post-Super Bowl press conference.
"I don't know what you want me to say, I'm sorry." – A dejected Cam Newton walks off the podium abruptly. #SB50

— NFL (@NFL) February 8, 2016
He ignored multiple questions, and when he did answer, for the most part, he gave one-word responses and clearly had plenty of emotions boiling under the surface. It's unclear how much time Newton is supposed to spend with the media, but he definitely remarked that he was going to leave, got up and walked away while focus seemed to be on one reporter asking a specific question.

Newton did not have a good game for the Panthers. He led his team to the most productive offense in the NFL this season, but finished Sunday's game having completed 18 of 41 passes for 265 yards with no touchdowns and an interception. He didn't get much help from his offensive line, as he was sacked six times for a loss of 64 yards.
This is one version of the transcript of Newton's press conference, however ESPN has a slightly longer one: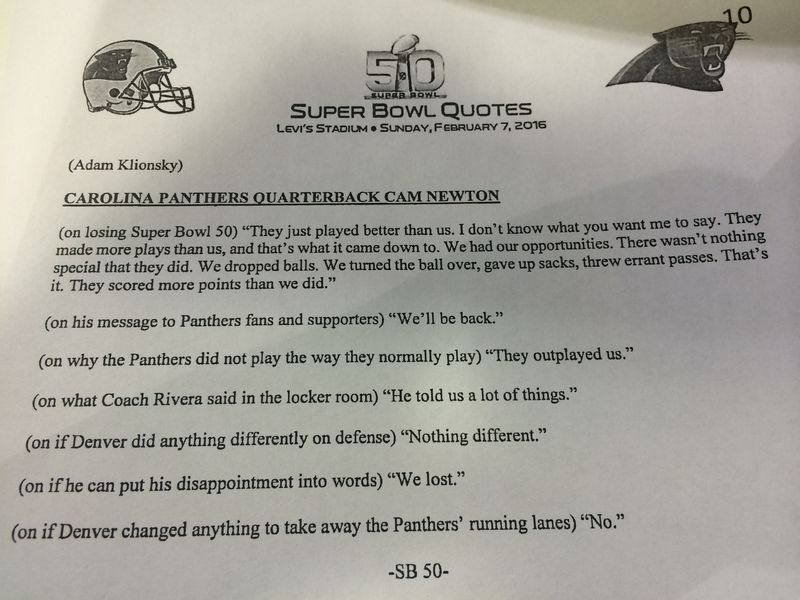 Players are contractually obligated to answer questions from the media after games (as we learned from Marshawn Lynch's infamous line "I'm just here so I won't get fined"), so Cam did meet his requirements from the NFL. His requirements from "the world," however, were not met, unfortunately.
Members of the media, former NFL players, and, social media users, of course, have all expressed their disappointment in the way Cam handled himself during the postgame press conference.
Sports pundits Jim Rome and Stephen A. Smith were not pleased with Newton's display:
Oh Damn! @CameronNewton just got up and walked off the podium. Totally understand! But you still can't do that. You just can't.#ManUP

— Stephen A Smith (@stephenasmith) February 8, 2016
Cam's presser was weak. If you're going to celebrate when you win, you've got to face the music when you lose.

— Jim Rome (@jimrome) February 8, 2016
Hall of Fame cornerback and NFL Network analyst Deion Sanders essentially scolded the Panthers QB for storming out of the press conference.
"You are the face of our brand right now, you can't do that," Sanders said after the game. "I understand the emotions of losing, but you can't do that. A Manning, a Brady … all these guys who are a prototypical type of quarterback in our game, they're not going to do that ever. Would Drew Brees ever?"
"You're opening yourself for more criticism," he added. Because everybody is going to say you're dabbing and smiling and smiling and styling. So this is how you go out when you lose?"
Former NFL linebacker Bill Romanowski came under fire for this (now deleted) tweet which was perceived as racist: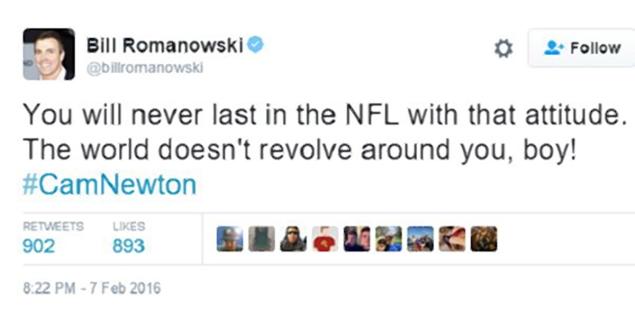 Romanowski quickly "apologized" and offered some "clarification":
Calm down everyone! I meant he needs to grow up!

— Bill Romanowski (@billromanowski) February 8, 2016
I apologize for that remark 'boy'. It was not intentional or even trying to disrespect others. Peace everyone.

— Bill Romanowski (@billromanowski) February 8, 2016
A NY Times writer wrote that Newton showed "zero grace" in his defeat:
Newton, 26, an ebullient, intelligent, gifted quarterback, decided to act in his moment of truth like a 13-year-old. He slouched into the interview room late, well after many of his teammates — rookies and veterans alike — who gamely answered painful questions.

He took a seat, a blue sweatshirt hood pulled low over his face. He made eye contact with no one. What did he make of the game? Was he surprised? How could he explain? … The reporters' questions, not a surprise in the batch, were framed gently, as if put forward by dimwitted therapists. For more than a minute, Newton stared at the floor, scratched his chin and sulked.
A headline from Yahoo! Sports read: "Cam Newton goes from Superman to Incredible Sulk in poor postgame showing"
CBSSports.com's Bill Reiter likened Newton to an "unprofessional prima donna."
Deadspin pointed out that the entire setup of the interview was "awkward."
Awkward as hell, and you can't even see the most awkward part. You hear the susurrus of voices in that clip? There was another press conference going at the exact same time, in the same room, just on the other side of a curtain. Broncos CB Chris Harris was talking about how they had shut Newton down. I don't know if Newton could hear it, but if he could, he heard Harris saying things like "We knew he couldn't throw on us" and "Did y'all see him dance today? He didn't dance."
THIS is why Cam walked out (listen to what's being said in the background). pic.twitter.com/6LdLFwv8tj

— br1àn (@bmweezy13) February 8, 2016
This writer for the Charlotte Observer made a great point regarding Cam's walk-out:
That the losing quarterback, or any member of the losing team, has to essentially share the stage with the winners is an unfair request by the NFL. Levi's Stadium was made, in part, to host big events such as the Super Bowl. The respective team's mascots had their own room on the ground floor of the cavernous building.

They should have found somewhere else to stick the Panthers rather than have to hear the Broncos in ecstasy.

While that is going on, we media members expect these athletes on the losing squad to bare their souls. "How does this feel?" we ask, as if we don't already know that summoning any kind of words for an indescribable feeling is impossible enough.

We, the sports-writing media, think too highly of ourselves. We remain the conduit for fans, but that rope frays with every new social media app made available or publicist hired. Only country music singers give themselves more awards than sports writers.
Cam Newton is human. He plays with a lot of passion. The fact that he wears his heart on his sleeve makes him extremely vulnerable in instances like this, where he is facing the loss of the biggest game of his career to date. He's young. He will get over it.
He'll learn from his mistakes and emerge a whole new player. A whole new person.
In opposition to Deion Sanders' scolding of Newton, fellow NFL Network analyst Marshall Faulk, a Hall of Fame running back who won Super Bowl 34 and lost Super Bowl 36 with the St. Louis Rams, said:
"Until you've lost this game and sat on that stage and have those feelings in you, you have no idea what that feels like to get peppered with questions about how you played, how your team played, what coulda, shoulda, woulda…"
Faulk added, "Talking to Cam right now does no good. When Cam watches this, he's going to learn from it."
And that's so true.
For what it's worth, no one rebuked Peyton Manning in 2010 when he stomped off the field moments before the Broncos' loss to the New Orleans Saints in Super Bowl 44 was even official, so why is everyone piling so hard on Cam Newton?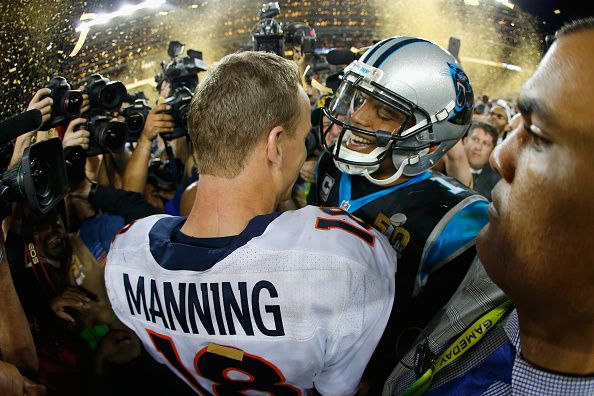 "I've been on that side of it," Manning said Monday morning on the Today show. "It is tough, it is not an easy pill to swallow. But he was very nice to me and I really appreciated that."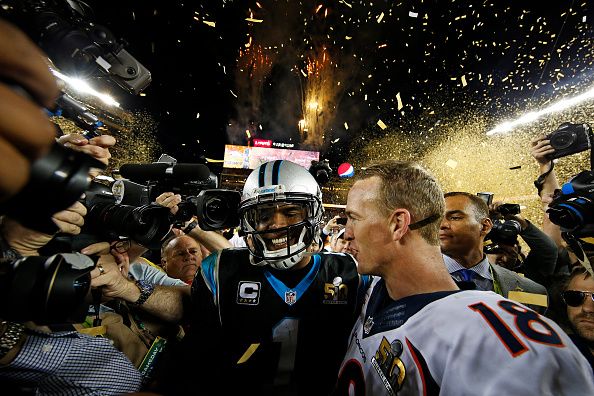 Be the first to receive breaking news alerts and more stories like this by subscribing to our mailing list.